The Star-Studded Christmas Special That's Dominating Netflix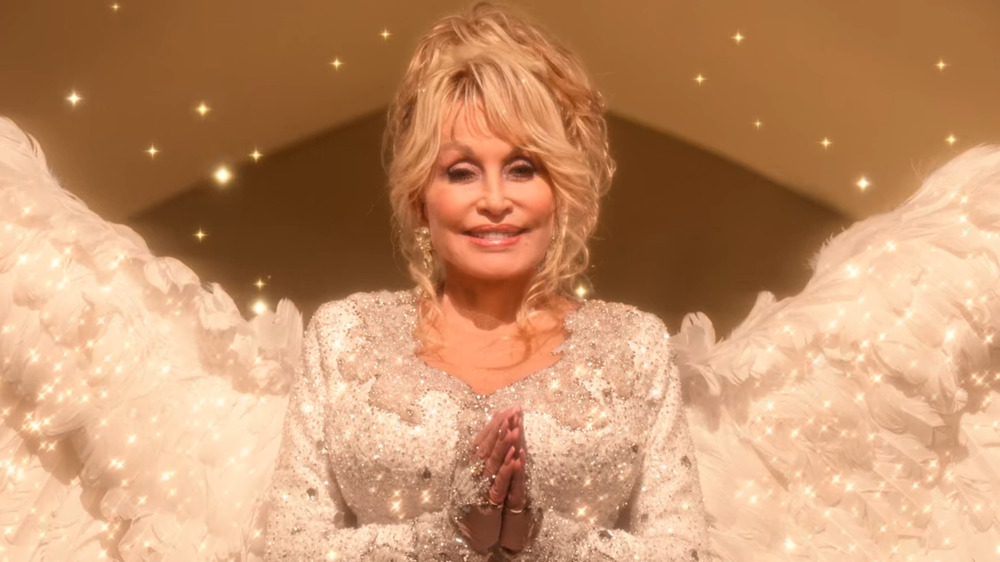 Netflix
Who doesn't love a Dolly holiday?
Dolly Parton has been a national treasure for over 50 years — treating her fans to countless hit songs and movies, opening a theme park that's become one of the most popular in the world, and, most recently, providing funding for a COVID-19 vaccine. All that considered, it's no wonder viewers are revving up their holiday seasons with a musical starring the prolific Parton.
Dolly Parton's Christmas on the Square premiered on Netflix on November 22, and in just one day has already climbed into the streaming platform's top ten most popular movies in the U.S. — on its way to becoming one of Netflix's most popular holiday films. 
The holiday musical centers around a Scrooge-like woman named Regina Fuller, played by Christine Baranski. After inheriting the town of Fullerville, Fuller wants to sell the land to a mall developer and evict the town right before Christmas. But Parton comes in to save the day, playing (what else?) a guardian angel who shows Fuller the error of her ways. 
The film is Parton's first Christmas musical, and in addition to starring, the country music legend produced and wrote the songs for it. "I love all the Christmas shows on TV, all the Christmas specials — and especially any Christmas musical, and this is my first Christmas musical," Parton told Entertainment Weekly. "I had the chance to write 14 original new songs, and hearing all these wonderful artists sing them was a real joy for me."
Christine Baranski didn't need a script to work with Dolly Parton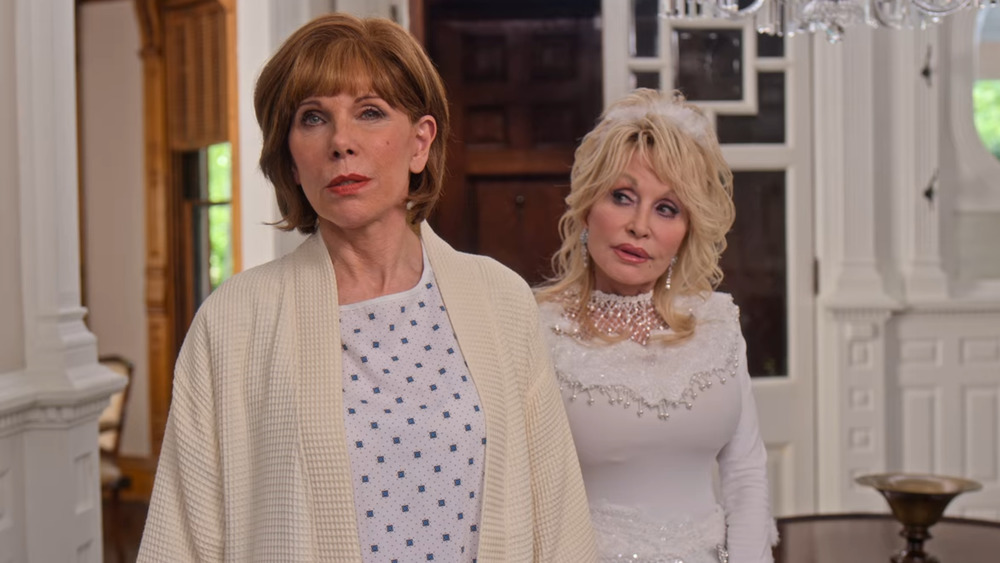 Netflix
In Dolly Parton's Christmas on the Square, the singer-actress has an extraordinary cast and crew around her as well. In addition to acting alongside Baranski, Parton is joined by Jenifer Lewis (who plays Margeline) and Treat Williams (who plays Carl Pellam), and the cast is directed by legendary actress and producer Debbie Allen. Unsurprisingly, the cast of Dolly Parton's Christmas on the Square were delighted to work with one another.
Lewis and Allen's working relationship goes way back, and working on the holiday movie was a happy reunion for the pair. "It was just like family, music, having the best pot of gumbo you can ever have," Allen told EW of what it was like collaborating on Dolly Parton's Christmas on the Square. "I've loved [Jenifer Lewis] forever." For her part, Lewis shared with the outlet that Allen actually gave her the first job she had in Hollywood: on the sitcom A Different World. 
While the two actresses praised one another and clearly had a ball working on Dolly Parton's Christmas on the Square, they did have one disagreement about a snatched wig. 
"I will say that Debbie snatched my wig off at one point," Lewis said. Allen responded, "We were trying to shoot a shot, and she had the whole cast in the corner singing one of her songs! I'm like, 'Girl, we don't have time for this mess.' And she kept singing — I snatched that wig. I snatched it."
Baranski also told EW that starring in Dolly Parton's Christmas on the Square was "the privilege of a lifetime." She added that when she was offered to read the script, she said, "I don't need to read the script, it's Dolly Parton, I just want to be on a set with Dolly Parton!" Parton showed the Mamma Mia! and The Big Bang Theory star some love too, saying: "Well, I have been a big fan of Christine's for years, so getting a chance to work with her was really wonderful."
If you're finding yourself unsure of what to watch this holiday season, Netflix and Dolly Parton have you covered.