Why Odis From Fargo Season 4 Looks So Familiar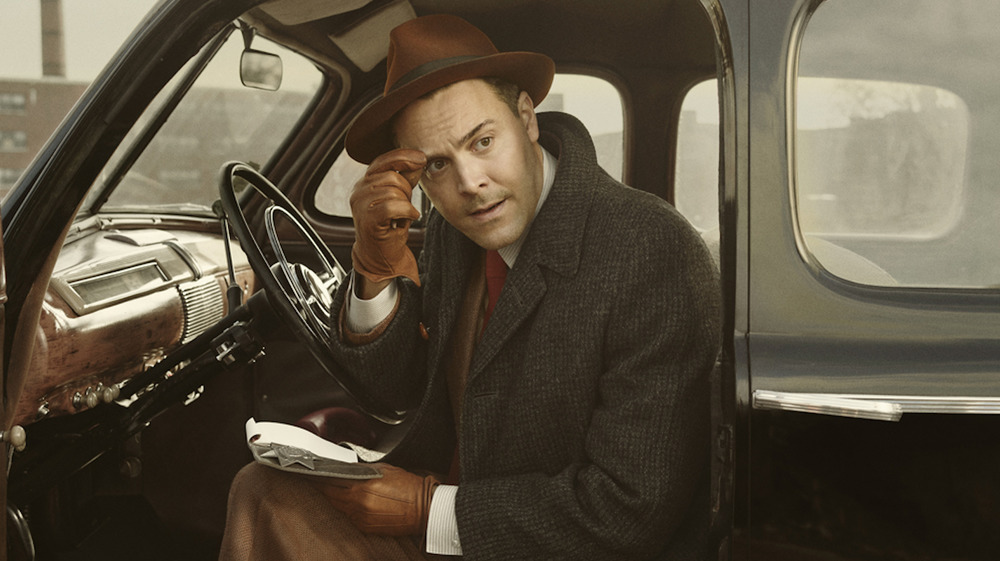 FX
After an excruciating, overlong hiatus, Noah Hawley is back with a fourth season of his off-beat anthology series of frosty North Dakota crime stories. The Fargo series, which premiered on FX way back in 2014, is a spiritual successor to the cult-classic 1996 Coen Brothers film of the same name. As the series mythology goes, Hawley produced his pilot script as the ultimate piece of fan fiction, and because he's Noah Hawley, he was able to get it in front of Joel and Ethan Coen, who fell in love with the concept and the execution. The powerful directors not only gave the series their blessing, but signed on as EPs.
As is the case with anthology series, season 4 opens with a whole new tale of woe in the Great White North, and a whole new cast of characters to tell it. Among them is Odis Weff, a police officer and U.S. Army veteran who makes his first on-screen appearance during episode 2. Weff is played by veteran actor Jack Huston, and there's a busy two-decades worth of reasons why he looks so familiar.
Two period pieces and a psychedelic horror film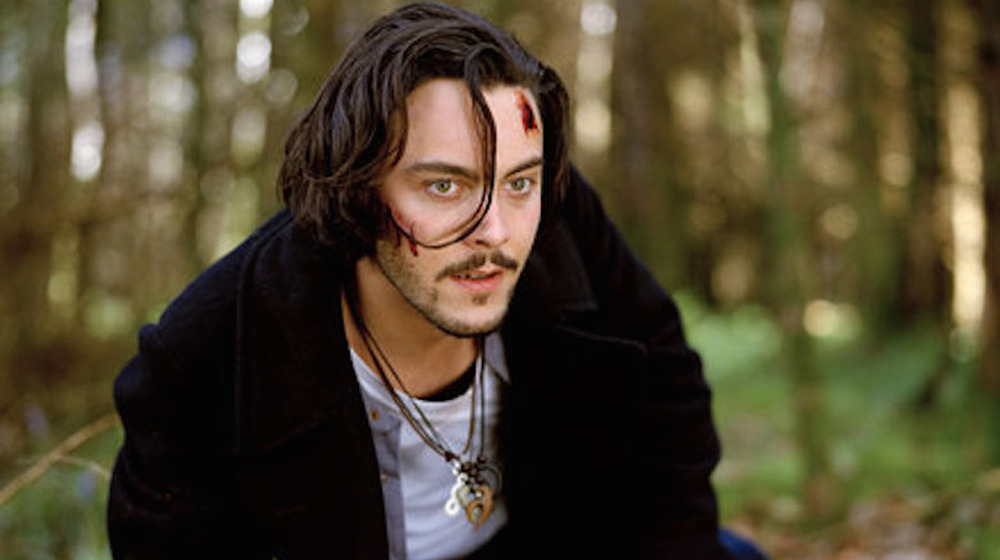 Vertigo Films
Jack Huston is a British actor who descends from show business royalty. He is related to both The Witches' Anjelica Huston and Yellowstone's Danny Huston (he's their nephew), connections that no-doubt helped him launch his career back in 2004 when he earned his first on-screen credit as Flavius in the made-for-TV miniseries Spartacus. The story of Ancient Rome's most famous gladiator in revolt has been told many times on screen, and in many different formats, and though the Goran Visnjic version is far from the most lauded, it is the only one that features Jack Huston.
In 2008, Huston tried his hand at another period piece in Outlander. No, not that Outlander, the sci-fi mashup about alien invaders in the Viking Age. Though Outlander is certainly a sight to behold, the real stand-out from the first act of Huston's career is the 2007 horror trip Shrooms. Destined to become a stoner classic from the debut of its first trippy trailer, Shrooms tells the story of a wilderness psychedelic experience gone horribly wrong. Huston plays Jake, the teller of the sadistic ghost story that sets the film's horror in motion. 
While Jack Huston's career continued to grow after Outlander, Spartacus, and Shrooms, he didn't stray far from the comforts of genre work.
Jack Huston ran with the Witches of Eastwick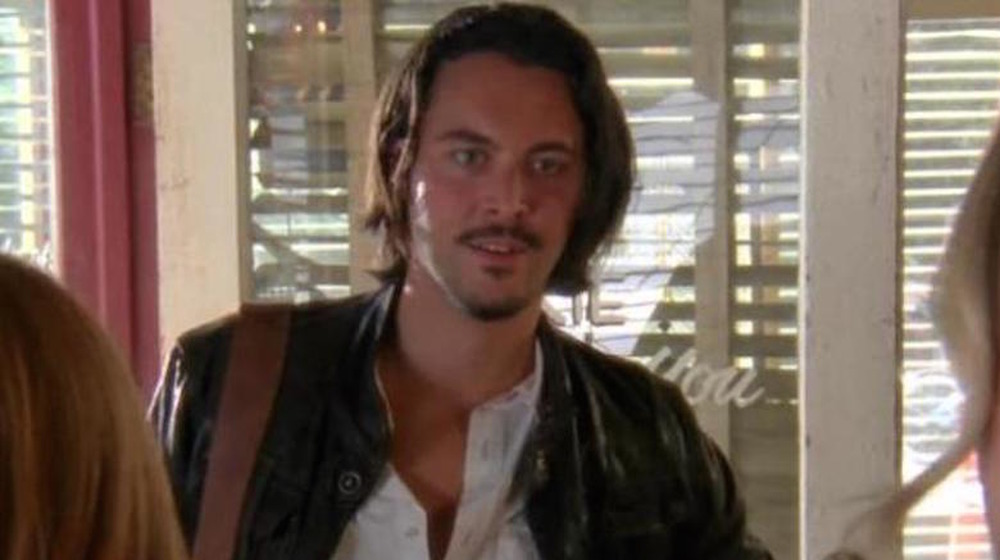 ABC
In 2009, Huston was cast on his first ongoing television series, the short-lived Eastwick, an updated take on John Updike's witches-in-suburbia novel The Witches of Eastwick. Both the novel and the first film adapted from it earned legions of admirers, though most fans felt the 2009 series failed to recapture the (black) magic.
Eastwick was canceled after one season, rendering Huston's Jamie Baldwin but a footnote in TV history. It turned out alright for the young thespian, as he quickly landed a role in one of the decade's biggest franchises about attractive vampires. That's right, Huston made his way back to the big screen in Twilight: Eclipse, the third film in the blockbuster series adapted from Stephenie Meyer's wildly popular YA book series. In it, Huston played the small but important role of Royce King, while also collecting signatures for his scrapbook from Rob Pattinson and Kristen Stewart (probably).
Eclipse took the box office by storm in 2010, and Huston moved into the next decade with a Twilight movie under his belt, ready to level up his fledgling career.
Jack Huston was the man with half a face on Boardwalk Empire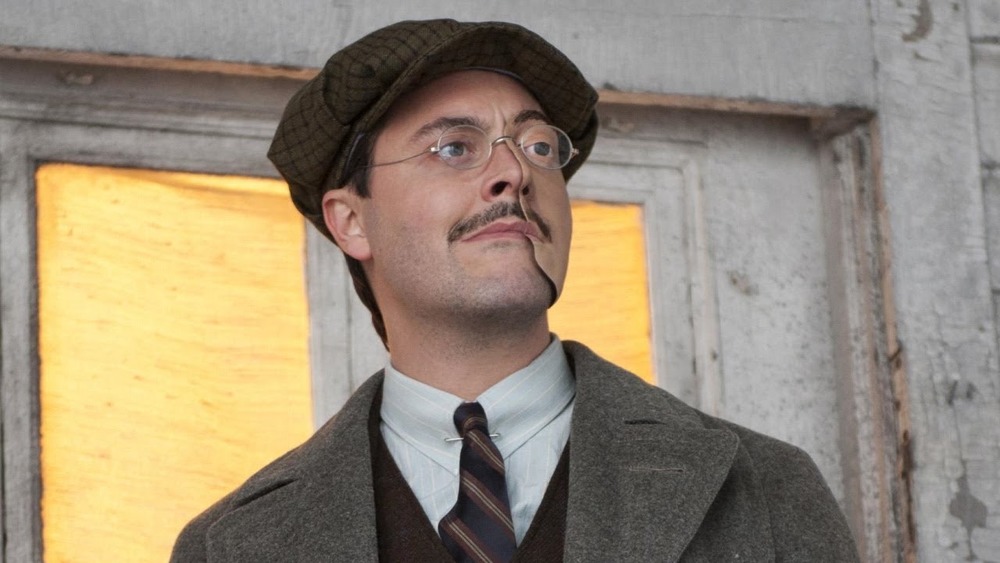 HBO
The same year that Eclipse was teaching tweens what it means to fall in love with a mythical creature, Huston took a turn for the mature, landing a marquee role on HBO's prohibition-era prestige drama Boardwalk Empire. Huston attained that new level of stardom he was seeking playing Richard Harrow, the masked assassin with half a face who forms a close bond with Jimmy Darmody (Michael Pitt) — and an even closer bond with his wife, Angela (Aleksa Palladino).
Harrow proved a meaty role for Huston, who had ample opportunity to prove his dramatic chops as the tortured, disfigured, and surprisingly tender Harrow, a man who struggles to find his way in Enoch "Nucky" Thompson's (Steve Buscemi) Atlantic City after coming back from the horrors of the Great War. Harrow actually outlasts Jimmy, the series' nominal protagonist (after Nucky, of course) in seasons 1 and 2. He takes a couple of Nucky's henchmen off the board on a quest of vengeance (for Angela, not Jimmy), then ends up becoming a marksman in Nucky's employ after the two reach an accommodation.
Needless to say, when Boardwalk Empire ended after the fourth season in 2013, Huston had more than proven he was capable of holding down a heavyweight role.
Jack Huston went back to antiquity for two more roles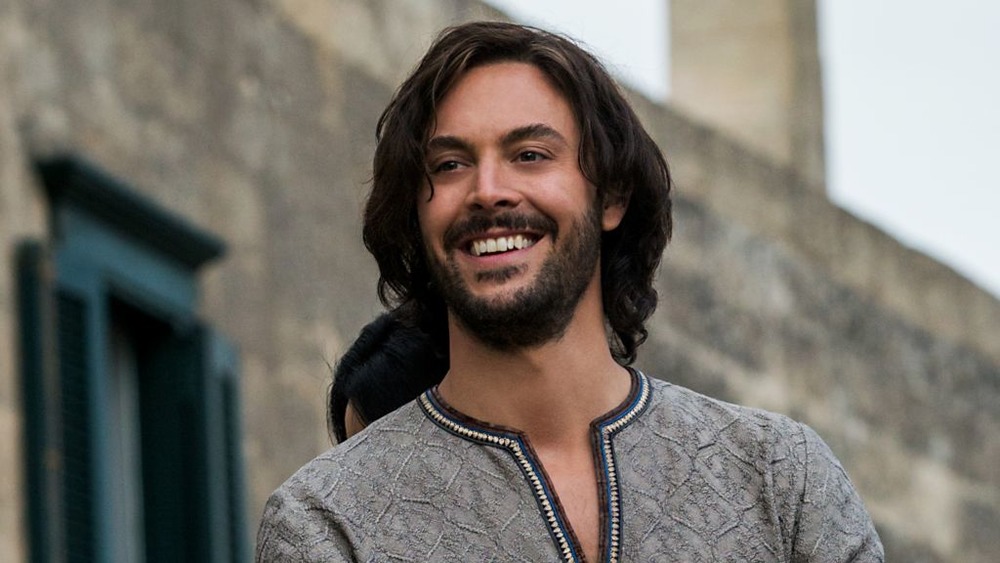 Paramount Pictures/MGM
A brief turn on a mediocre Spartacus jumpstarted Huston's career, and by 2016 he was ready to head back to antiquity — once (kinda) in a comedy (Hail, Caesar!) and again (for real) that same year in the re-remake of Ben-Hur. Although Huston's role in Hail, Caesar! was a small one, and the movie technically took place in the 1950s, the appearance was important for the progress of his career, as it provided him an in with Joel and Ethan Coen — a relationship which likely led to his casting in Fargo season 4.
Ben-Hur was an even bigger milestone, because it offered Huston the opportunity to play the titular leading man, Judah Ben-Hur. For those unfamiliar with the plot of Ben-Hur, cinematically told first in a 1925 silent film (the most expensive of the decade), and again in 1959 with Charlton Heston playing Judah, the story follows an exiled prince who returns to his homeland to exact revenge upon his treacherous brother, an officer in the Roman Legions. 
After these two films and a goofy stint in the undead Jane Austen satire Pride and Prejudice and Zombies, Huston stepped back into the world of TV in a stunning adaptation of one of Stephen King's bleakest tales of the macabre.
Jack Huston stepped into the Stephen King-verse on Mr. Mercedes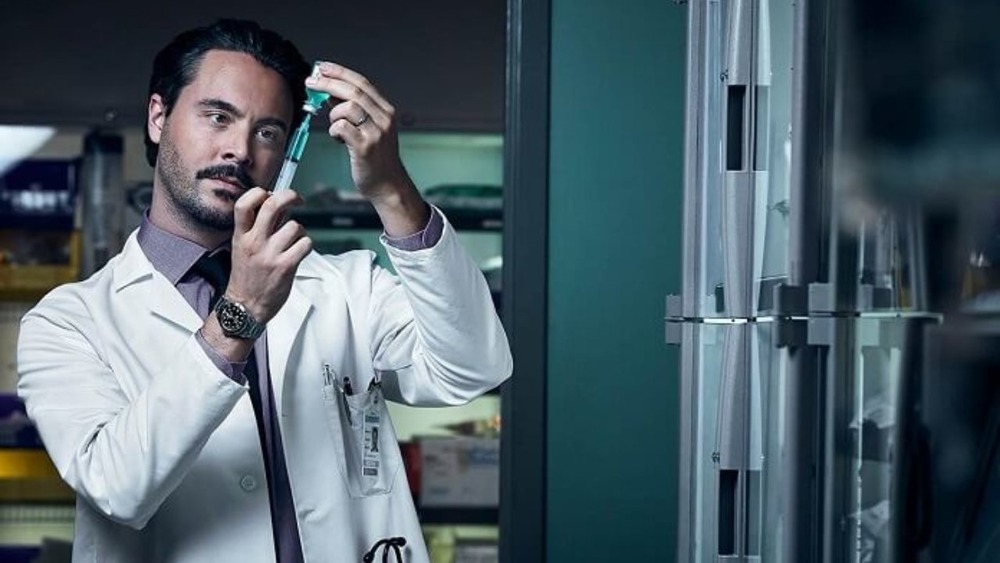 Audience Network
By 2018, Jack Huston was officially an actor in demand. He'd done a Coen Brothers film, starred in an HBO gangster series, and battled zombies in Victorian garb. The man had proven his range. The only natural mountain for him to climb next — especially considering his genre bona fides — was obviously a Stephen King adaptation.
That's likely why Huston jumped on the opportunity to join the cast of Mr. Mercedes, David E. Kelley's strong adaptation of the Master of Horror's novel of the same name. Mr. Mercedes is one of King's "Holly Gibney novels," meaning it takes place within the same continuity as HBO's The Outsider, interestingly enough. The two TV series don't share any executives or talent, but they're clearly cut from the same terrifying cloth.
On it, Huston plays Dr. Felix Babineau, a medical doctor and husband to Tessa Ferrer's Cora Babineau. The character only appeared in nine episodes of season 2, but it was certainly enough for Huston to cross "Stephen King adaptation" off his career bingo card.
Huston's recent characters have been all over the moral map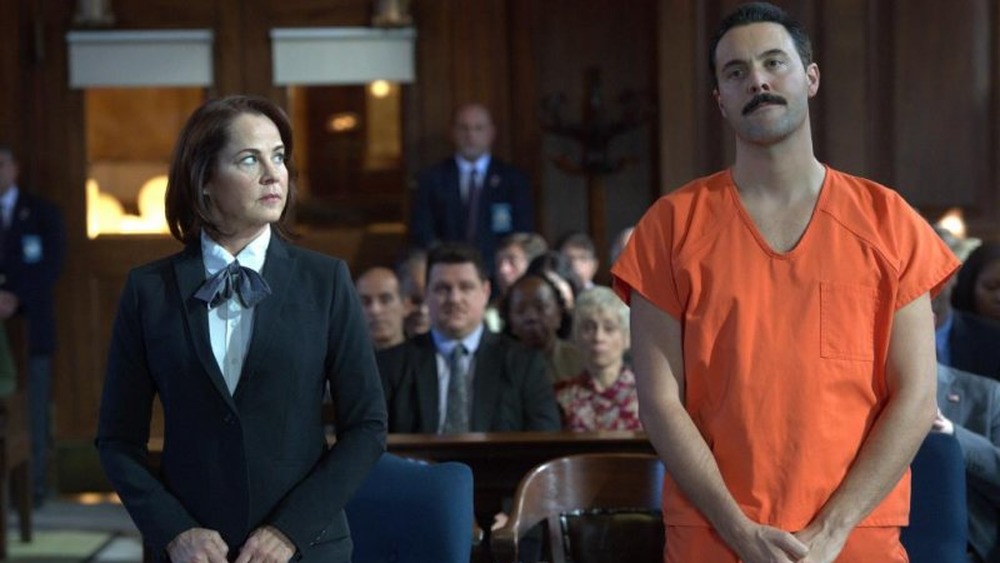 Discovery Channel
The same year he finished his run on Mr. Mercedes, he also landed a part on The Romanoffs, an Amazon Prime Original series mostly famous for being Matthew Weiner's reward for doing such a good job with Mad Men. Huston only appeared in one episode, and it's probably a good thing he didn't make more of a commitment to the esoteric drama, because soon after Martin Scorsese came knocking with yet another meditative drama about the English peerage ... just kidding, it was a gangster flick.
In 2019, Huston reunited with his Boardwalk Empire co-star Aleksa Palladino in Scorsese's three-and-a-half-hour Jimmy Hoffa biopic The Irishman. In the flick, Huston gets to sink his teeth into another iconic historical role: the former senator from New York and assassinated presidential hopeful Bobby Kennedy.
After playing RFK, Huston portrayed Christian terrorist Eric Rudolph on the Ted Kaczynski series Manhunt and played Captain Jasper in Antebellum before beginning his gig on Fargo, where you can see him chewing the scenery right now.