Why Fans Are Going To Love The Animaniacs Reboot - Exclusive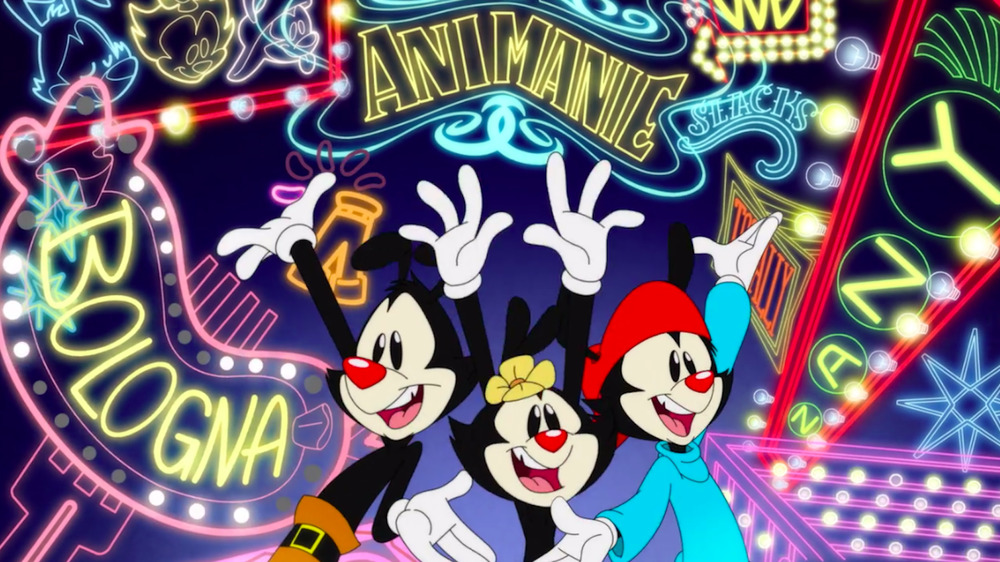 Hulu
If you were a fan of the 1990s animated series Animaniacs, you're in for a treat. The wacky Warner siblings are back for an updated reboot available on Hulu.
That's right: Yakko, Wakko, and Dot — along with the genetically enhanced laboratory mice Pinky and the Brain — return in 2020 after last appearing on the small screen in 1998. This time around, they're just as zany and self-aware as ever, but they aren't stuck in the '90s. The Warners are keenly cognizant of their 20-plus-year hiatus and modern-day surroundings.
Executive producer Steven Spielberg once again helms the series, but it takes a village to get a reboot of such a beloved show off the ground and into the right headspace. Enter co-executive producers Wellesley Wild and Gabe Swarr.
Wild's career is strongly tied to Seth MacFarlane fare, having written and produced numerous episodes of Family Guy and both the Ted films, while Swarr has lent his multiple talents — which include animation and art department credits — to such series as Dexter's Laboratory and El Tigre: The Adventures of Manny Rivera.
Looper exclusively spoke with Wild and Swarr, who shared their thoughts on why fans are going to love the Animaniacs reboot.
Animaniacs takes fans on a walk down memory lane, while still staying relevant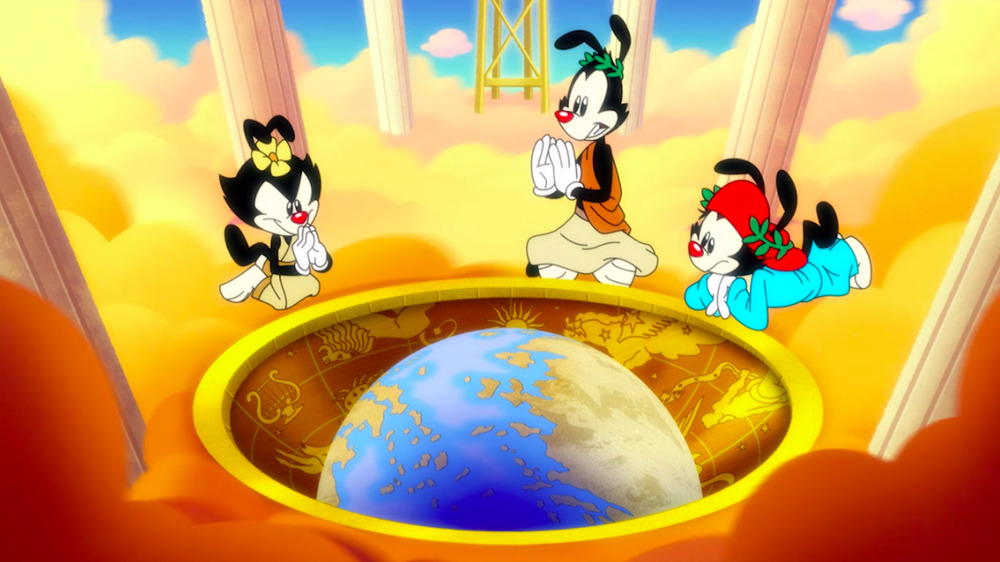 Hulu
When it comes to the Animaniacs reboot, Wild and Swarr went to great lengths to retain the original DNA of the series, which was a hit with kids and adults alike.
"It's basically the same show, just updated and more streamlined," said Swarr. Added Wild, "We did that on purpose. We kept as much [of the original Animaniacs series intact] as possible and only changed things that changed with the cultural realities since 1998."
But that doesn't mean they're shying away from connecting with new audiences as well. "Funny is funny. We took advantage of modern technology to bring more of a variety feel to it," Swarr told Looper. "We hope that's universal enough for modern audiences to connect with it too."
So, just what can fans of the original series expect from the reboot?
"The Warners are still bucking authority, and that doesn't get old," said Wild. "The relationships between the characters are still there. The Warners have always faithfully stood by each other, and the audience knows that Pinky and the Brain really love each other, even though the Brain is a little emotionally constipated."
Beyond that, Wild and Swarr hope they have done the Animaniacs' legacy justice, saying the series' brand of humor is inspired by Looney Tunes, which many original Animaniacs fans grew up on. The executive producers aspire to bring that same sentimentality to the reboot. Said Wild, "What carries over is the comfort and nostalgia that the show provides, and we tried to build on that."
All 13 episodes of season 1 of the new Animaniacs are available on Hulu today, November 20. Hulu has already renewed the Animaniacs reboot for a second season, which is scheduled to premiere sometime in 2021.