American Horror Story: Ryan Murphy Teases Huge Twist For Season 6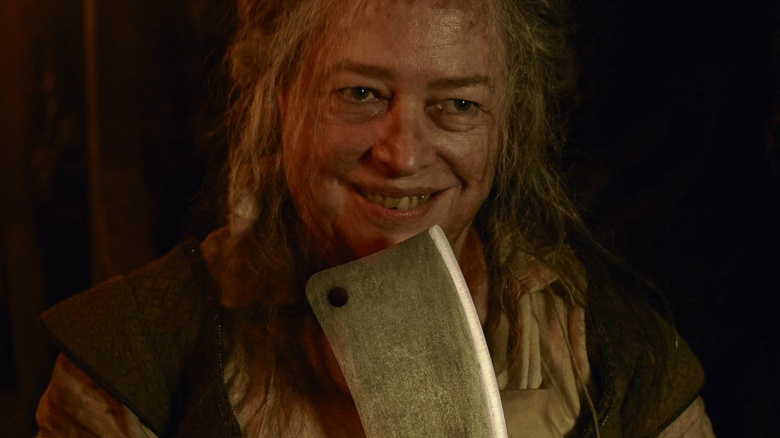 Contains spoilers for American Horror Story Season 6
Forget just about everything you think know about American Horror Story: Roanoke. It's all about to change with the sixth episode.
Although teasers for the upcoming episode revealed a narrative shift away from the established "true crime" reality show format, showrunner Ryan Murphy told
E! News
that nothing can prepare us for what's to come. For the first time in the show's history, the cast members will be switching to completely new roles in the middle of the season.
"The thing I love about episode six as you are watching it, is that we drop a huge bomb at the end of the third act, where you kind of are in disbelief at what the chyron on the screen is saying," Murphy said. "And then that takes you into another world and the stakes are really, really, really high. This season has been all about redoing the narrative of what we've always done. I think it's always been a sort of straightforward version of storytelling. And what happened with this season, which is really broken into two halves, one through five, which everybody has hopefully seen, and then six through 10. And it's a completely different show. It's a completely different narrative form. Things that you thought to be true about people are revealed to not be true. And it was exciting to work on, because it was like working on two shows at once. The big twist of episode six takes you into a complete other world."
And that's not all: the second half will include the return of
Taissa Farmiga
(from AHS: Murder House and Coven) and
Finn Wittrock
(Freak Show and Hotel).
"Finn Wittrock is coming back soon, playing his most f***ed-up character of all time," Murphy said. "To the point where he was like, 'This is so crazy that I don't know that I can do it, but I'll do it.' And Taissa Farmiga is coming back for the first time ever since Coven, in I think a really, really great part and we love her. We're very excited—she's a part of our world and always will be, and I always wanted her to come back."
The mid-season reveal is so huge that even the show's stars didn't know about it until they were filming the fourth episode. "I had to call up Sarah Paulson and Kathy Bates," Murphy said. "We didn't tell them [the twist] this year. So we had them thinking this idea that they were playing one thing through the whole year, and right around the time we started shooting episode four, I called them up and I said, 'Okay, I didn't want to tell you this, but it will be revealed that you're actually something completely different than what the audience thought you were.' And they all loved that challenge."
Meanwhile, Murphy also told
TVLine
that next year's Season 7 won't be quite so secretive. He plans to reveal the theme in the spring, but he hinted that there's a "big hook" that will involve several characters from the Freak Show season.
While we wait to see how this all shakes out, take a look back at some American Horror Story characters who
look completely different
in real life.