The Bill Hader Animated Sequel That's Dominating Netflix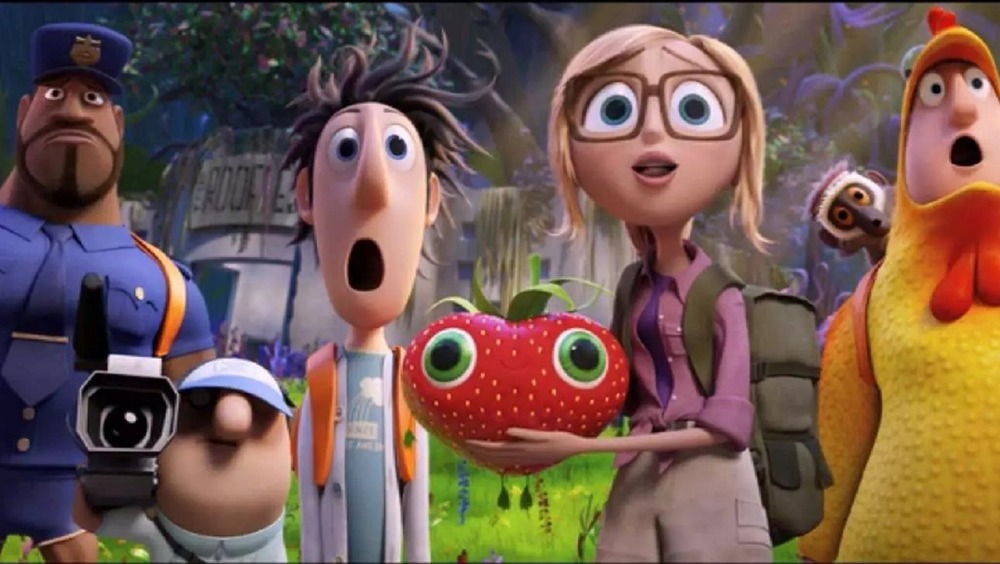 Sony Pictures
When the real world is feeling a little too, well, real, animation can be the perfect escape route to worlds that run on pure imagination and occasionally feature giant food falling from the sky. That may explain why Netflix users have flocked to Cloudy with a Chance of Meatballs 2 like ratbirds headed for an Empire State Building-sized slice of pizza.
Starring Bill Hader as the voice of ambitious but mishap-prone inventor Flint Lockwood, Cloudy with a Chance of Meatballs was based on a beloved children's book, but its success still came as something of a surprise. The movie's ludicrous plot, endearing ensemble of misfits, zany humor, and colorful food-based animation — tailor-made for 2009, the year modern 3D hit its zenith — made Cloudy one of those animated movies adults actually enjoyed watching with their kids. And it propelled filmmakers Phil Lord and Christopher Miller to a Golden Globe nod and a future career packed with hits like The Lego Movie and Spider-Man: Into the Spider-Verse.
The movie's box office was enough to earn it a sequel. In fact, it beat Disney's The Princess and the Frog at the domestic box office, coming in as the not-bad 24th highest earning movie of 2009, right behind Terminator Salvation and above Inglourious Basterds. Cloudy with a Chance of Meatballs 2 was released in 2013, but didn't make quite the same splash, becoming the year's 26th highest grossing movie (behind G.I. Joe: Retaliation, most memorable as one of Dwayne Johnson's worst movies). But now that it's hit Netflix, Cloudy 2 is finally getting the appreciation it deserves. Here's what to know about the Bill Hader animated sequel that's dominating Netflix.
Cloudy with a Chance of Meatballs 2 reunites the Swallow Falls team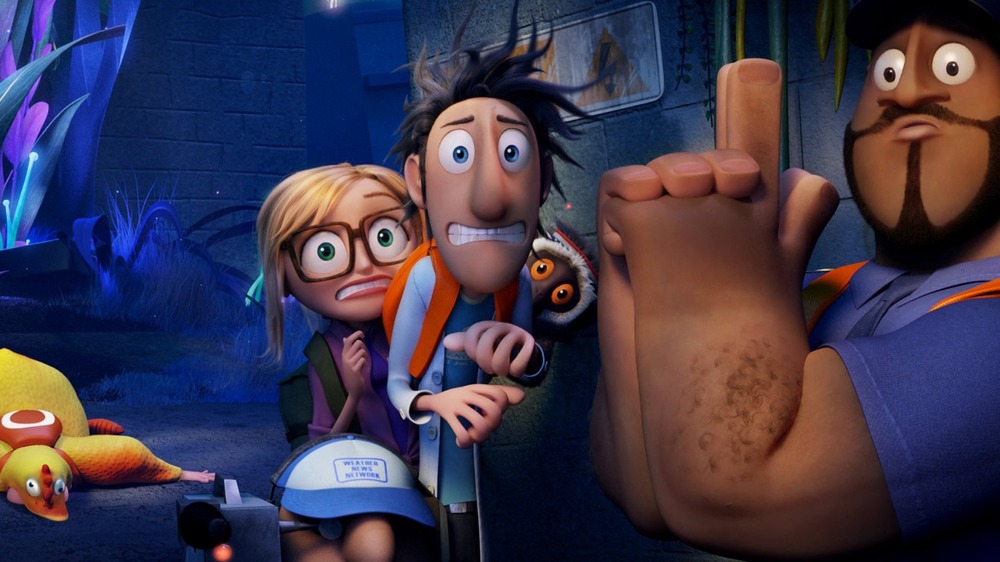 Sony Pictures
The action picks up exactly where we left off at the end of the first movie. In case it's been a while, here's a refresher.
Flint (Hader), Sam (Anna Faris), Chicken Brent (a.k.a. the artist formerly known as Baby Brent, voiced by Andy Samberg), Manny (Benjamin Bratt) and Steve the Monkey (Neil Patrick Harris) have saved the world from the giant food created by the malfunctioning Flint Lockwood Diatonic Super Mutating Dynamic Food Replicator (FLDSMDFR), with some help from Flint's technophobic dad Tim (James Caan). 
Meanwhile, police officer Earl (Mr. T) evacuated the former sardine capital of the world, Swallow Falls, which was located directly under the FLDSMDFR, but the town has been rendered uninhabitable — or so it seems. As we learn in the sequel, rogue animal-food hybrids known as foodimals have claimed the land as their own.
Flint is sent back to shut down the machine once and for all by Chester V. (Will Forte), a clearly sketchy CEO who happens to be Flint's hero. Without spoiling the rest, expect more adventures involving food that is at turns adorable and terrifying, more disasters from Flint, heartwarming father and son moments, and maybe (obviously) a happy ending against all odds.
What's different in Cloudy with a Chance of Meatballs 2?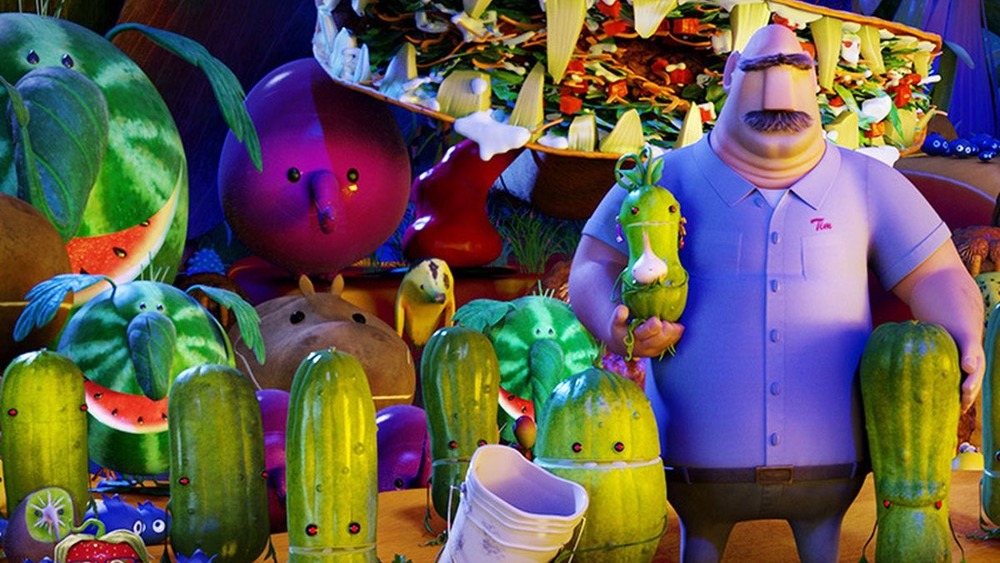 Sony Pictures
The major behind-the-scenes difference between the original and the sequel are the people guiding the story. When Cloudy 2 got the greenlight, Lord and Miller were too busy to take the reins, which were instead handed over to animators Cody Cameron and Kris Pearn. Cameron was a storyboard artist on the original movie, having served in similar roles on hits like Chicken Run, Shrek, and Madagascar. Pearn's credits include multiple beloved Don Bluth movies, including The Land Before Time, The Penguin and the Pebble, and Anastasia.
Most of the voice cast returned — including Hader, Faris, Harris, Bratt, Samberg, and Caan — but Terry Crews stepped into Mr. T's sizeable shoes as Earl. As Crews told Black Film, "Mr. T killed the first one... And, for some reason, he did not want do the second movie." However, if the cast change is enough to put you off watching Cloudy 2, know that Crews got Mr. T's stamp of approval. "He came to me and said, 'I'm so proud of you. This is good. If anybody was going to do this, I'm glad it was you,'" Crews told CBR.
So yes, there were a few shake ups. But if you'd like to briefly visit a world of improbable food-based adventures, everyday heroes, and anthropomorphic pickles, Cloudy with a Chance of Meatballs 2 comes with a high probability of smiles.