The Crown Character Who Was Like A Ghost On Set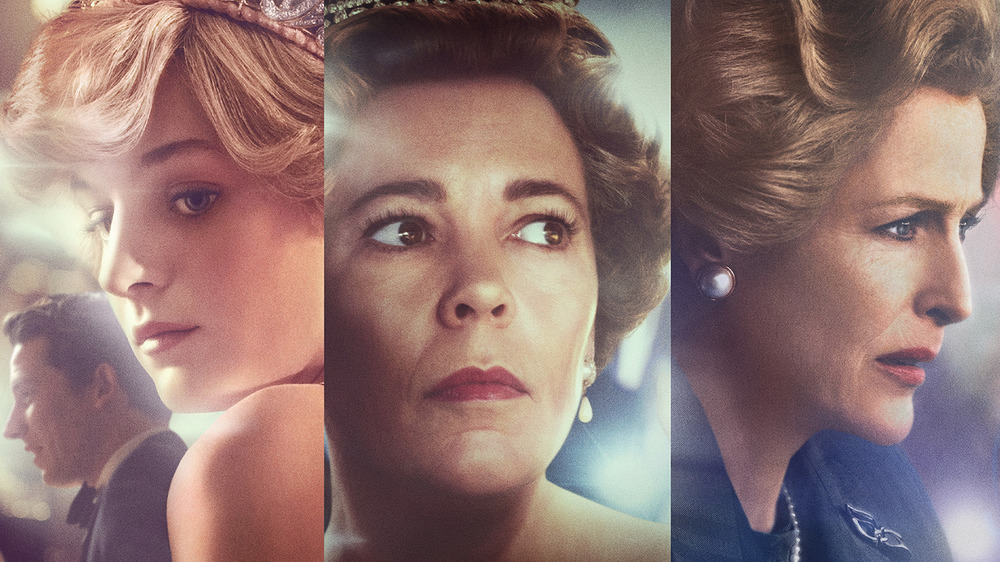 Netflix
Netflix's The Crown is full of riveting performances that are at times uncanny in the way they reflect the real royals and British politicians the show depicts.
Performers like Olivia Colman, Josh O'Connor, and Helena Bonham Carter capture the British royal family so perfectly it sometimes feels like you're watching the real deal. And it turns out even the stars of the show can be blown away by an actor's transformation. In an interview with Elle UK, Colman revealed that Gillian Anderson looked so much like Margaret Thatcher that she felt like there was a ghost on The Crown set whenever she was in Anderson's presence.
The uneasy relationship between Queen Elizabeth II and Prime Minister Thatcher is one of the major storylines in season 4. As a result, it was essential that whoever played the Iron Lady, as Thatcher was called, absolutely nailed the part. Luckily, The X-Files star was game to lose herself in the role, whether that meant donning a sky high wig or imitating the former prime minister's trademark scratchy voice.
Anderson's transformation is so good that Colman claimed it was sometimes unsettling to sit across from her during season 4's many audience scenes, in which the Queen and Thatcher discuss the state of Great Britain away from prying eyes. 
"It was quite scary," Colman said to Elle. "So much of our job is done for us by the incredible hair and makeup teams, and wardrobe. We wouldn't be as good without them. They outdid themselves with Margaret. Sitting opposite her, especially when the light was behind her, was a bit scary. And Gillian's voice and walk were very funny. It was very difficult to keep a straight face. It was like having a ghost around."
Gillian Anderson's flawless embodiment of Margaret Thatcher on The Crown came at a cost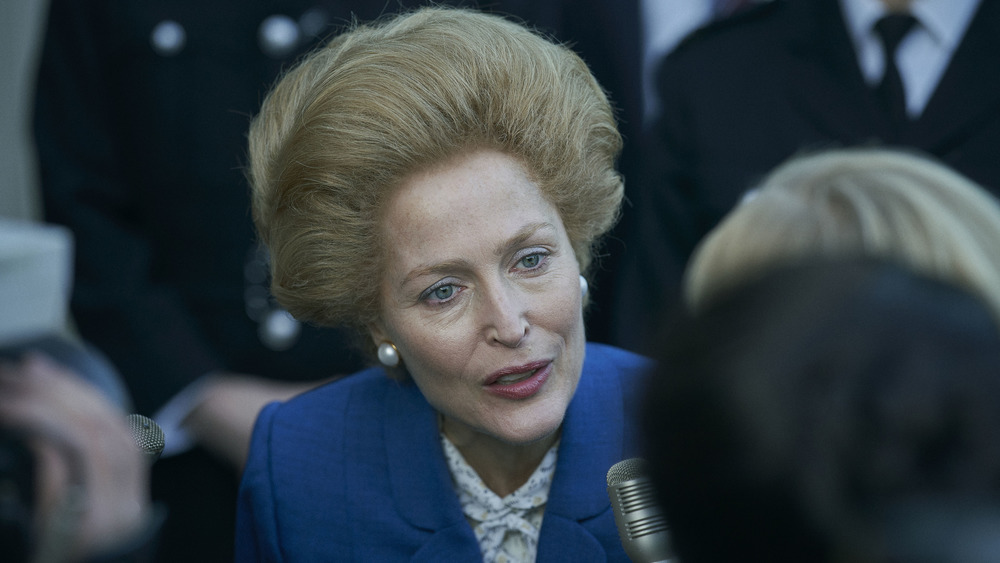 Des Willie/Netflix
Her resemblance to Thatcher in The Crown season 4 may be downright scary at times, but Anderson wants the world to know that capturing the prime minister's look was a painstaking process, no matter how effortless it looks on screen. Not only did she have to wear two towering wigs during the production, she also spent most of the season acting while sporting some truly terrible stockings.
"I have to say the stockings that they found for me to wear were some of the most uncomfortable I've ever put on in my life," Anderson said to Entertainment Weekly. "I wore a bit of a body suit to pad me out a bit. That wasn't particularly comfortable. It wasn't about my comfort or my sense of style, but it certainly put together a look for Thatcher that I think everybody was pleased with."
Thatcher's style was only part of the equation, though. It's Anderson's fierce performance that truly brings the Iron Lady to life. She imbues the divisive prime minister with a combination of ruthlessness and ladylike charisma that never feels false. It's no wonder Colman felt like she was seeing a ghost, because Anderson is so good she makes you feel like she communed with the prime minister to capture her with such ease.