Exclusive Clip: Get A Sneak Peek At Bob's Burgers' 200th Episode
The beloved animated series Bob's Burgers is fast approaching a milestone that necessitates celebration of the highest order. 
This Sunday — November 15, 2020 – Bob's Burgers will air its 200th episode: "Bob Belcher and the Terrible, Horrible, No Good, Very Bad Kids." Ahead of the premiere, Looper is delighted (more delighted than Linda Belcher is whenever she takes on a new hobby or obtains another pristine porcelain baby doll) to share an exclusive sneak-peek clip from the episode.
Written by Steven Davis, "Bob Belcher and the Terrible, Horrible, No Good, Very Bad Kids" — the sixth episode of Bob's Burgers season 11 — opens on the night before Ocean Fest, an event organized by the Ocean Avenue Business Association and held on (where else?) Ocean Avenue, where the Belchers' hamburger restaurant is located. In the exclusive clip provided to Looper, Linda and Bob are in bed; Linda's reading a book called The Painful Murder and Bob's suffering a moment of intense nerves. He hopes that Ocean Fest will go well, and Linda reassures him that it will.
"It's like I can see the future! You're there. You're lookin' sexy, sellin' burgers. You have a cool tattoo," Linda tells Bob. The tattoo-less Bob then questions, "Wait, I have a cool tattoo tomorrow?" Linda answers that he does indeed have a tattoo — "of a sword." She then reiterates to Bob that he has nothing to worry about, then promptly falls asleep.
Unfortunately for Bob, Linda doesn't possess any of those self-proclaimed powers of premonition. Something actually does go wrong on the morning of Ocean Fest, and the Belchers must scramble to keep their burger joint open following the particularly ill-timed snafu: Bob's flattop breaking. 
"Bob Belcher and the Terrible, Horrible, No Good, Very Bad Kids" marks a huge milestone for Bob's Burgers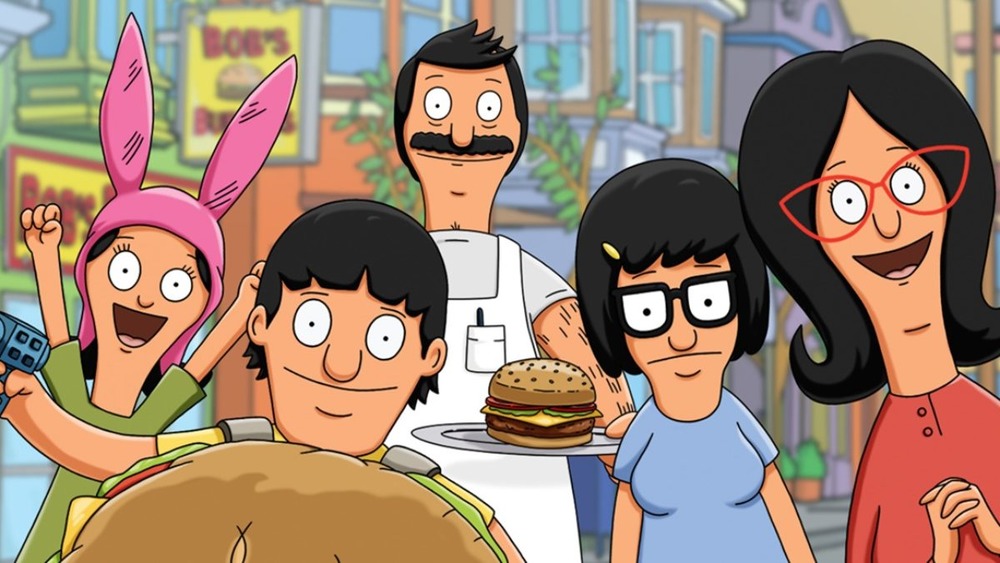 Fox
According to series creator Loren Bouchard, "Bob Belcher and the Terrible, Horrible, No Good, Very Bad Kids" will highlight the show's signature "pleasing sort of smallness" that fans know and love (via Variety). Davis, who wrote the episode, also offered up a tease about how the series' 200th episode will tie into its very first installment. He told Variety, "At the end of this episode, [Bob] kind of clears the record on what he meant when he said, 'I love you, but you're terrible. You're all terrible.' That was his very first scene of the very first episode."
Reaching 200 episodes is a massive accomplishment for any series, but especially for an animated show that didn't earn immediate success upon its debut in January 2011. A lukewarm first season gave way to a critically acclaimed second, and Bob's Burgers has been riding high in ratings and continuing to grow its enormous global fan base ever since. 
"To be able to be this far in and still be telling stories about these characters — it's still really character-driven storytelling, even though we have to work harder to come up with premises that we haven't done," Davis told Variety. Added Bouchard, "I think doing 200 episodes of television is a little like birthing 200 babies. So it's heroic, maybe, but also traumatic in a good way. And I think the rest of the crew — we all want to do 200 more."
Bob's Burgers' 200th episode premieres on Sunday, November 15 at 9 PM ET on Fox.