The Toughest Thing About Freaky's Production Isn't What You'd Think - Exclusive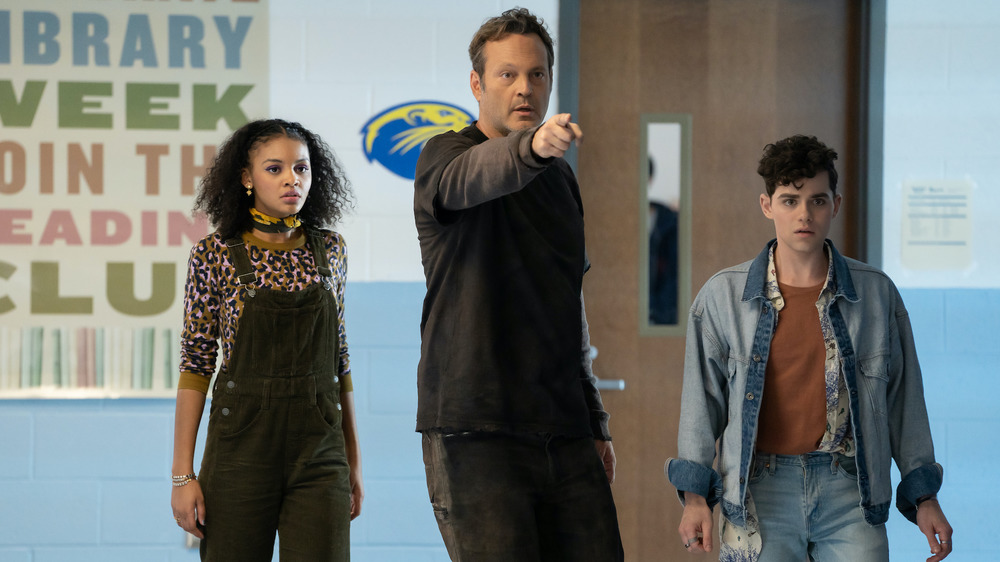 Brian Douglas/Universal Pictures
Vince Vaughn is such a well-known comedic actor that a casting director with reservations about putting him in a body-swap movie could be forgiven. But as co-writer and director Christopher Landon explained to Looper in an exclusive interview, the Wedding Crashers and Dodgeball star's lovably recognizable on-screen habits weren't an issue during the making of Freaky. 
In the new horror-comedy, which mixes the body-swap premise with slasher movie tropes, Vaughn plays a serial killer who accidentally switches bodies with a high school student (played by Big Little Lies' Kathryn Newton) via a magical dagger. 
"I think that there's a certain challenge there when you are dealing with a person who's larger than life and has a way about him," Landon admitted to Looper. "But to Vince's credit, he committed to the role so strongly [that] any of the Vince mannerisms generally felt much more like Millie things than Vince things, ultimately. There are moments in the film where I think he does what he does well, which is [to] riff a little bit. There's a little bit of improv that pops up sometimes in the movie, but I think it's forgiven, because it's all in the spirit of what this girl is going through." 
He added, "I never felt like I was having to coach him out of being himself. I think that we worked hard enough to make sure that he was truly committed to being Millie, that I think it kept Vince at bay a little bit."
Landon is no stranger to genre mash-ups, having helmed the successful Happy Death Day movies for micro-budget horror production studio Blumhouse. Blending the two genres together was a blast, working with Vaughn and Newton was a joy, but working out the budget and schedule was the toughest part about Freaky's production. 
"The challenge, always, when you're making a Blumhouse movie, is a budgetary challenge, which equates to a schedule challenge," Landon explained to Looper. "You just never have enough time. You always feel rushed, and there's a lot of stuff that you have to sacrifice in order to bring it home."
Freaky spent just over 30 days filming in Atlanta, Georgia in late 2019, with a lot of night shoots. "It was freezing cold when we shot this movie," Landon recalled. "So physically, you were just sort of like crushed by the process, but we had a good time."
How Vince Vaughn made the Freaky set fun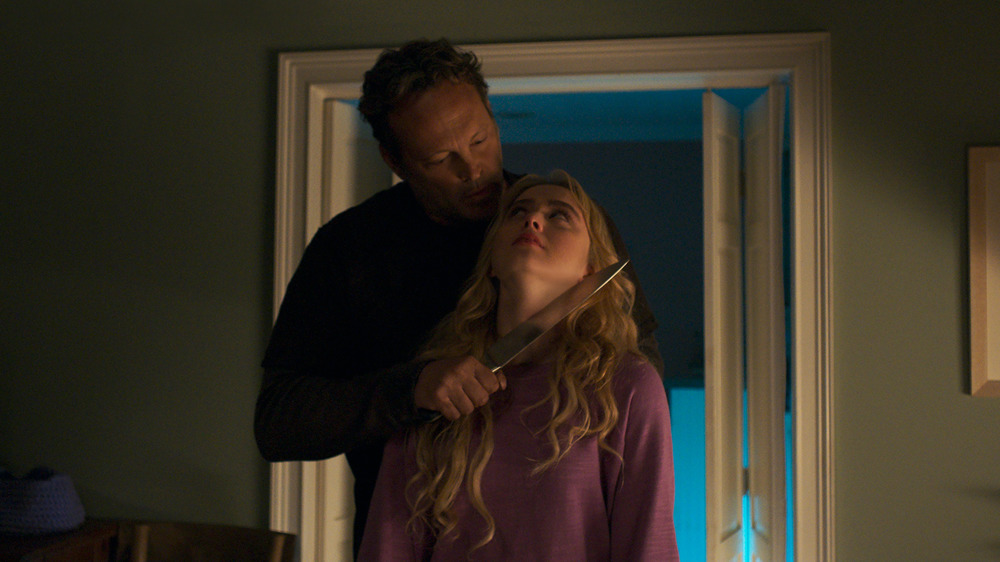 Brian Douglas/Universal Pictures
A big part of that good time was courtesy of Vaughn, as the director went on to explain. Vaughn and Newton hit the Atlanta set fully prepared to deliver convincing performances as each other's characters in Freaky. 
"In terms of performance, Vince and Kathryn and I, we put in the work," Landon said. "We did a lot of stuff before cameras were ever rolling, so that we could arrive on set and feel comfortable, confident, and liberated. And I think that hopefully shows in the movie. So that part, I wouldn't say was a challenge — it was a joy. They're both incredibly fun people to work with."
The early part of the work began with video diaries. Landon followed Newton around with a camera as she inhabited her character, Millie Kessler. "I was able to coach her a bit on a lot of Millie's mannerisms and her backstory and then she kind of lived it on camera," the director said. Those video diaries were then given to Vaughn to study for his performance as Millie in the Blissfield Butcher's body. That work was followed by numerous rehearsals together.
"The rehearsals weren't just like, 'Oh, let's rehearse the scene,'" Landon explained. "It was also about, 'Let's sit in a room and talk about these characters' histories, who they are, their life experience, and Millie's relationship with her mother and sister. How did she feel when her dad died? How has that sort of translated into her present day life? In horror comedies, characters tend to become an afterthought. They take a back seat to gags and to set pieces and so forth. I didn't want that for the film. I really did want the audience to care about Millie and to sort of fight along with her. I think that added investment in the character work ends up really helping the film." 
Despite the often cold, dark, and somewhat rushed conditions, Vaughn was instrumental in keeping the atmosphere light and fun. 
"Some of my favorite memories of making this movie was stuff that was behind the scenes, just us hanging out," Landon recalled. "Vince, holding court in video village, because he is that guy. He's incredibly funny off camera. We just had a really good time in an otherwise kind of sometimes miserable situation."
Freaky is in theaters today — Friday, November 13 — and will be available via video-on-demand platforms on December 4.