A Forgotten Jackie Chan Action Comedy Is Killing It On Netflix Right Now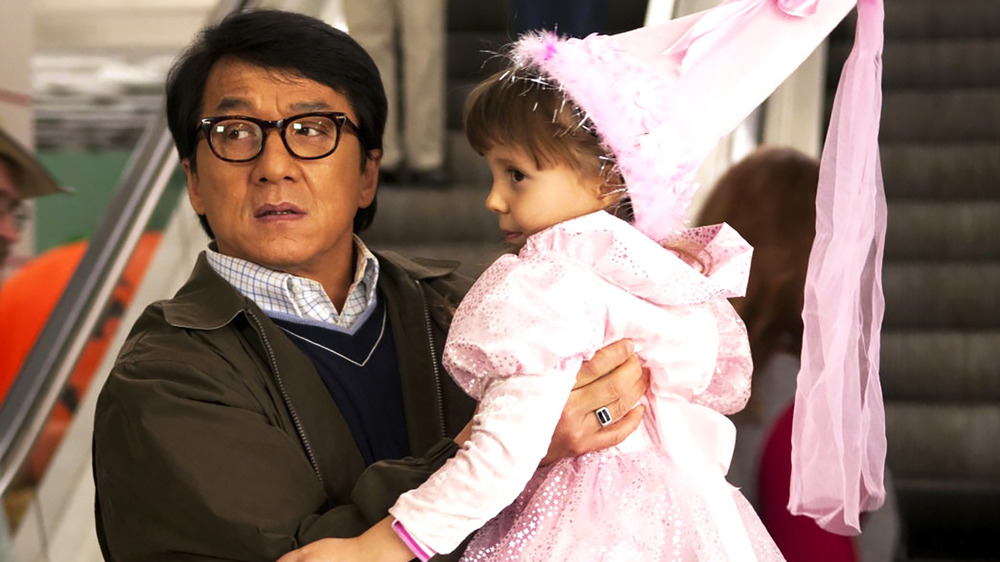 Lionsgate
There comes a time in the life of every movie-watcher when they need to be introduced to the work of Jackie Chan. The man is sui generis – part-Bruce Lee, part-Buster Keaton, totally unlike anything you've ever seen elsewhere. Based on how Chan's family-friendly action comedy The Spy Next Door is rising up the Netflix charts, that time of introduction has come for a lot of young viewers.
The Spy Next Door is far from Chan's most acclaimed work, but it was never intended to be The Legend of Drunken Master or Police Story. It's lower-key, if not lower-stakes, with more emphasis on comedy than fight and stunt choreography. This prevents the kids in the audience from spending most of the movie wondering how Chan possibly survived the production process. "My character is an ordinary spy. He's not a superhero," Chan said while doing press for the film (via Girl.com.au). "I wanted to design the stunts so the audience would believe them." 
This is kind of hilarious coming from a man whose various ordinary cops, soldiers, and adventurers have clung to speeding buses with an umbrella and slid down the outside of 25-story skyscrapers in death-defying scenes. But The Spy Next Door brings parts of the Jackie Chan style into its suburban setting — just because there's not really anywhere he can jump from a castle's walls or dangle from a clocktower here doesn't mean Chan won't be able to find an unexpected and entertaining way to get from Point A to Point B.
What's the plot of The Spy Next Door?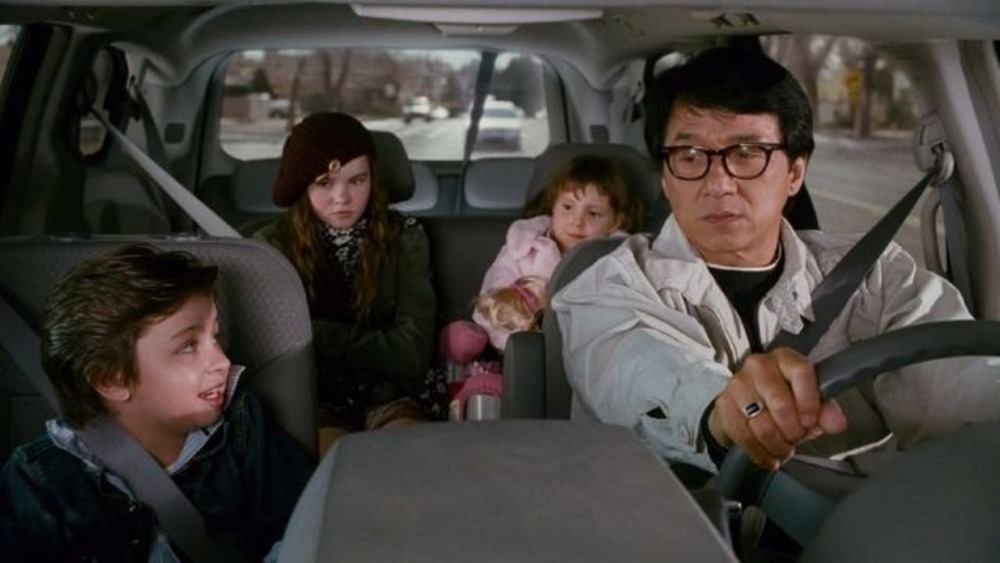 Lionsgate
The Spy Next Door stars Chan as Bob Ho, a CIA agent who's ready to retire after nabbing one last bad guy, Anton Poldark. First up on his list is proposing to his girlfriend and next-door neighbor Gillian, who has three kids who are skeptical of Bob and have no clue what he does for a living.
Everything's looking up for Bob until Poldark escapes with help from a CIA mole, and Bob's old partner sends him a top-secret formula that could destroy the global economy. Now he's a target, especially after Gillian's son Ian accidentally downloads the formula onto an iPod. With Gillian out of town, Bob shepherds the children to safety and defeats Poldark's henchmen until he's unable to hide his secret and spills the beans to the kids. When they tell their mom, Gillian rushes home to take the kids and breaks up with him for lying to her and endangering them.
But the kids, finally won over by over Bob and intrigued by his work, follow him to confront the bad guys — eventually using his spy gadgets to win the day and help Bob win back their mom.
Who stars in The Spy Next Door?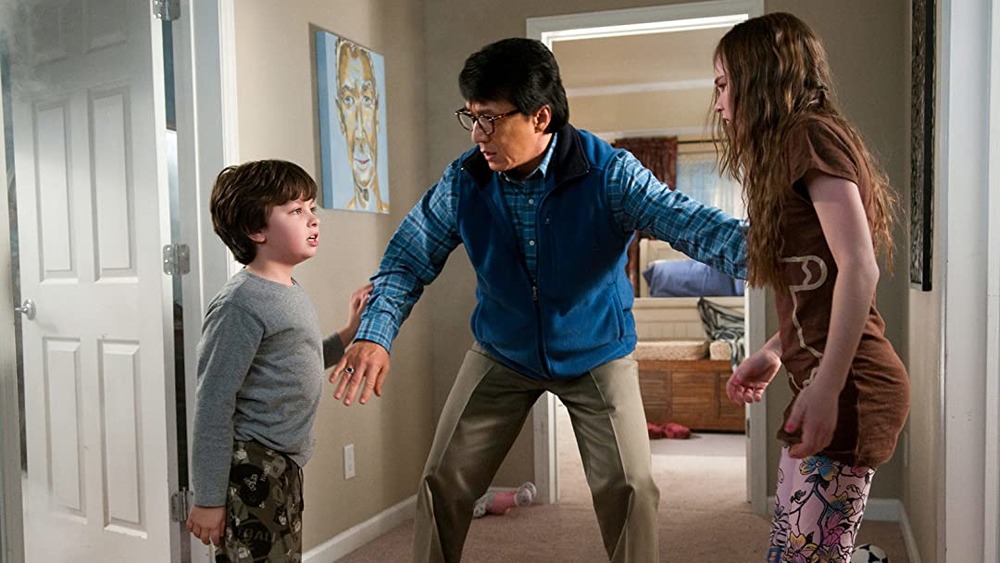 Lionsgate
Just because this isn't one of Chan's buddy comedies like Rush Hour or Shanghai Noon doesn't mean you wouldn't recognize anyone else in the cast. Bob's girlfriend Gillian is played by Amber Valletta, who had big parts in Hitch and The Transporter 2 and a recurring role on the TV drama-thriller Revenge. Bob's CIA partner Colton James is played by Billy Ray Cyrus, whom you probably know from things other than his acting. The role of Bob's old boss is filled by comedian and sitcom star George Lopez.
Even the three kids might seem familiar. Madeline Carroll, who plays the oldest child, Farren, has worked on Scandal and Criminal Minds. Middle child Ian is played by Will Shadley, who appeared on How I Met Your Mother. Alina Foley portrays the youngest daughter, Nora; Foley has done voice work on shows like Shimmer and Shine and Rise of the Teenage Mutant Ninja Turtles, but also appeared on The League and Days of Our Lives.
The villainous Poldark is played by Icelandic actor and two-time European champion of aerobics Magnús Scheving, who's best known as the creator and star of the Nick Jr. series LazyTown. The small role of Poldark's youngest henchman, Larry, is played by Lucas Till of MacGyver and X-Men: First Class fame. He fights Bob in a hibachi restaurant, which is maybe the last place on the planet anyone should attempt to fight Jackie Chan. One imagines Till is saved from a particularly terrible fate only by the movie's PG rating.
The Spy Next Door is now streaming on Netflix.