Why Sister Lilith From Netflix's Warrior Nun Looks So Familiar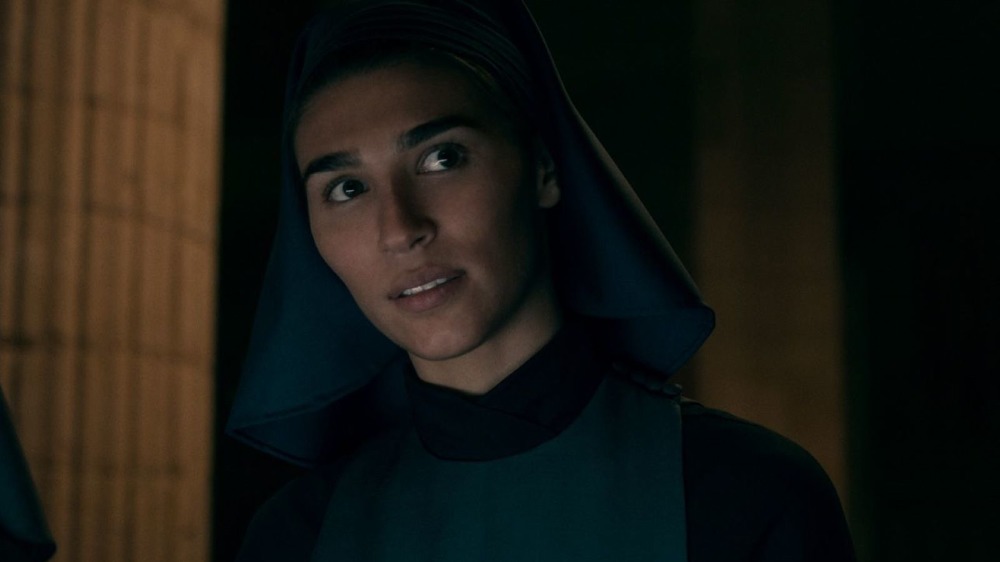 Netflix
Based on Ben Dunn's manga-inspired comic book series Warrior Nun Areala, Netflix's Warrior Nun is a seriously wild ride. As the title would imply, the show's nuns aren't your typical women of the convent, but fighters of the highest order. Newest nun Ava Silva (Alba Baptista) just so happens to have been recently resurrected thanks to a divine artifact stuck inside her: the Halo. This makes her a member of the Order of the Cruciform Sword — dedicated to putting a stopper on the demons threatening life on Earth — and grants her supernatural powers.
Not everyone is so ecstatic about their position, however — particularly Sister Lilith, played by actress Lorena Andrea. She believes Ava doesn't deserve the Halo, as in her eyes, the new nun is neither devout nor skilled enough. She further believes that she, herself, is the best candidate for Halo Bearer, and goes after Ava because of it. Time changes their relationship over the course of the first season, but it doesn't change the fact that Lorena Andrea looks so familiar. Here's where you may have seen her before.
Andrea has experience with historical dramas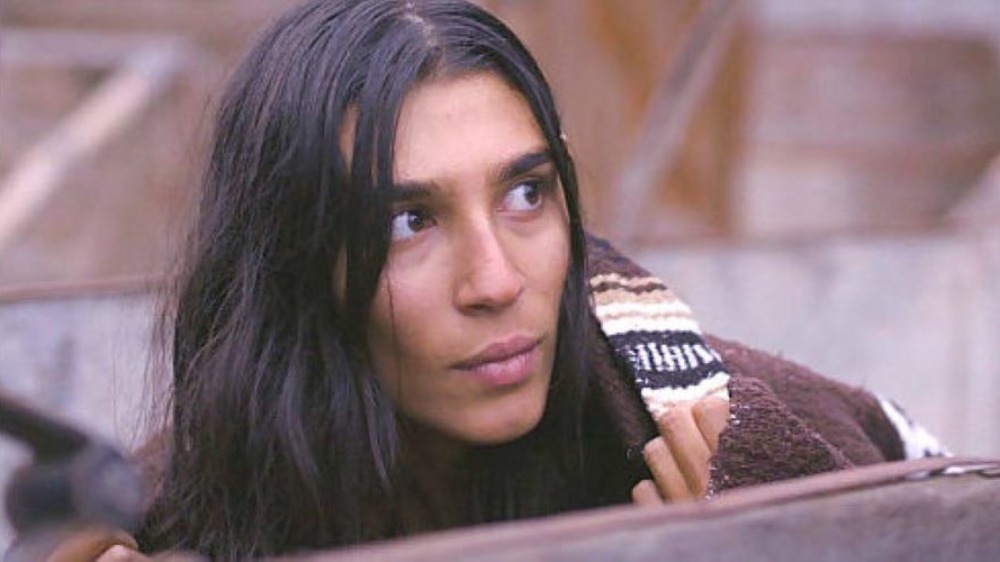 ITN Studios
Warrior Nun may have some history sprinkled in here and there, but to call it anything other than fantasy would be a stretch. Having demons roaming around, and artifact-based resurrection, will do that.
Andrea has, however, acted in films more firmly rooted in real world history, including 2017's Papillon. Based on French safecracker Henri "Papillon" Charrière's autobiography (as well as its sequel, Banco) and the 1973 film both of the same name, it chronicles the man's escape from the penal colony on Devil's Island. Andrea plays Lali, a South American woman who Papillon (Charlie Hunnam) marries and has trouble communicating with due to the language barrier. It's a small role — something that can't be said of her next historical drama appearance.
No Man's Land is a western — not as true to historical fact as Papillon, but without the fantastical flourishes of Warrior Nun. Texas in 1866 is about as rough and tumble as one might expect, and when Rusty Childress (Chris Routhe) passes through this unsettled territory with his family, his child (Keaton Bradbury) is murdered and his wife (Brooke Lyons) is kidnapped. Andrea plays a Native American woman named Lotsee, who Childress reluctantly recruits in the search for his wife. Navigating their differences, while working towards a common goal, isn't easy, but Andrea expertly sells the tension and eventual camaraderie between them.
Andrea is no stranger to scares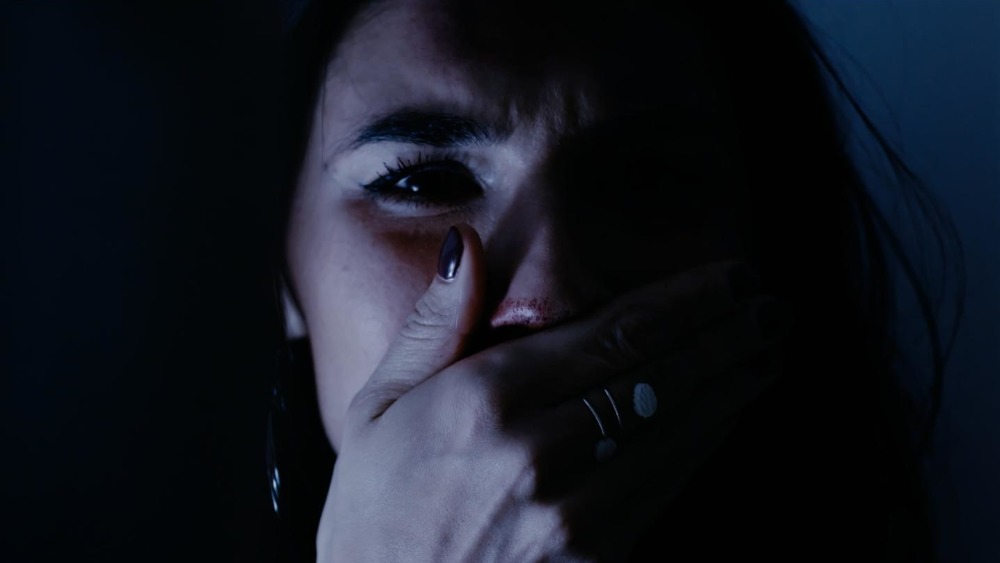 Proportion Productions
Demons might populate the world of Warrior Nun, but again, it's more fantasy than anything else. Andrea has starred in two productions that could more easily be labeled horror — demons or no demons.
Unhinged is one of these, a remake of the 1982 film of the same name. It centers around four American girls who are invited to a wedding in Britain: Andrea plays one of them, a girl named Thalia. Traveling for weddings isn't out of the ordinary, but this is a horror flick, so of course things go awry. The girls take backroads, becoming stranded in the woods along the way. A seemingly innocent woman named Miss Perkins (Michelle Archer) takes them in ... her attic, however, is anything but normal. Without spoiling anything too specific, Thalia and the others are targeted, one by one, by the horrifying evil from the attic.
House on Elm Lake shares the evil-force-lurking-in-a-house idea with Unhinged, but little else. The house in this film is depicted as having remained empty for a long time, after a family was murdered in it, but a new family of three moves in anyway. The evil in this house has been around for centuries, attacking any and all who enter. Andrea plays Crystal, one of the many who have to contend with this evil. It's a tried-and-true premise, but Andrea helps bring the film to life.
Andrea has starred in a number of short films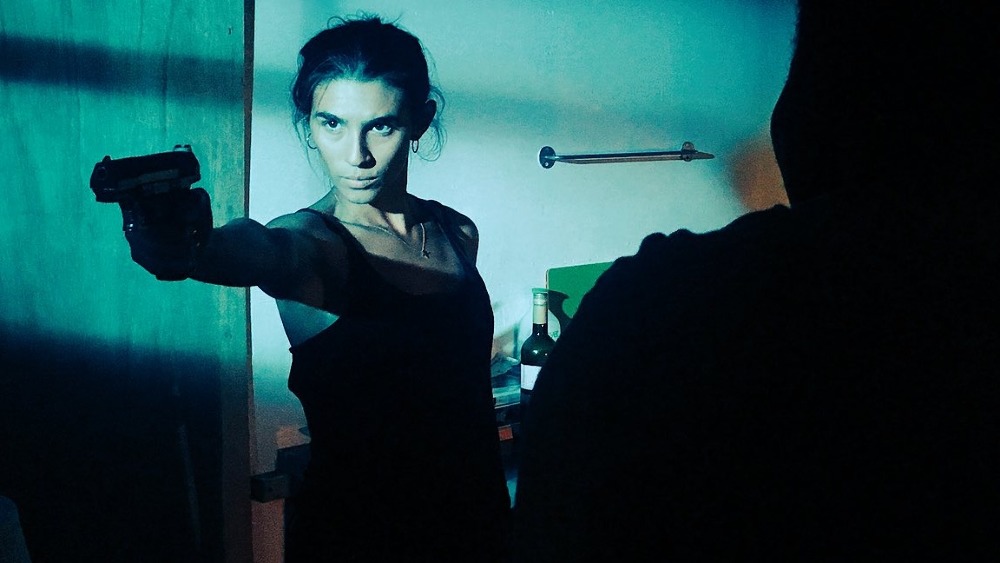 Blame the Consumer
Before starring in all these larger productions, Andrea had parts to play in a multitude of shorts. They may not be as well known or popular, but that doesn't mean Andrea's talent isn't on full display. Indeed, her short film roles are surely a piece of the reason she eventually got hired onto the likes of Warrior Nun.
Take Lithium, an action short, pictured above. Andrea is the only credited actress in it, so its watchability entirely hinges on her performance — a heavy burden for an up-and-coming thespian, but an excellent opportunity to prove herself, as well. Most of the other shorts she has done have relatively small casts, meaning she has had to bring her A-game, no matter what. Salaam-StDenis2015, for instance, only has two other actors besides Andrea, and tackles dicey topics: false accusations and suicide bombing.
The shorts Andrea has been in also convey her range quite well, each demanding she use the various tools of her acting toolkit in a limited amount of time. In Signs of Silence, her character Chesney learns how to live with a man named Eli (Elijah Baker) who only speaks sign language. In Lia, Andrea plays the role of a high schooler, despite being in her twenties in real life. In Grace of Mine, the characters find ways to escape the craziness of everyday life. 
Andrea's next film, Infamous Six, is in post-production as of November 2020. She's still quite young, so fingers crossed that her skill in front of the camera continues to win over the hearts of casting directors.