First Look At Supergirl's New Guardian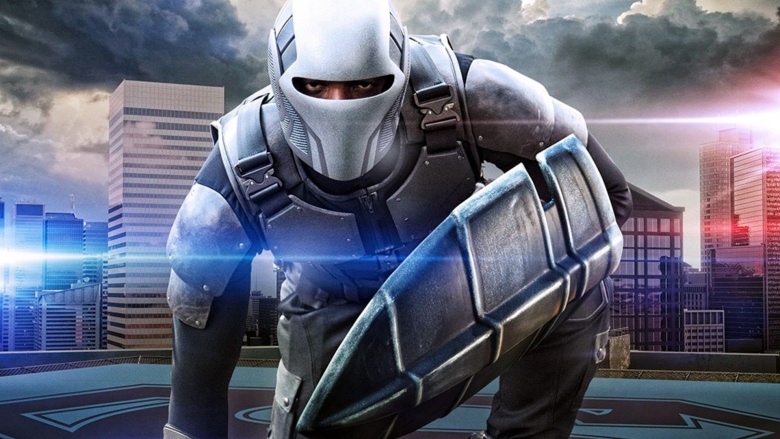 You've definitely never seen Jimmy Olsen like this.
Supergirl producer Andrew Kreisberg recently revealed there's a big change in store for James Olsen (Mehcad Brooks). Although the art director for CatCo spent much of the first season in a "will they or won't they" relationship with Kara Danvers (Melissa Benoist), he'll become his own superhero in Season 2.
Now the CW has shared the first image of Olsen as classic DC Comics character Guardian, and it looks like he means business.
Guardian first debuted on the pages of Star-Spangled Comics in 1942. A lot like Captain America, he doesn't possess any inherent super powers, but he does carry a pretty big shield. He was originally depicted as a Metropolis cop who decides to bring criminals to justice in his own way with help from the squad of orphans known as the Newsboy Legion.
But this is certainly a new development for the character of Olsen. In the comics and in past TV shows and movies, he's primarily been a sidekick and photographer with no crime-fighting agenda of his own–and he's never assumed the Guardian persona.
But Kreisberg explained the change (via CBR): "These next few episodes are going to make him realize that being a photographer... is not enough for him, so he's going to go on a pretty exciting career trajectory... James will decide he can no longer sit back and be a sidekick... which is going to cause a massive problem in his relationship with Kara because he has decided not to tell her."
Kreisberg also announced that Olsen will recruit Winn Schott (Jeremy Jordan) to aid with his crusade. "Winn is his man in the van," Kreisberg said. "Putting Winn and James together is like comedy gold."
Supergirl airs Mondays on the CW. While we wait to see how this plays out in Season 2, check out the insane history of Supergirl.