Supergirl's James Olsen To Become DC Hero Guardian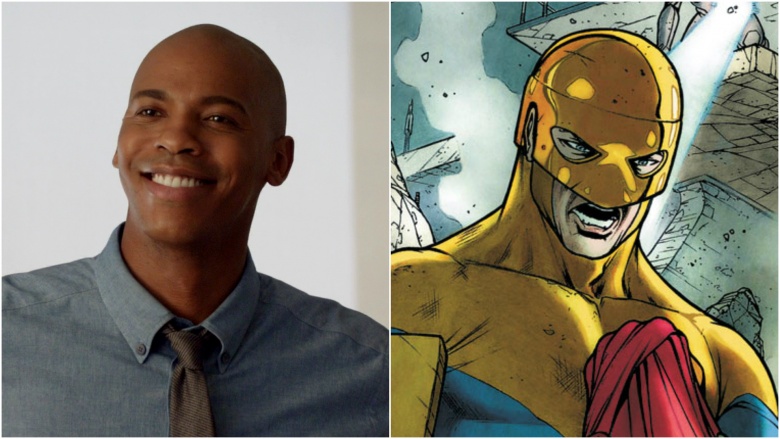 DC Comics/CW
How do you impress the girl you like when she's so super? In the case of Supergirl's James Olsen (Mehcad Brooks), it might be to become a classic DC vigilante and start fighting crime on the side.
According to Kryptonsite, it was revealed during a recent CW Q&A session that Olsen will soon assume the alter ego of the Guardian. CBR reports that producer Andrew Kreisberg confirmed the news, and it sounds like Olsen's decision could cause friction with Kara Danvers (Melissa Benoist). Of course, the pair split up in the Season 2 premiere.
"James has a pretty big turn coming up," Kreisberg said. "These next few episodes are going to make him realize that being a photographer... is not enough for him, so he's going to go on a pretty exciting career trajectory that we're really pumped by. James will decide he can no longer sit back and be a sidekick... which is going to cause a massive problem in his relationship with Kara because he has decided not to tell her."
Kreisberg also revealed that Olsen will recruit Winn Schott (Jeremy Jordan) to aid with his crusade. "Winn is his man in the van," Kreisberg said. "Putting Winn and James together is like comedy gold." He'll reportedly also keep their mission a secret from the DEO, and he'll have to explain "why he walks in exhausted, and why he has a black eye."
Created by Jack Kirby and Joe Simon, the original Guardian in the comics was Metropolis cop Jim Harper, who wielded a badge-shaped shield and turned to the Newsboy Legion for help. Although there's no mention of the Legion just yet, Kreisberg did say that Supergirl's Guardian will use the shield.
Supergirl airs Mondays on the CW. While we wait to see how this plays out in Season 2, check out the insane history of Supergirl.