What You May Not Know About Knock Knock
This content was paid for by Netflix and created by Looper.
Two beautiful women knock on your door in the middle of a storm. What's the worst that could happen if you let them in to dry off? 
Turns out, the answer is a lot. That's what Evan Webber, played by Keanu Reeves, learns the hard way in Eli Roth's 2015 erotic thriller, Knock Knock. Evan's a good, old-fashioned family man whose wife and kids leave for the weekend while he's hard at work on a new project, but all work and no play makes Evan a dull boy. That's when his world gets turned upside down when he hears an unexpected knocking at his front door. He opens it up and — wouldn't you know? There are two gorgeous women saying they got lost and need his help to find the address they're looking for. Well, Evan's a gentleman, so he naturally invites them in and proceeds to make them drinks and show them his record collection. 
Evan's a good guy, and these women get a little too close for comfort. While things start off sexy, they soon take a turn for the twisted and disturbing. You'll have to check out the film for yourself to see how things go down. Luckily, that's easier than ever before since the film is currently in Netflix's Top Ten.
Whether you've seen the film before or need some inspiration to check it out for the first time, there's a lot that went into making this film a reality, which is impressive considering most of the action just takes place within one house. Here's everything you may not have known about Knock Knock. 

Knock Knock is based off the 1977 film Death Game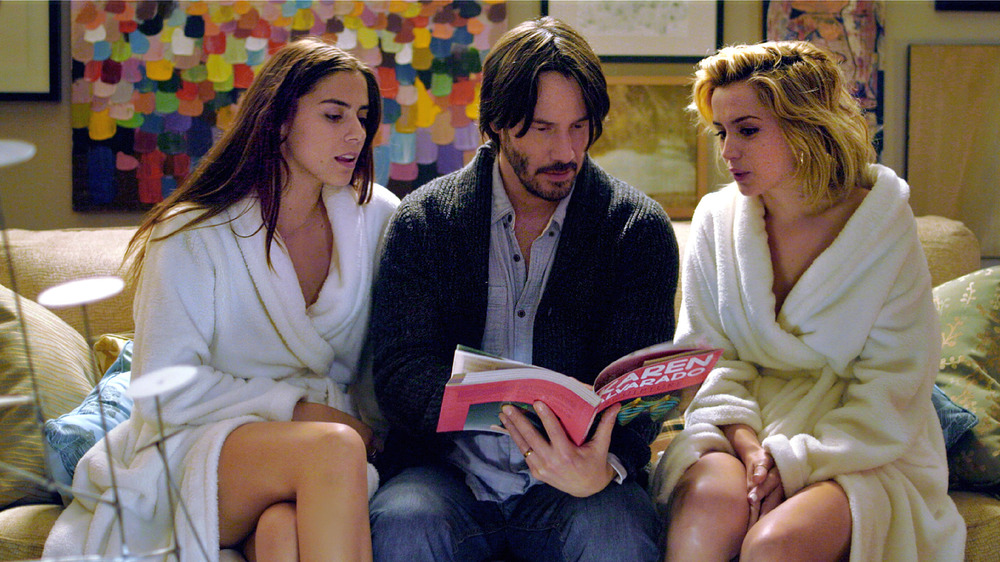 Lionsgate Premiere
It turns out that worrying about who's going to knock on your front door has been a prominent fear for decades now. Eli Roth's Knock Knock is actually based on a 1977 horror-thriller film titled Death Game. 
The film is roughly the same in its set-up, in that it follows a well to-do businessman, husband, and father, George Manning, played by Seymour Cassel, who's by himself for a weekend. Suddenly, two young women, played by Colleen Camp and Sondra Locke, end up knocking at his door, asking if they can get out of the rain by waiting inside. He accepts and soon finds himself being seduced by the attractive ladies. 
While Knock Knock is the most recent adaptation of the film, Death Game was actually remade one other time in 1980, as the Spanish film Vicious and Nude, starring Jack Taylor, Eva Lyberten, and Adriana Vega. 
Another fun fact about the 1977 film? A young Bill Paxton worked as a set decorator for it. 
Colleen Camp has a cameo in Knock Knock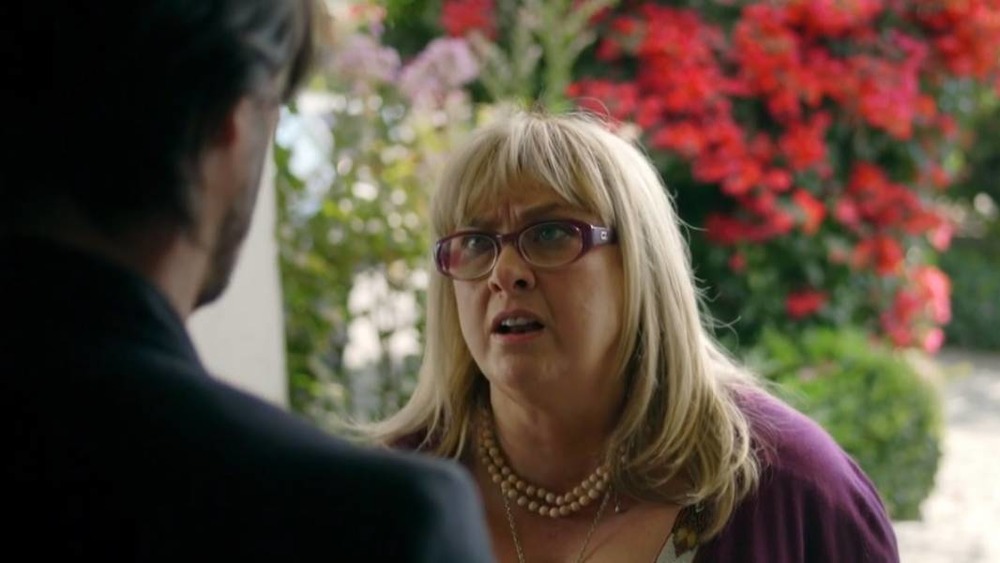 Lionsgate Premiere
It's always important to remember your roots, and Knock Knock definitely pays tribute to what's come before. The two vixens from 1977's Death Games, Colleen Camp and Sondra Locke, return as producers for the 2015 remake. Camp even makes a cameo in the film as Vivian. She's a friend of Evan's wife who makes an unexpected appearance to see if Evan needs any help while his family's away. Unfortunately, Evan's still dealing with some unwanted visitors, and it makes for a very suspenseful and memorable moment in a movie that has no shortage of either of those. 
She may not be the one playing deadly games this time around, but Camp's cameo makes for a nice touch for anyone watching who was a fan of the original. 
The real-life homeowner saw what the crew did to her house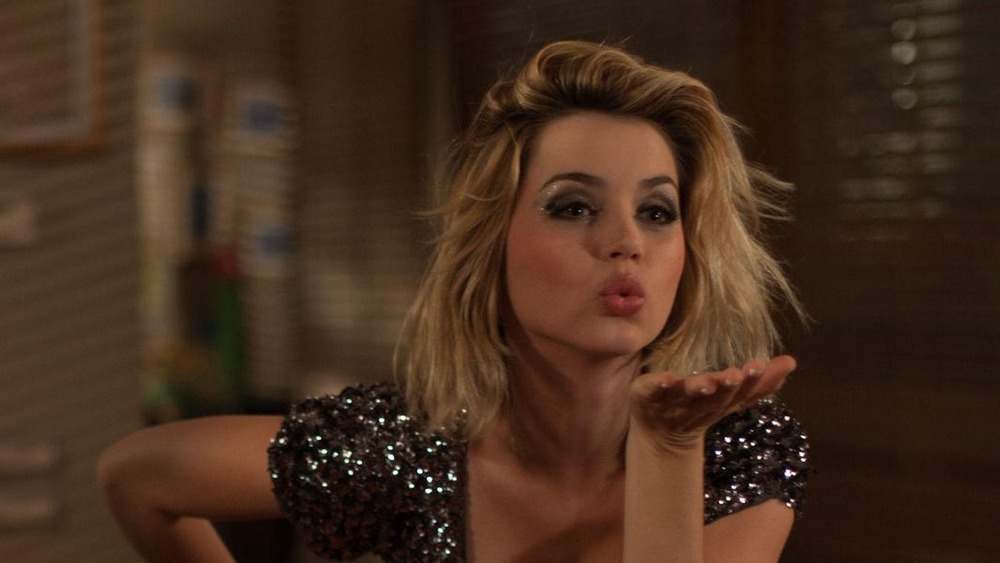 Lionsgate Premiere
Numerous TV and film productions are reliant on real-life homeowners renting out their abodes to give a project a more authentic aesthetic. For Knock Knock, the crew rented a home found in the town of Chicureo, located in the Chacabuco Province of Chile. The impressive glass house seen throughout the film actually belonged to an interior decorator, who likely didn't know what the crew had planned for her house when she rented it out. 
Now normally, the real owners stay somewhere else during filming until everything is squared away, with the expectation that everything will be put back together before they return. Unfortunately, this particular homeowner decided to pay a visit to the set on the worst imaginable day — because of what had happened to the property at that point in the film's story. According to a statement from actor Aaron Burns, who plays a character named Louis in the film, "I saw her pull up and I run inside. [...] She comes ripping through her house. She almost fainted. She's just distraught. We had to re-sod the whole backyard."
If you haven't seen the film, then you may wonder how bad it could've been. Suffice it to say, things get pretty messy later on in the film.
Actress Lorenza Izzo was married to director Eli Roth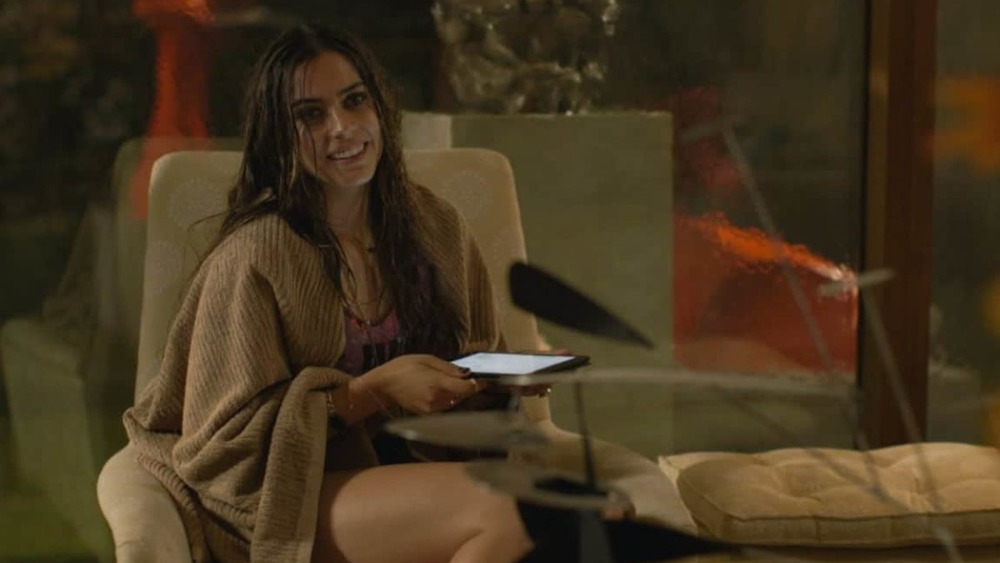 Lionsgate Premiere
Much of Knock Knock focuses on the interactions of the three main characters, played by Keanu Reeves, Ana de Armas, and Lorenza Izzo. You may recognize Izzo recently from Once Upon a Time... in Hollywood and Life Itself, but before any of that, she broke out in a big way with 2013's The Green Inferno, another Roth movie. 
More than a professional relationship developed between the two, as Izzo and Roth struck up a romance. The two ended up marrying in November of 2014. Izzo would go on to star in another Roth project: 2018's The House With a Clock in Its Walls. Unfortunately, the marriage wasn't meant to last. 
Roth and Izzo divorced in July of 2018. In a statement, Roth said the two intended to remain friends: "We've had an incredible journey together, we love each other very much, and will remain the best of friends. We are grateful for six wonderful years together but have decided to go our separate ways to have the most fulfilled, joyous lives we can."

It proved difficult to film in a glass house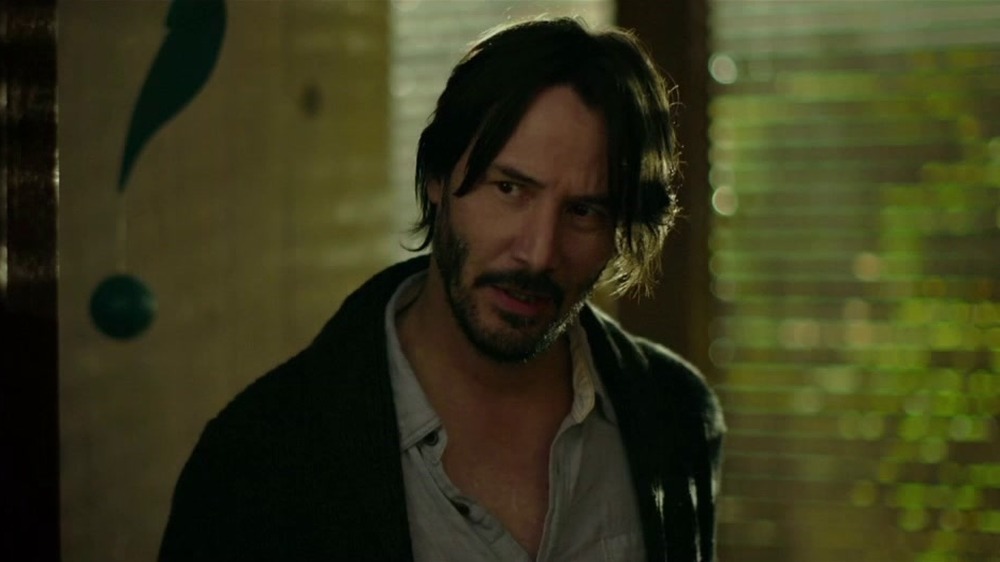 Lionsgate Premiere
People in glass houses shouldn't throw stones. And they also probably shouldn't try to shoot a movie if they can help it. 
Knock Knock takes place almost entirely inside the house belonging to Keanu Reeves's character and his wife. It's a beautiful home, complete with modern amenities, and it also proved to be a little difficult to film in considering it came adorned with tall glass walls. 
As one might expect, the crew had to deal with challenges with so much glass everywhere. Roth was even quoted as saying, "We found this beautiful location — this glass box — which presented its own challenges. Everywhere there was a reflection." If you've never shot a motion picture before, you may not realize the challenges that come with a set filled with that many reflective surfaces. Keeping the camera and crew hidden during filming makes the normal difficulty that comes with shooting a movie that much tougher. 
Even still, Roth found particular resonance in the house's design for his story. "I like the house being a character," he said, adding, "the house being a metaphor for the marriage."
Keanu Reeves may not be able to escape his house, and you won't be able to escape the enticing allure of this psychosexual thriller. Knock Knock is now available to watch on Netflix.