How Kevin Feige Convinced Elizabeth Olsen To Say 'Yes' To WandaVision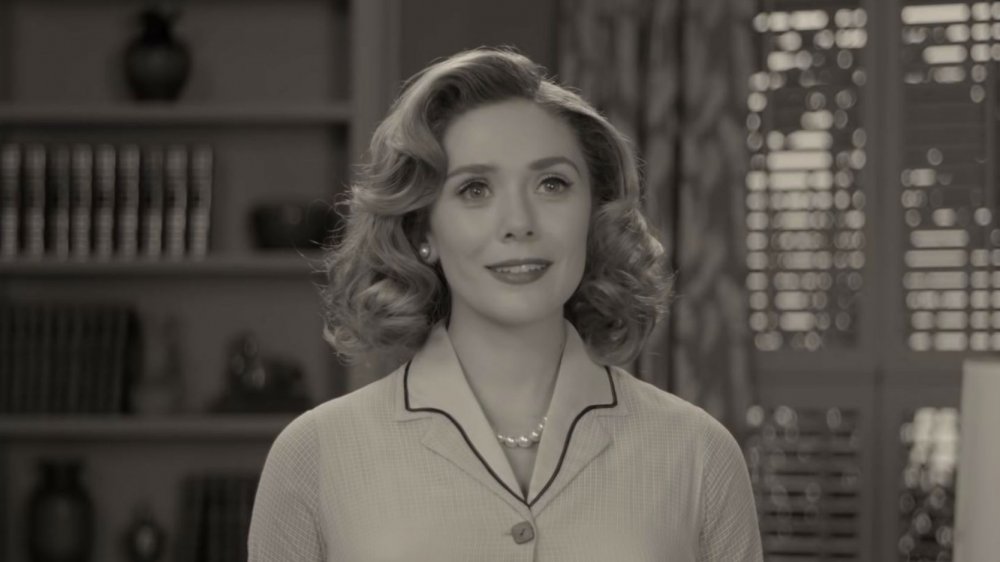 Marvel Studios/Disney+
Marvel's first television series to premiere on Disney+, and the first Marvel property to come out in 2020, WandaVision is the highly anticipated show focused on Elizabeth Olsen's Wanda Maximoff — also known as Scarlet Witch — and Paul Bettany's Vision. Both Olsen and Bettany's characters were introduced to the Marvel Cinematic Universe in 2015 in Avengers: Age of Ultron: Wanda and her twin brother Pietro Maximoff (Aaron-Taylor Johnson) fight against the Avengers, while Vision is created by the team to take down Ultron.
Over the course of the next two Avengers films — Avengers: Infinity War and Avengers: Endgame — the two characters grow very close, developing a romantic relationship that is threatened by Thanos (Josh Brolin) and his desire for the Mind Stone, which is how Vision stays alive and is what gives him his soul. Thanos succeeds in getting the Stone, killing Vision in the process, and at the end of Avengers: Endgame, Vision is still gone, making it unclear how he will return for WandaVision. 
As for Wanda, her story has come very far since her first appearance in the MCU. Despite that, though, Olsen was still hesitant to sign on to WandaVision, but Marvel Studios president Kevin Feige managed to convince her otherwise.
With Marvel reporting that the show will be released before the end of 2020, fans are eager for more news. Thankfully, the minds behind WandaVision recently opened up about the series to Entertainment Weekly, and Olsen revealed what exactly Feige said to persuade her to do the project.
Kevin Feige referenced specific Scarlet Witch comic storylines when discussing WandaVision with Elizabeth Olsen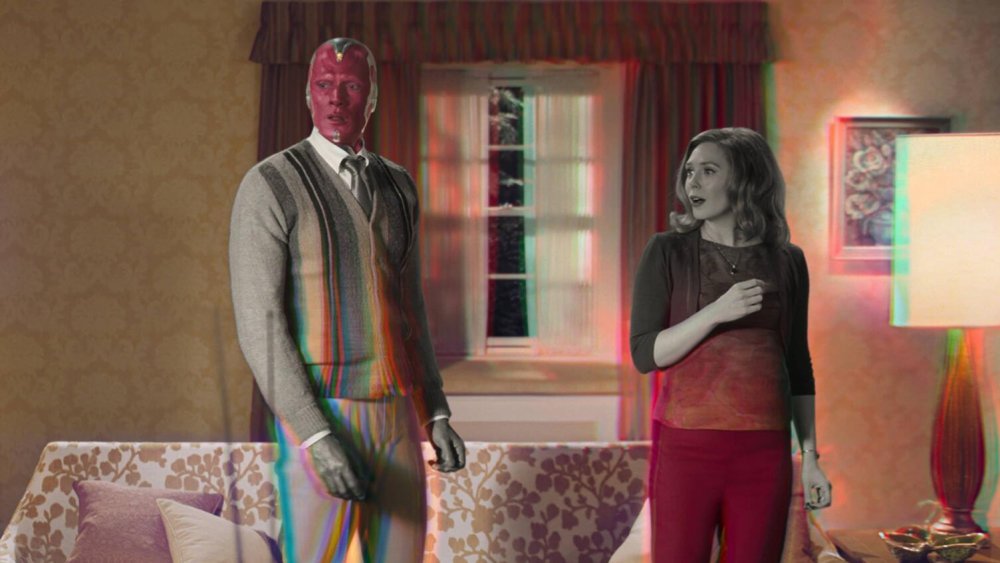 Marvel Studios/Disney+
From Sokovia to the Avengers, Wanda has come a long way. Her story is emotional and filled with loss, and the possibility of her love, Vision, returning is a hopeful image. Of course, it's not that simple, as all signs point to WandaVision embracing the reality-shifting aspect of Wanda's comic book storylines — which is part of the initial reason Olsen signed on for the series. 
Talking about early conversations about the show, Olsen revealed to EW that Feige drew her in by discussing specific comic book storylines as influences, though Olsen couldn't share which ones due to concern over spoiling things. What she could share was excitement, fulfillment, and gratitude. 
"It's been the biggest gift that Marvel's given me, getting to do this show. You get to just focus on her and not how she felt through everyone else's story lines," Olsen said of WandaVision. "I already felt like I had ownership of her because Marvel always encourages you to be part of the process. But even more so now, I feel I have a really strong sense of ownership. If anyone wanted to ask me a question about the future or just a question about what she would think, I feel like this time has provided that."
As of right now, the only clues fans have about the plot of WandaVision are the short summary on the Disney+ landing page, which reads, "Two super-powered beings living their ideal suburban lives begin to suspect that everything is not as it seems"; and the strange and intriguing WandaVision trailer. Despite the lack of details, Olsen's reference to specific comic book storylines should get fans excited, as many theorize that the series might adapt fan-favorite storylines like House of M, or possibly set up the future of Young Avengers, which includes the children of Wanda and Vision, Billy Kaplan and Tommy Shepherd. 
Audiences will have to wait and see what happens when WandaVision hits Disney+ later this year.