The Internet Is Going Bonkers Over This SNL Line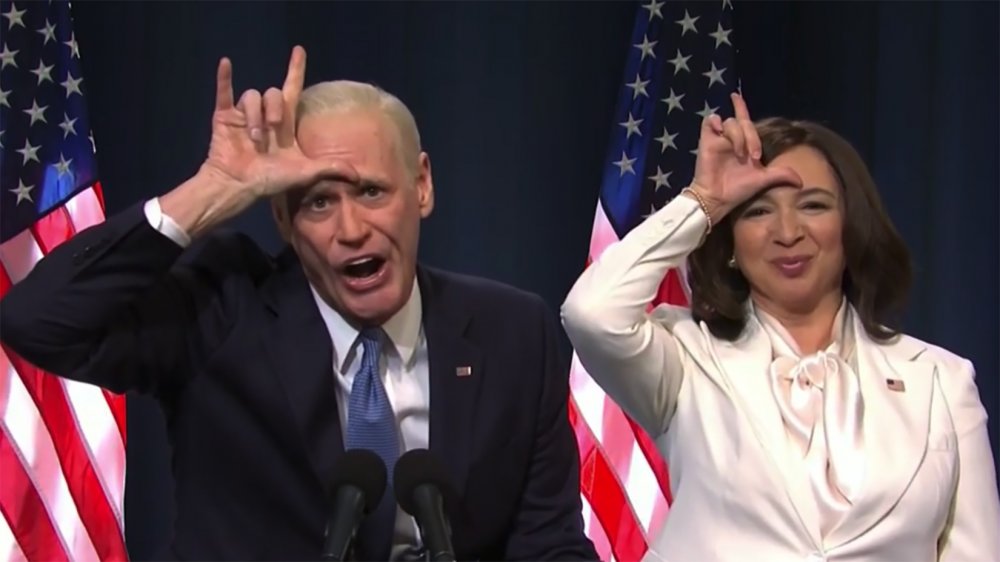 NBC
As you might imagine, the first episode of Saturday Night Live after the results of the 2020 Presidential election were called had quite a cold open. It features CNN newscasters breaking professionalism and celebrating Trump's loss, along with the triumphant return of Jim Carrey as President Elect Joe Biden and Maya Rudolph as Vice President Elect Kamala Harris.
And, of course, it features the man who has been responsible for playing soon-to-be former president Donald J. Trump over the last four years, Alec Baldwin. We'll talk about him more in a moment.
Carrey plays a Biden who's surprised to be elected (and a little surprised to be alive, too) while Rudolph embodies a celebratory Harris who doesn't care if people are mad that a Black, Indian woman is the vice president for the first time in United States history.
Four years ago, Kate McKinnon played the piano as Hillary Clinton singing the song "Hallelujah" by Leonard Cohen. This time Baldwin sat at the piano and, as Trump, sang a mournful version of the Village People's "Macho Man" before announcing this wasn't goodbye because he'd "see America in court."
It was at this point that SNL cut back to Carrey and Rudolph so that Carrey could, if only for a moment, bring back the catch phrase of likely the most popular character he's ever played.
Jim Carrey returns to one of his most famous characters
Mirroring the actual speech that President Elect Joe Biden gave over the weekend, Carrey's version acknowledged, "We have to act graciously in victory... We need to go forward together." Biden's message for a very long time now has consistently been that he will do his best to be a representative for all Americans, regardless of party.
Jim Carrey has a consistency of his own. He's taken on many a dramatic role over the years, but even when he was the lead in The Truman Show, coping with the existential threads unraveling in a life that wasn't his to control, Carrey still made room to shake his butt at the camera. Even drama needs comedy to break up the tension.
So, at the end of the semi-serious Biden speech when Carrey said, "Unfortunately there are situations in life, and this is one of them, where there must be a winner and a loser," he didn't say the word "loser" like a normal person — he said it like Ace Ventura, Pet Detective would. Ace Ventura, for those who don't remember, is the comedic character who launched Carrey from a successful television career on In Living Color to a stratospheric film career as the biggest name in comedy beginning during the mid '90s.
We don't see Carrey use that cartoonish Ace Ventura voice much anymore, so when he put his finger and his thumb in the shape of an "L" on his forehead, well, people went wild. That moment was a release for, as of this writing, over 75 million Americans, and getting it to do it in a way that's familiar, nostalgic, and silly made that release all the greater.