The Parks And Recreation Episode Fans Think Predicted Joe Biden's 2020 Win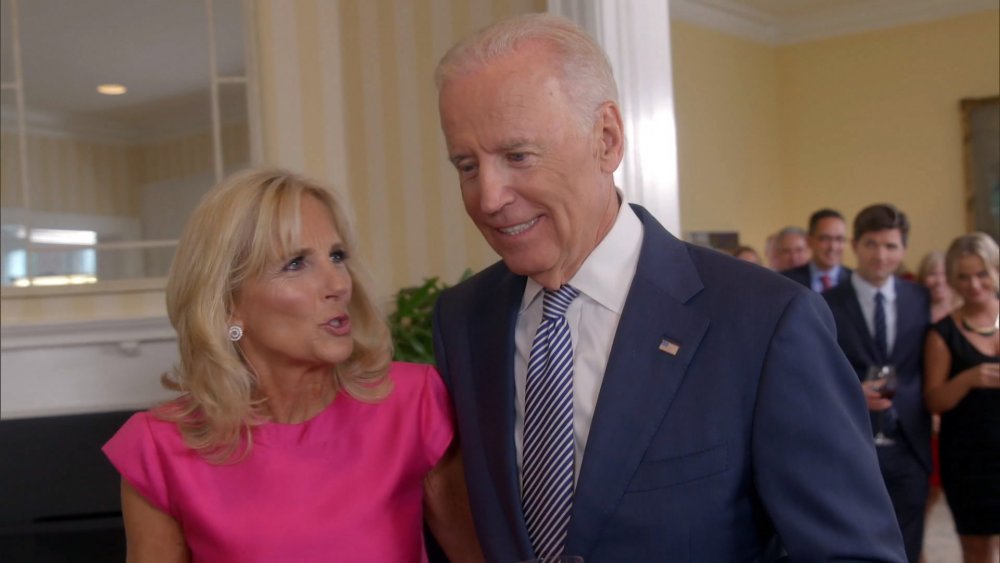 NBC
Leslie Knope never kept her infatuation with Joe Biden particularly close to the vest. Throughout Parks and Recreation, homages to Leslie's crush on the future 46th President of the United States popped up with astonishing regularity. She sewed a picture of Biden into a quilt, lost fine motor control when someone told her she could "do better" than him, and described her perfect man as having "the brains of George Clooney and the body of Joe Biden." This sort of thing happened in front of Ben a lot, undoubtedly leading to untold numbers of stop motion animated films.
In season 5, Leslie got an engagement present that was a little better than a waffle tower in the form of a face-to-face with Delaware's favorite son. It was one of several Biden-themed Parks and Rec clips that went viral not long after the Associated Press announced that the former vice president had topped 270 electoral votes in November of 2020. But Biden made a second appearance on the NBC sitcom, popping up once more for the series finale, "One Last Ride." That was the cameo that fans are now pointing to as a possible portent of future events. If it was a moment of prognostication, it's worth mentioning that showrunner and confirmed prophet Michael Schur also created The Good Place, so anyone hoping to visit Earth after they die had better start stockpiling frog toys now.
Leslie probably needs a minute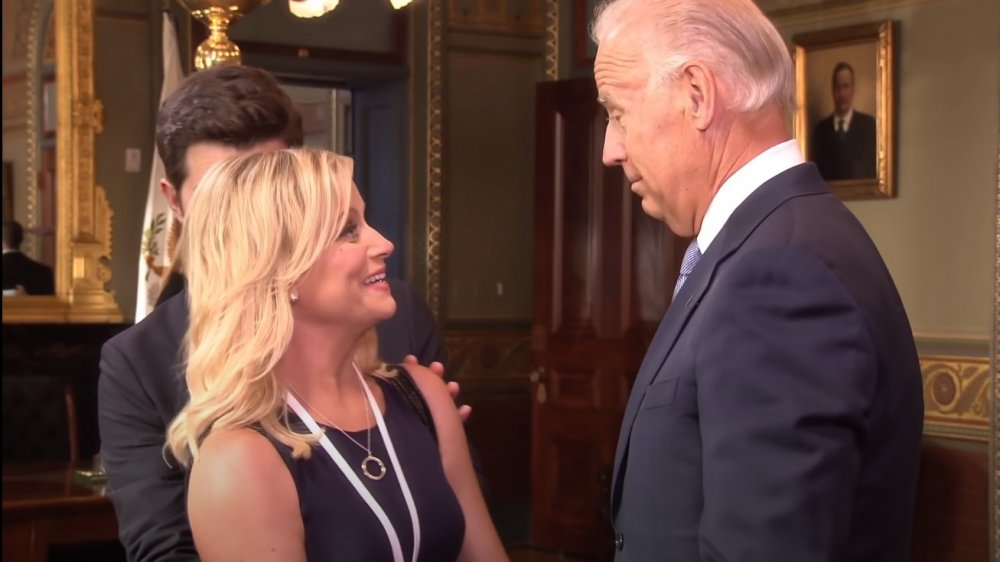 NBC
Quick recap: the Parks and Rec finale jumped all over the place chronologically, following the show's characters into their far-off futures. In one time jump, we see Leslie and Ben visiting a "nice house" in Washington, D.C., circa 2025. They're welcomed back by residents Joe and Jill Biden, who remind their guests that the only rule is "no shop talk" and then rue the fact that Leslie wants to play charades again.
The cameo wouldn't have necessarily pointed to any concrete conclusions about the Bidens' future accommodations if it weren't for the fact that their regular digs are located in Delaware. As Parks and Rec clips started flying in the wake of the 2020 election, some fans gestured wildly at the scene, saying, to paraphrase, "They called it!" It's important to keep in mind, however, that the show also predicted rideable skateboard tablet computers and a fulfilling life for Tom Haverford, so they didn't get everything right.
Speaking to ET, series showrunner Michael Schur stated that the Biden jokes were never intended to be a long-running gag. "It was a very casual joke pitched in the writers room one day a long time ago," Schur said. "It just sort of took hold, and once you give a writers room a bone like that, they are just going to chew it forever."