The Surprising Actor Alex Trebek Said Did The Best Impression Of Him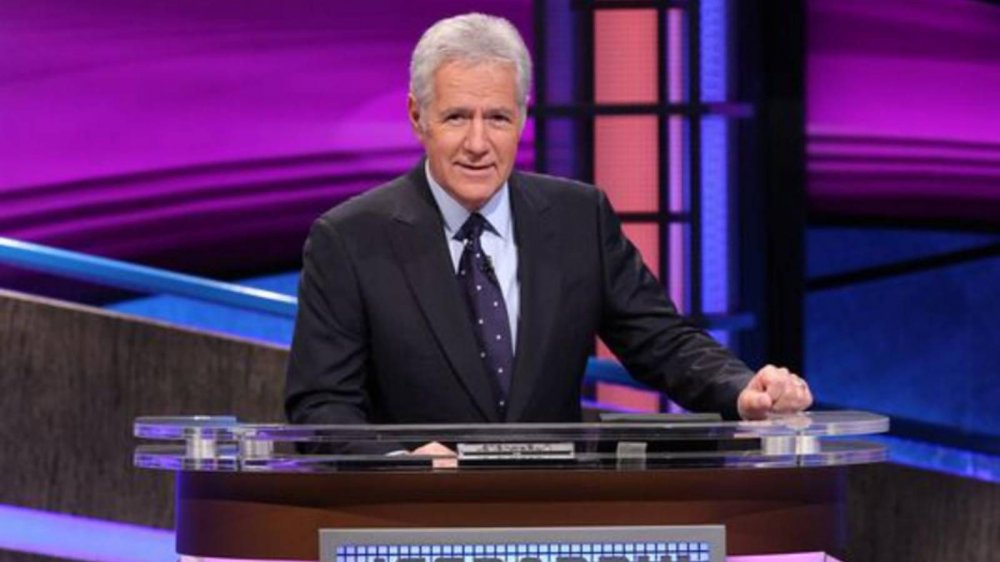 Sony Pictures Television Studios/CBS Television Distribution
The world of entertainment was dealt a devastating blow on November 8, 2020 when Jeopardy! host Alex Trebek passed away at the age of 80.
In March 2019, Trebek revealed he was struggling with stage IV pancreatic cancer. Despite the illness, he persevered and continued filming episodes of the beloved game show. In fact, you'll still be able to see Trebek host a few more new episodes as they continue to be released, with his final performance airing on Christmas Day later this year.
While Trebek will fondly be remembered for his hosting duties, he became a pop culture figure in his own right. He played himself in a variety of television shows from The Simpsons to Orange Is the New Black. When Trebek wasn't playing himself, other actors were more than happy to step into his shoes and portray the affable icon, often for comedic purposes. Many people may think Will Ferrell offered the zenith of Trebek impressions in Saturday Night Live's "Celebrity Jeopardy!" sketches. However, there was another celebrity impression Trebek himself was particularly fond of. 
Alex Trebek said Eugene Levy did the best impression of him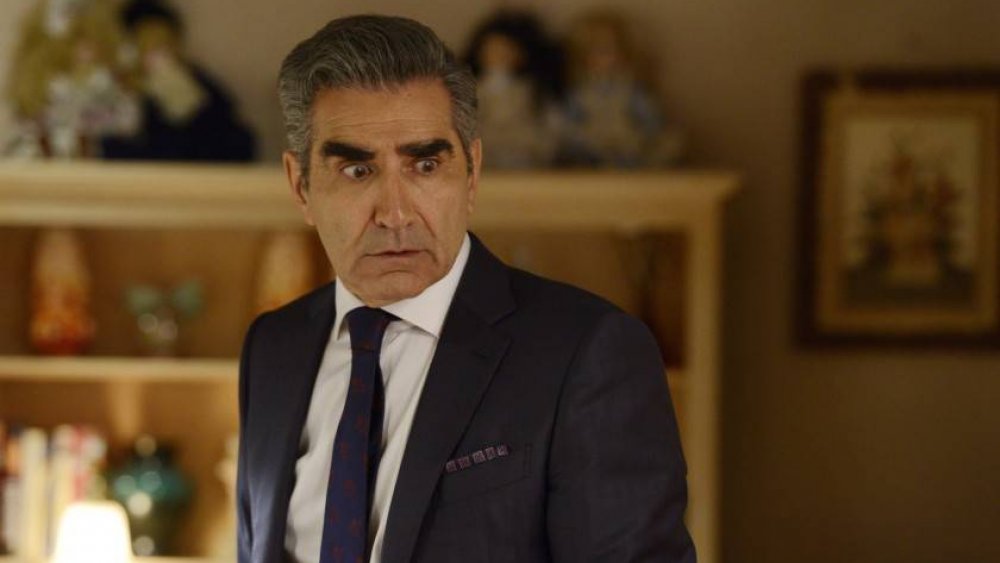 CBC/Pop TV
In an August 2007 interview Trebek did with the Television Academy Foundation, the game show host admitted that he preferred Eugene Levy's impression of him over Ferrell's. "Eugene Levy, I maintain to this day, did the best Alex Trebek ever — better than Will Ferrell," Trebek said at the time. "He looked more the part, too. He had the dark hair and he had the black mustache."
Levy, who's predominantly known these days for his role of family patriarch Johnny Rose on the award-winning comedy series Schitt's Creek, got his start on the Canadian TV series Second City Television. The show ran for six seasons and also starred the likes of John Candy, Martin Short, and Catherine O'Hara. Much like Saturday Night Live, Second City Television also featured a game show parody, called High-Q, with a host by the name of Alex Trebel, played by Levy. While the name's slightly different, Trebek reasoned, "I guess they figured, 'Let's forget about this charade and let's just call you Alex Trebek.'"
That's not to say Trebek wasn't a fan of Ferrell's impression; in actuality, was immensely flattered at all of the attention he received throughout his life.
"If you do a take-off of somebody, it is a sign that you believe your audience will immediately recognize who you're poking fun at. And if that's the case, that means there must be a lot of people who have watched your show over the years or are watching now," Trebek told the Television Academy Foundation. "So, they know immediately what the reference is. You're popular not only because of your own show, but [also because of] the take-offs and mentions on other shows."
It's safe to say people won't just remember Alex Trebek for his time on Jeopardy!, but also for all of the sketches he helped inspire over the years.