The Mandalorian Chapter 10 Gives A Clever Nod To Galaxy's Edge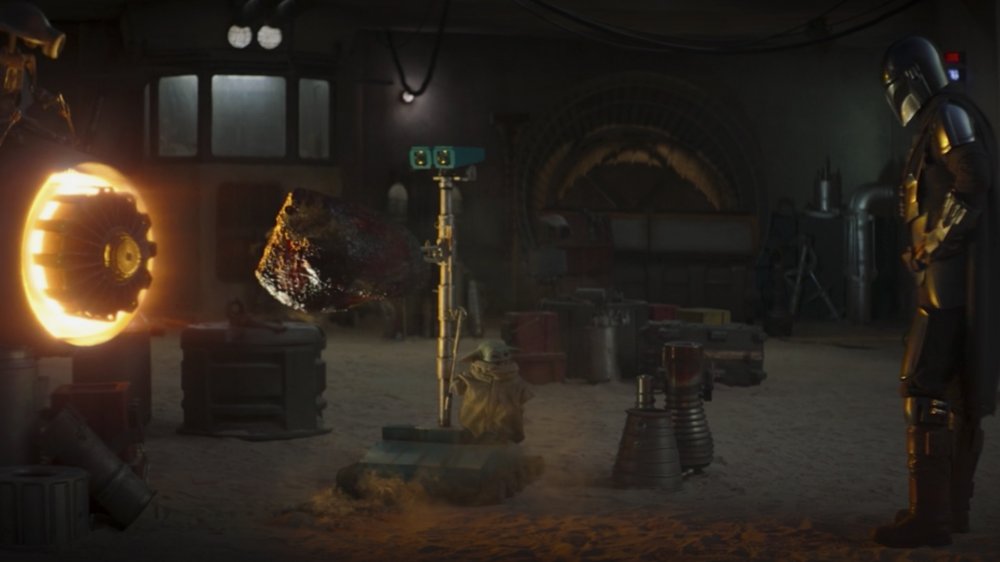 Disney+
Contains major spoilers for The Mandalorian season 2, episode 2
In the new episode of the Star Wars television series The Mandalorian, "Chapter 10: The Passenger," Mando (Pedro Pascal) and the Child continue their search for other Mandalorians, with the goal of delivering the Child to his people. In order to get more information from a contact, Mando has to transport the Frog Lady (voiced by Dee Bradley Baker) and her eggs safely to the planet of Trask, but as expected, they end up in quite a bit of trouble on the way. Let's just say it gets pretty messy. 
The second episode of The Mandalorian season 2 begins with Mando and the Child still on Tatooine, returning to Peli Motto (Amy Sedaris) in her hanger with a huge souvenir from the encounter with the Krayt Dragon. As Mando prepares for their mission to Trask, The Mandalorian slips in a sneaky reference to Galaxy's Edge – the Star Wars-themed section of Walt Disney World's Hollywood Studios theme park — and one particular restaurant there. 
Disney put in a lot of effort to make Galaxy's Edge visitors feel like they are actually in Batuu, a planet in the Outer Rim of the galaxy in Star Wars. With The Mandalorian's "Chapter 10: The Passenger," the Star Wars cinematic universe is now officially connected to the theme park and the planet it's based on, thanks to this one little detail.
A droid cooks the Krayt meat using the same technique as Ronto Roasters
Inside Galaxy's Edge is a very popular restaurant that shares a cooking technique with Peli Motto's WED-15 Treadwell droid. While Mando and the Child hang out in the hanger, one of Motto's droids takes on the task of cooking up the meat taken from the defeated Krayt dragon. With no modern grill to cook the meat, the droid uses the flame of a repurposed pod racer engine to barbecue it. This technique has a direct connection to Galaxy's Edge's quick-service restaurant Ronto Roasters.
According to the background story of Ronto Roasters, the restaurant is owned by a major podracer fan named Bakkar, whose passion greatly influences his eating establishment. The main feature of the restaurant is a modified podracer engine that sits in the center of the building, constantly cooking up (or at least appearing to cook up) some delicious Ronto meat from a large creature found on Tatooine — as well as entire Nunas, a species of turkey-like birds that live in swamps on Naboo. Along with that, just like in the hanger, a droid runs the machine in Ronto Roasters. 
Thanks to The Mandalorian, this cooking technique is now officially canon in the Star Wars universe, establishing a great parallel between the show and Galaxy's Edge.