The LEGO Star Wars Holiday Special Trailer Has Fans Stoked
This holiday season, Lucasfilm is dumping its Star Wars LEGOs out on the floor and mixing characters from across the galaxy to create a fun, lighthearted adventure known as The LEGO Star Wars Holiday Special. The trailer just dropped on November 5, 2020, and the frequently divided Star Wars fans are delighted all around.
The holiday special will take place soon after the events of Star Wars: The Rise of Skywalker, following Rey and the gang to Kashyyyk to celebrate Life Day. In a mysterious Jedi Temple, Rey finds a crystal that transports her through time and space into Luke Skywalker's X-wing, circa A New Hope. What follows is a romp through Star Wars past, filled with both expected and unexpected (but familiar) characters.
LEGO Star Wars started as a video game series, and has since spawned its own short films and TV specials. Its humorous take on Star Wars is much beloved, so it's the perfect avenue for the unexpected redemption arc of the infamous 1978 Star Wars Holiday Special. The bizarre TV special featured more than a few disturbing scenes and lots of untranslated Wookiee talk, but ultimately became a dark spot in Star Wars history. However, other than celebrating Life Day on Kashyyyk, the new LEGO holiday special will have little in common with its strange variety show predecessor — and fans are eagerly anticipating it.
Star Wars fans are united in their delight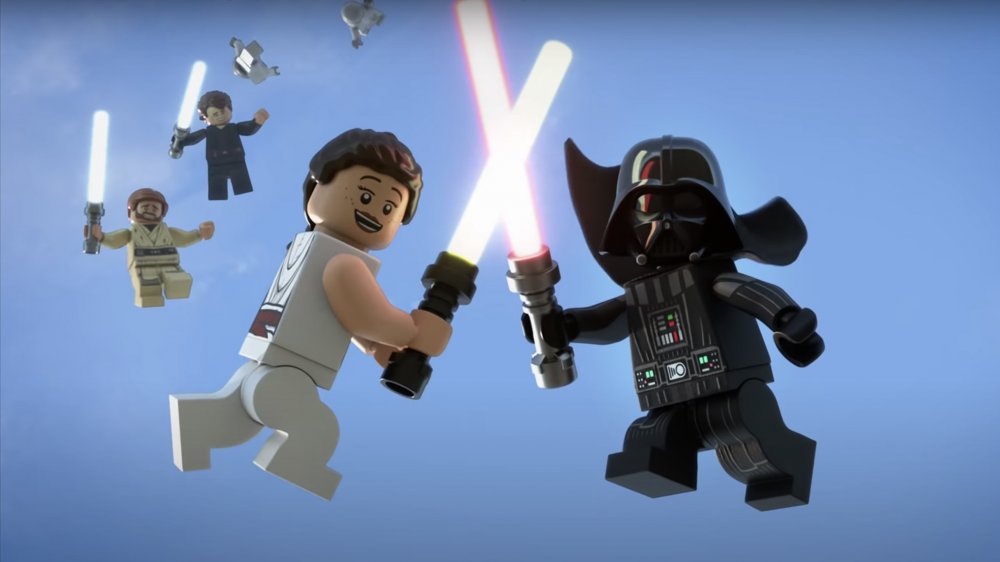 Disney/Lucasfilm
While franchise enthusiasts are known for their passionate feelings and relentless arguments over the various trilogies and iterations of Star Wars, The LEGO Star Wars Holiday Special promises to bring everyone together for the holiday season. As soon as the trailer dropped, it was already working its magic. One YouTube user commented under the trailer, "Lego Star wars is the one thing that can unite the Prequel, Originals and Sequel fans together."
That fan's remarks are ringing true, as the comments section of the trailer are filled with a spin on the classic Star Wars line "I have a really good feeling about this." To add to the excitement, many fans quoted Anakin Skywalker in the comments, saying, "This is where the fun begins."
While the trailer's silliness and time shenanigans would be out of place in a typical Star Wars movie, they're the appeal for LEGO Star Wars. As one user commented, "This looks like it's going to be pure dumb fun, and I'm so here for it." And while another fan said this is just what Star Wars needs, The LEGO Star Wars Holiday Special goes beyond that — ultimately, it's just what 2020 needs.
The LEGO Star Wars Holiday Special will arrive on Disney+ on November 17.