How Kazakhstan Really Feels About Borat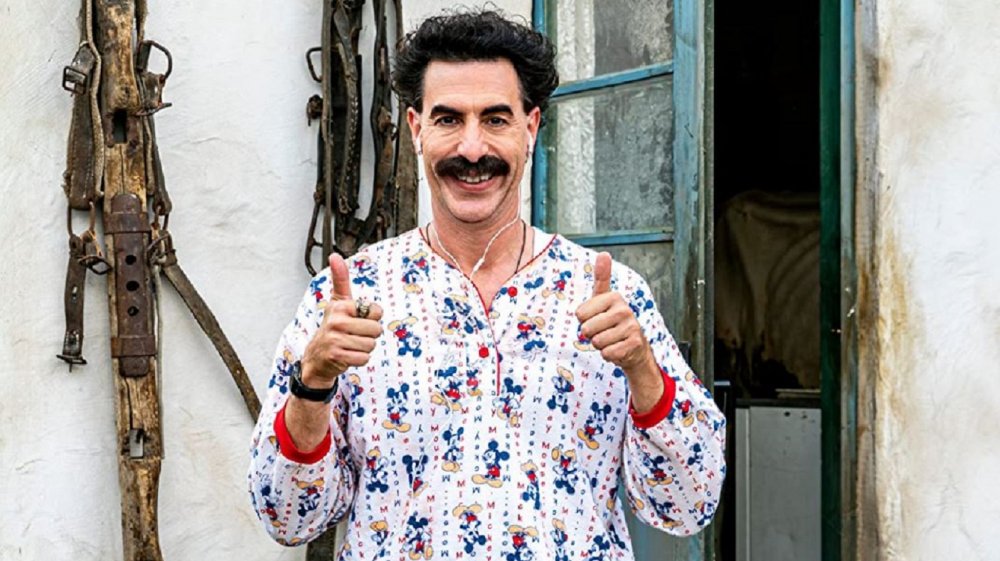 Amazon Studios
Borat Subsequent Moviefilm: Delivery of Prodigious Bribe to American Regime for Make Benefit Once Glorious Nation of Kazakhstan has been making waves ever since it debuted on Amazon Prime Video on October 23, 2020. The mockumentary centers on Sacha Baron Cohen's fictional Kazakhstani journalist Borat and his daughter Tutar (Maria Bakalova), who embark on a journey to revive their country's reputation after the infamy garnered by Borat: Cultural Learnings of America for Make Benefit Glorious Nation of Kazakhstan. 
This is — likely intentionally — rather ironic, seeing as the real Kazakhstan hasn't necessarily been too stoked about their most famous fictional son's endeavors. After all, Cohen's creation can be a bit of an uncivilized jerk, and the movie does present Kazakhstan as a backwater mud pit with highly suspect customs and a hilarious national anthem, but does the real Kazakhstan completely and utterly resent Borat, or is the fictional reporter a hit on the "home" front? Let's take a look at how Kazakhstan really feels about Borat.
Kazakhstan seems to be warming to Borat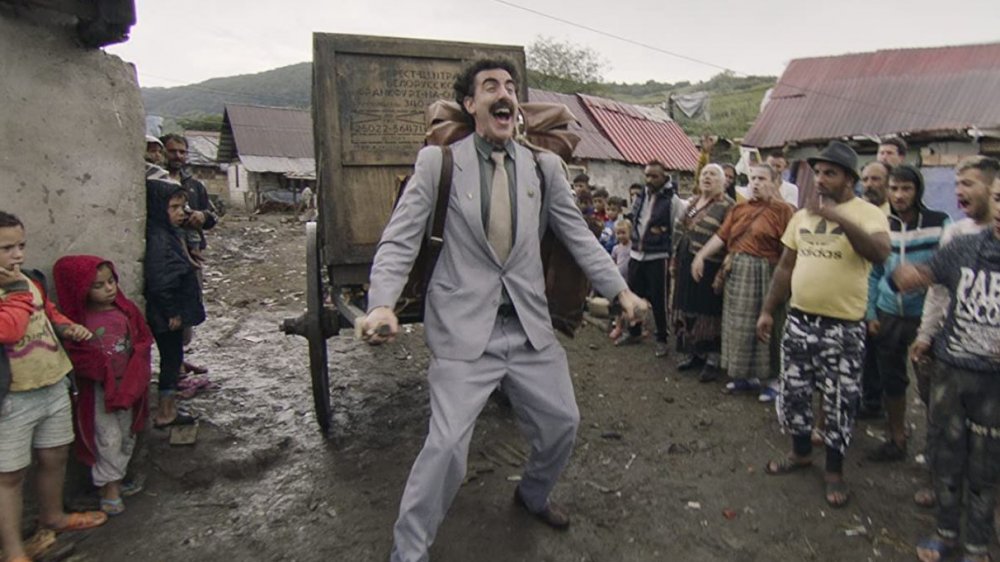 Amazon Studios
Kazakhstan hasn't always been happy about the way Cohen's most popular creation makes the Central Asian country look. In fact, the country outright banned Borat when it came out in 2006, per the New York Times. In fact, back then, Kazakhstan was in full damage-control mode, threatening Cohen with a lawsuit and buying ad space to defend themselves against Cohen's satirical aspersions. 
While Borat Subsequent Moviefilm certainly stirred up some brand new controversy, Kazakhstan has been considerably more mellow this time around. In fact, the country outright embraced the publicity by harnessing Borat's most famous catchphrase, "Very nice," for a tourism ad. On October 26, 2020, Kazakhstan Tourism unleashed a video that introduced us to their new slogan: "Very Nice!"
The idea came from American expat Dennis Keen and local film industry operator Yermek Utemissov, who recognize that the world has changed, and that Borat doesn't need to be a bogeyman. "It's a newer generation," Utemissov said about modern Kazakhstan. "They've got Twitter, they've got Instagram, they've got Reddit, they know English, they know memes. They get it. They're inside the media world." 
Cohen is all too happy that the country has chosen to finally embrace Borat, or at least the character's famous catchphrase. "[Borat Subsequent Moviefilm] is a comedy, and the Kazakhstan in the film has nothing to do with the real country," he said in a statement. "The real Kazakhstan is a beautiful country with a modern, proud society — the opposite of Borat's version."