The Black Noir You Didn't Get To See On The Boys Season 2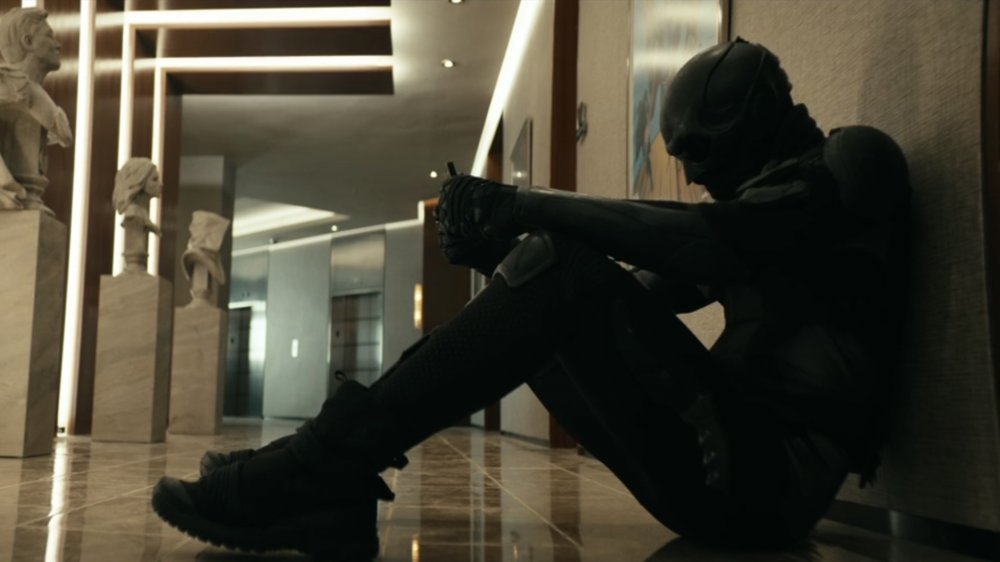 Amazon Studios
Throughout its two seasons, the dark superhero drama The Boys has taken characters from its source material and spun them into intriguing, multifaceted versions of themselves. While we saw little of Black Noir (Nathan Mitchell) in season 1, the Seven's quietest member made quite an impact this season ... as much because of what we didn't see, as what we did.
If Homelander (Antony Starr) is a dark spoof on Superman, then Black Noir is a little like Deadpool and Batman mixed together. Not only is he an expert in martial arts, he also has super strength, increased agility, and some sort of enhanced healing capabilities. Black Noir's big scenes in season 2 are chaotic and bloody: He kills an entire house worth of terrorists and nearly chokes out both Billy Butcher (Karl Urban) and Starlight (Erin Moriarty). 
And yet, due to some key adaptation differences, not only has he not reached the levels of gruesome that the comics version of Black Noir is known for, but in fact, he might never reach those lows. Here's why.
In the comics, Black Noir goes to places we haven't seen yet in the show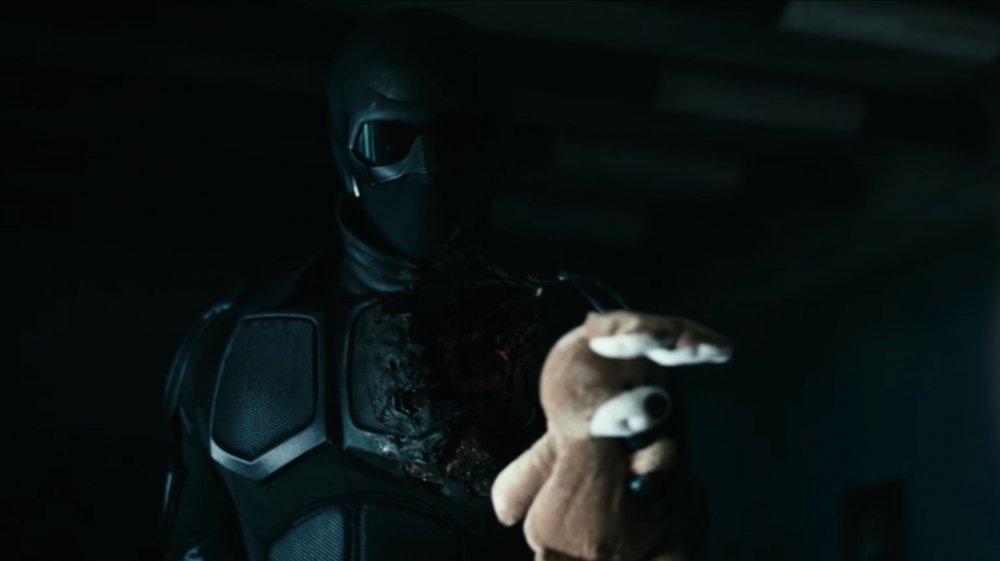 Amazon Studios
In Garth Ennis and Darick Robertson's The Boys comics, few Supes don't go to disturbing extremes. Black Noir is perhaps the worst of the lot: He sexually assaults Starlight and Hughie, straight up eats babies, and reveals that he was the one who assaulted Butcher's wife Becca in the first place, while implicating Homelander. All of this is on top of the usual violence and murder the Supes are known for.
But season 2 didn't show that Noir. In between him fighting on behalf of Vought, Noir plays with a kid, cries in a hallway, and seems to show some sympathy over Lucy the Whale's untimely death. Sure, he's holding a decapitated head when he attempts to use a stuffed animal to soothe the child, but the fact that he tries at all shows some new depth to his character. For one, he didn't try eating the kid.
To be clear, some of Black Noir's most depraved acts were purely for attention, and because of one marked difference from the TV version: In the comics, the big twist is that Black Noir actually a clone of Homelander, so he took disturbing photos to incriminate his rival. But in the TV series, it has now been confirmed that he is not a Homelander clone, which changes everything. It seems they're taking him in new directions. Based on that, it makes sense that the show makes him out to be more human, like in the scene where he watches a news clip about Compound V and sobs quietly to himself on the hallway floor. 
But while we'll probably never see Black Noir eat a person on The Boys, we also missed seeing him sneak a more socially accepted snack.
Black Noir prefers Cheetos over Almond Joys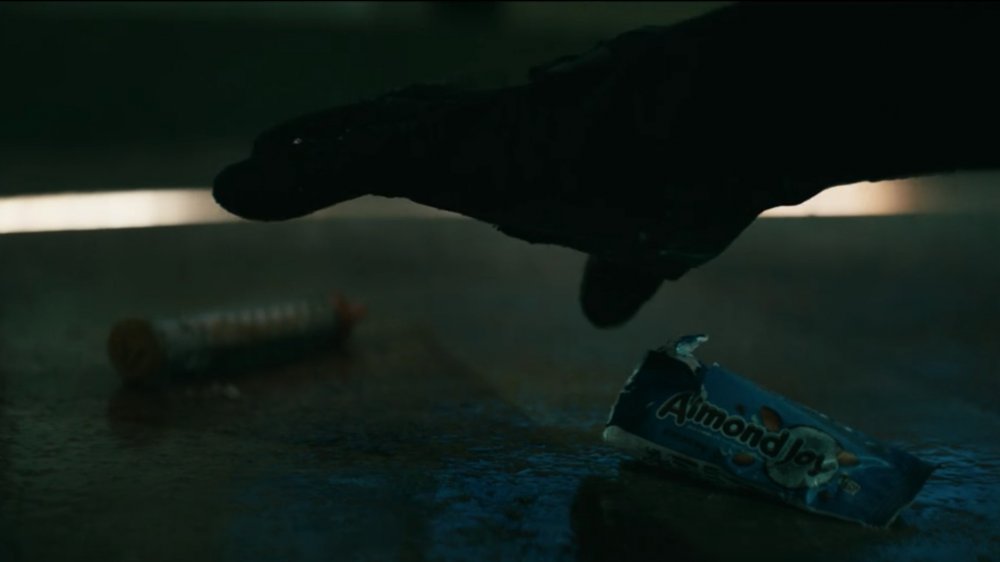 Amazon Studios
Season 1 had Black Noir playing the piano at a party and slurping an empty drink's straw through his mask. He awkwardly reached for an hors d'oeuvre, but hesitated a moment too long, and it was gone. These small scenes showed an amusing and human side to Black Noir, but actor Nathan Mitchell told Looper there was another silly Noir scene cut from the show.
Mitchell said Black Noir and A-Train were in the tracking room, when a photo appeared to catch Noir's eye. "And after A-Train leaves, [Black Noir] slowly leans towards the picture. But instead of grabbing the picture, he grabs some Cheetos and walks off."
Well, by the end of season 2, we finally see Black Noir get his snack. Queen Maeve (Dominique McElligott) shoves a foreshadowed Almond Joy into his mouth, incapacitating him. "He has a tree nut allergy," she says (which is actually inspired by Mitchell's own nut allergy). While this scene leaves us with many questions — does Maeve always carry an Almond Joy in case she needs to take out Black Noir?  — the biggest is what state will Noir be in when he comes back. Right now, he lies in a hospital bed, but showrunner Eric Kripke promises we'll see more of him in season 3.