The Borat 2 Interview That Gets Fans Emotional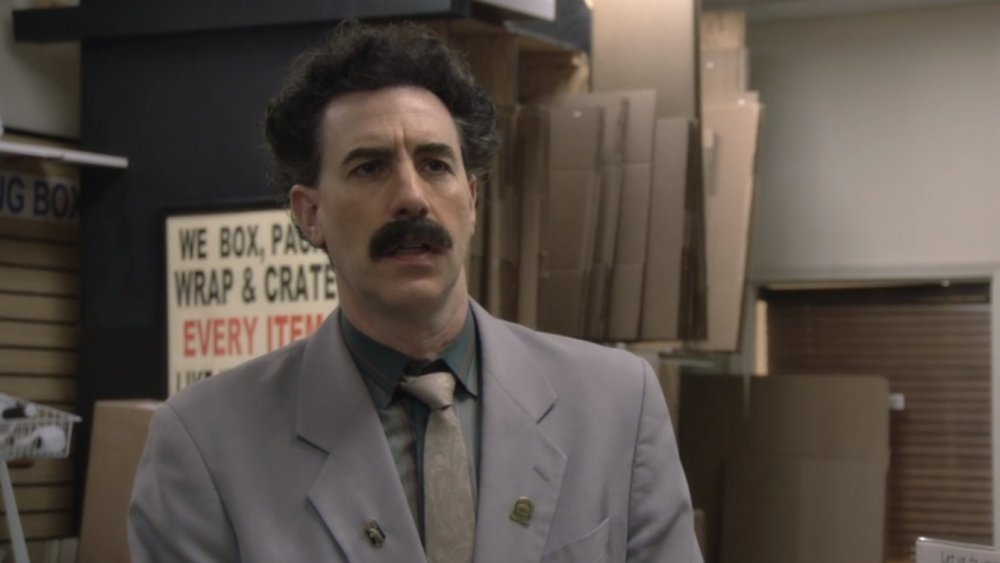 Amazon
After a 14-year absence, Kazakhstan's favorite disgraced reporter returned to screens on October 23, 2020 in Amazon's Borat Subsequent Moviefilm: Delivery of Prodigious Bribe to American Regime for Make Benefit Once Glorious Nation of Kazakhstan. Spitting in the face of the old axiom that "comedy doesn't age well," the second Borat received overwhelmingly glowing reviews thanks to its borderline-unbelievable over-the-top approach to guerilla humor — and, for a few scenes during the first act, chimpanzee humor, too.
Fans of the first film had a ballpark idea as to what they should expect. Sacha Baron Cohen's star character does, unquestionably, bring up the subject of his wife. But some viewers were shocked to find that the sequel had an emotional side as well, with one interview in particular receiving lots of fan attention for the warmth and kindness it displays. Weirdly, it's not the part where Borat's daughter Tutar self-actualizes by admitting what happened to Johnny.
No, it's a scene that comes out swinging for the controversial fences. Towards the end of the second act, a distraught Borat visits a synagogue, assuming that he'll be killed. He shows up dressed in what could best be described as "hate crime chic," wearing a fake nose and devil wings and carrying a bag of money. What probably should turn into a forcible ejection from a house of prayer instead plays out as a pretty remarkable display of human kindness.
Borat went and gave folks the feels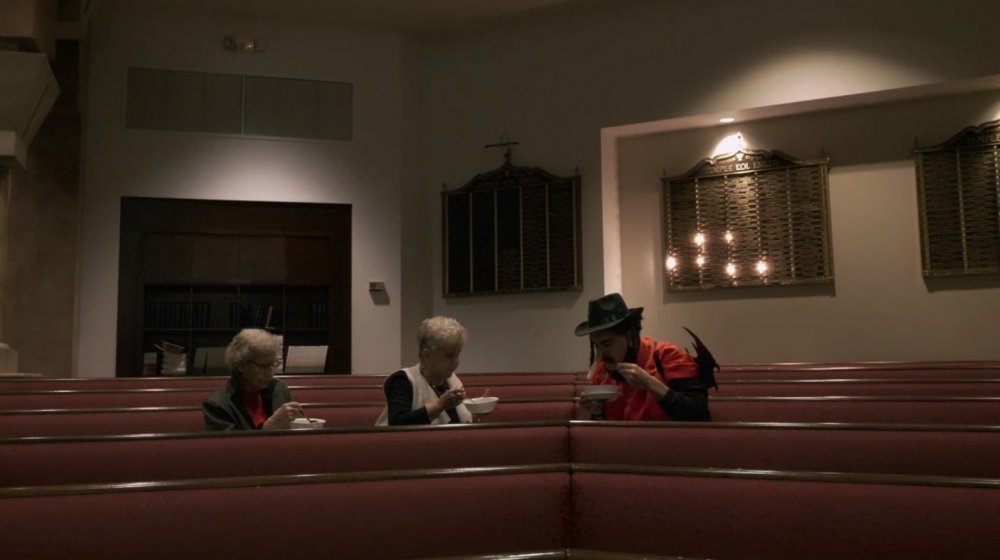 Amazon
At Temple Kol Emeth in Marietta, Georgia, Borat is greeted by two elderly women, Doris and Judith. The faux reporter glumly rattles off a laundry list of plot driven misinformation: he's distraught after having learned on Facebook that the Holocaust never happened, and wants to be put out of his misery, which he assumes the two of them can facilitate, given that they naturally produce deadly venom.
Instead of throwing her hands in the air or offering the camera another of the countless gawking "can you believe this" takes already present in the film, Judith asks Borat to talk about his problems. She offers him a meal and a hug and patiently explains that being different doesn't make her or her friend a monster. With the sort of dignity that you don't even see at most dinner tables, she walks him through his arguments. It's beautiful. The punchline winds up being a shock gag that takes the wind out of the niceness sails, but it's still beautiful.
Judith Dim Evans, it turns out, was a Holocaust survivor herself. According to Vulture, she passed away earlier this year, and her estate filed a lawsuit against the filmmakers claiming that the movie made a mockery of her experience. The production team, who went on to start a website telling the story of Evans' life, claims that Baron Cohen broke character and explained the scene to Judith ahead of time — she was in on the joke, and helping to get a message of understanding across. Stick around until the end credits, and you'll notice that the movie was dedicated to her memory.