The Kingdom Soldier Fans Want To See In Tales Of The Walking Dead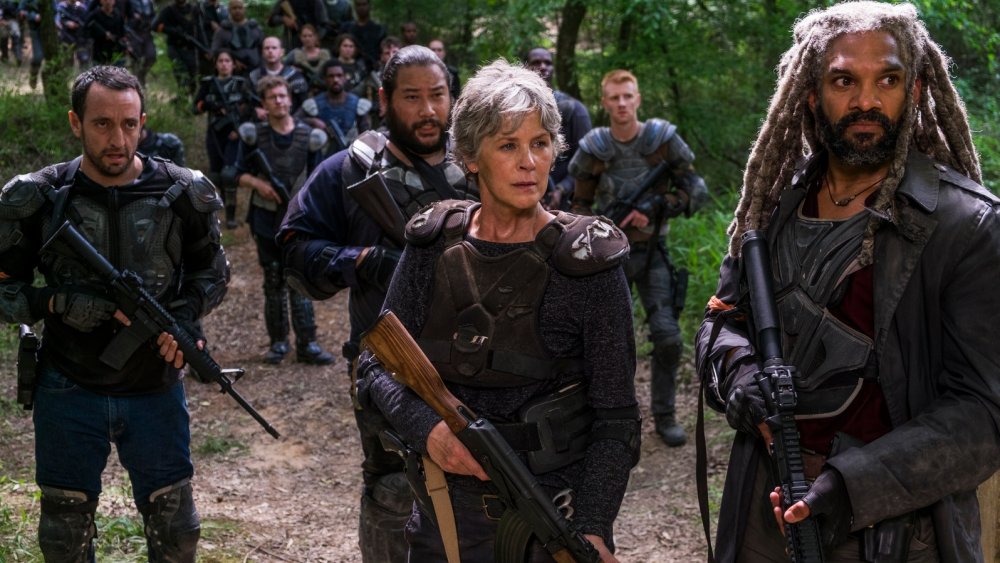 AMC
Even though AMC's inaugural Walking Dead series is on its way out, departing with its eleventh season in 2021, the wider TWD world is due for some expansion. Fear the Walking Dead just entered its sixth season with no sign of slowing, and the brand-new spinoff, The Walking Dead: World Beyond is bringing the coming-of-age genre to the zombie apocalypse. The offshoots don't stop there, either, as a series centering around fan-favorite heroes Daryl Dixon (Norman Reedus) and Carol Peletier (Melissa McBride) will make its anticipated arrival in 2023. An anthology series, entitled Tales of The Walking Dead, is also beginning to pique fan interest.
Presented as a series of short stories, Tales promises a Walking Dead experience unlike anything before it. The show will reportedly highlight adventures of individual characters both new and old from episode to episode, stepping away from the overarching narratives of the previous programs. This format allows for exploration of characters major and minor that never quite got enough time in the spotlight on their previous series, meaning the storytelling possibilities are virtually endless. Naturally, fans are already starting to ponder who might drop in for Tales, and debating whether or not their preferred background players will get a proper moment to shine.
According to a rather popular Reddit thread initiated by user2859, one underrated member of The Kingdom is pulling ahead in the race for "most in need of a Tales of The Walking Dead solo adventure."
Fans are eager to find out more about Dianne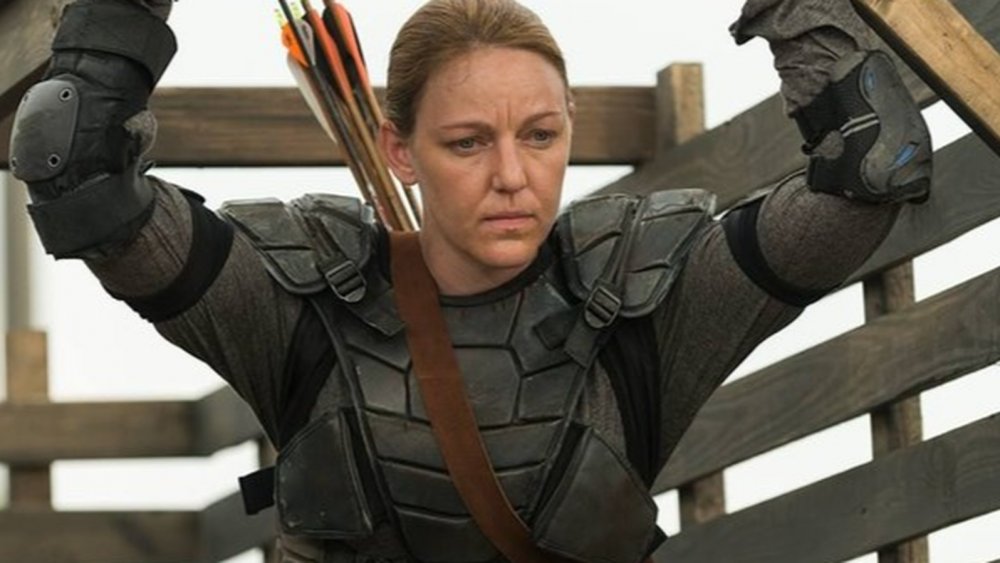 AMC
A former soldier in "King" Ezekiel's (Khary Payton) settlement the Kingdom and later the Hilltop Colony, Kerry Cahill's Dianne has proven time and time again that she's one of The Walking Dead's coolest lower-tier protagonists. She's a valuable asset on the battlefield, and her loyalty toward her allies is almost as unwavering as her resolve. Over the years, she's developed a niche fanbase of her own, despite how little viewers know about her past and how she became the stoic protector she is. These attributes make her a perfect candidate for some fleshing out on Tales from The Walking Dead.
The Walking Dead Reddit community came out in droves to voice their admiration for Dianne and express their desire to see her take center-stage in the future. "Dianne is one of the background characters I will actually be pissed if she dies. I was so worried in the final [sic] they were gonna Kill her!" user ryneisapotato168 said, also showing their relief that the underappreciated sharpshooter is still alive and kicking, at least for the time being. 
Another Redditor, aqvamarine13, said "hopefully we get some background info on her in the tales series! i want to know what she was doing before all this, since it seems unlikely we'll get any info on her in the final season." They bring up an important point. With barely enough time to wrap up all of its remaining loose ends, The Walking Dead's final season likely won't have any free time to enhance its supporting cast, leaving Tales from The Walking Dead as Dianne's only chance to take the lead.
A slew of other fans showered the character with high praise in the discussion, calling her everything from the "MVP" to the series' "goat." Such claims are difficult to dispute. Even though she's rather low on the totem pole in terms of story significance, she endures, kicking butt every step of the way. Getting an episode or two dedicated to her when Tales of The Walking Dead gets underway would go a long way in establishing the show as a worthwhile addition to the canon. Not to mention, Dianne's many Walking Dead fans will finally get to spend more substantial time with one of their favorites.