Exclusive Trailer: Barbie & Kendra Storm Area 51 Is The Wacky B-Movie Fit For 2020
We may receive a commission on purchases made from links.
From the team that brought you Corona Zombies, the first-ever film about the COVID-19 pandemic, and Barbie & Kendra Save the Tiger King, all about the titular duo trying to rescue big cat collector Joe Exotic, Full Moon Features' latest flick, Barbie & Kendra Storm Area 51, is nearing its November 6, 2020 debut. Ahead of the delightfully wacky film's premiere, Looper can exclusively share its trailer. 
The Los Angeles-based airheads Barbie and Kendra (played by Cody Renee Cameron and Robin Sydney, respectively) are about to embark on an all-new adventure following their fight against zombies and their mission to keep the Carole Baskin-hating Joe Exotic from a dangerous fate. This time around, the two are going out of this world. 
In Barbie & Kendra Storm Area 51, the dynamic duo will, as the title spells out, storm Area 51 — the highly classified military facility located near Rachel, Nevada that many believe stores extraterrestrials, spacecrafts, and other information about life outside Earth. When Barbie and Kendra get wrapped up in a "viral saga" about aliens and what may or may not be going on at Area 51, they venture "deep into the forbidden fortress" of the facility ... and beyond. Interspersed amongst their adventure is sci-fi cinema footage, à la Mystery Science Theater 3000, that's been re-dubbed to fit the film.
Barbie & Kendra Storm Area 51 is 'fun and silly and totally relatable'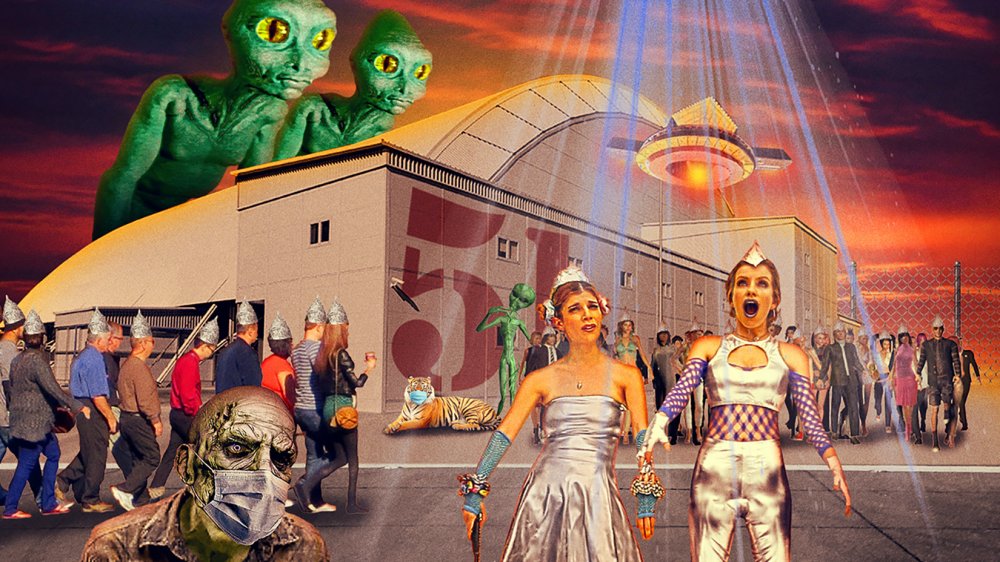 Full Moon Features
Clearly, Barbie & Kendra Storm Area 51 is a super-goofy, off-kilter movie — not the kind of fare you'd show your cinéaste friends who only dig high-brow, cerebral features. However, as actress Robin Sydney said in a statement shared exclusively with Looper, Barbie & Kendra Storm Area 51 is just the movie to watch to unwind after the tumultuous year we've all had. "At a time when everything around us is so difficult for so many, a movie like this is needed more than ever. It's fun and silly and totally relatable," she noted. "It's a reflection of our times — both in how we made it and why it exists. And it will make you laugh. And we need more laughter!"
Director and B-movie veteran Charles Band — who heads up Full Moon Features and has helmed films including Puppet Master franchise installments, The Creeps, The Gingerdead Man, and more — embraces all the weirdness that Barbie & Kendra Storm Area 51 has to offer. He also agreed with Sydney's assessment that the film is reflective of the strange times in which we're living. 
"When we started making these crazy 'coronasploitation" comedies earlier this year, we really thought the insanity of the world would have settled down by now. But it hasn't settled down at all. In fact ... it's gotten even weirder! And because of the seemingly never ending madness surrounding us, we need a laugh more than ever," Band stated. "This third entry in our Barbie & Kendra saga is our craziest — and funniest — one yet, filled with corona zombies, conspiracy theories, cute ladies, terrifying aliens, and tin hats! It reflects our times and sends your troubles into outer space. You're gonna love it!"
Actress Cody Renee Cameron summed up Barbie & Kendra Storm Area 51 in a particularly intriguing way. "If Romy and Michelle and Bill and Ted had a love child, it would be Barbie & Kendra Storm Area 51!" she said in a statement, referencing the eponymous (and somewhat dim-witted) characters from Romy and Michele's High School Reunion and the Bill and Ted franchise. Cameron added, "This is a funny, awesome little romp with tons of heart and humor and goofy escapism. And there's nothing wrong with that!"
Barbie & Kendra Storm Area 51 is set to release on Friday, November 6 on www.fullmoonfeatures.com and on the Full Moon Features Amazon channel.