Daniel Kaluuya Is Producing A Project We Never Expected
Universal Pictures
Daniel Kaluuya has quickly become one of the most in-demand actors in Hollywood. While many people were introduced to him in the Black Mirror episode "Fifteen Million Merits" (one of the best episodes of the entire series), he soon became a household name after starring in Jordan Peele's landmark horror film Get Out. He parlayed that success into roles in Black Panther, Widows, and Queen & Slim, and by the looks of things, he's just getting warmed up with a litany of (very diverse) projects coming up. 
Kaluuya recently sat down with Entertainment Weekly to discuss his upcoming film, Judas and the Black Messiah, which is set to be released sometime in 2021. In it, Kaluuya plays Fred Hampton, chairman of the Black Panther Party in the late 1960s. Kaluuya spent much of the interview discussing what inspired him to take on the role and how he researched the Black Panther Party, but those tidbits weren't the only revelations from the chat. There's one bit of information in the interview that's easy to gloss over considering how late it comes, but it's definitely worth a raised eyebrow or two.
The very last question Kaluuya was asked by Entertainment Weekly referenced his involvement with the upcoming Barney movie. Yes, that Barney — the purple dinosaur.

Daniel Kaluuya will produce the Barney movie in conjunction with Mattel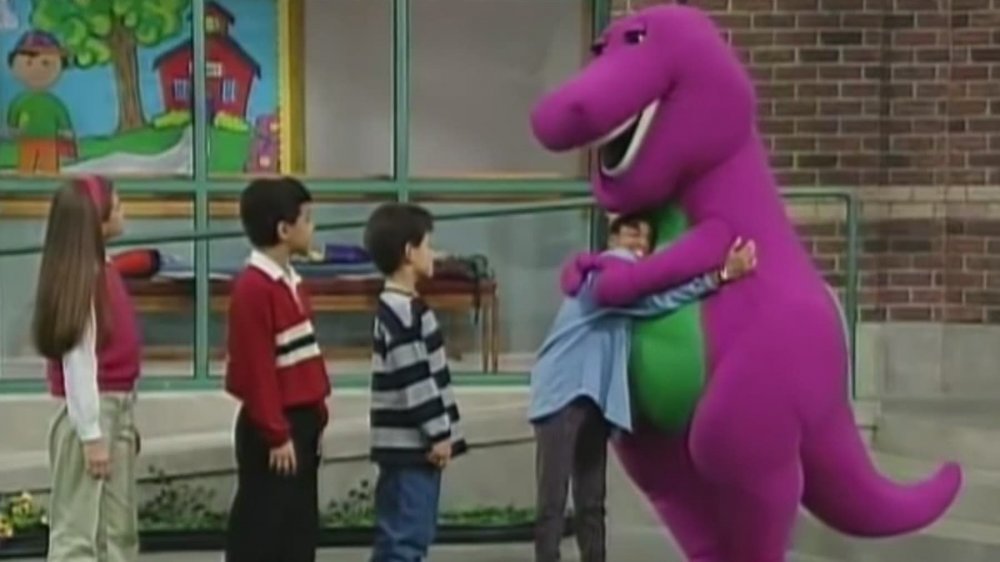 PBS
For many kids growing up in the 1990s and early 2000s, Barney the dinosaur was a critical educational figure. Barney was the perpetually optimistic Tyrannosaurus rex who gave out hugs like they were going out of style. In 2019, Mattel put out a press release announcing a future Barney feature-length movie. In addition to Mattel producing the picture, the company also brought on Valparaiso Pictures and 59%, which is Daniel Kaluuya's production company. Kaluuya is officially onboard as a producer, and he got the chance to talk about it in his most recent interview. 
When asked why he wanted to be part of this project, Kaluuya stated, "Barney taught us, 'I love you, you love me. Won't you say you love me too?' That's one of the first songs I remember, and what happens when that isn't true? I thought that was really heartbreaking. I have no idea why but it feels like that makes sense. It feels like there's something unexpected that can be poignant but optimistic. Especially at this time now, I think that's really, really needed."
It appears as though Kaluuya is interested in taking Barney in a unique direction, different from what people may initially expect out of this kind of film. Robbie Brenner of Mattel Films spoke a little in a press release about his excitement over Kaluuya's role in bringing the purple dinosaur back to audiences. As he put it, "Working with Daniel Kaluuya will enable us to take a completely new approach to 'Barney' that will surprise audiences and subvert expectations." They had our curiosity, but now they have our attention. 
You can next see Daniel Kaluuya in the upcoming Judas and the Black Messiah, to be released in 2021. The untitled Barney movie currently has no release date, but keep checking back for updates. No word yet on whether David Joyner, the original Barney, will return to the role that made him famous.