Get A Brand-New Look At The Mandalorian Season 2
With just under two weeks to go until The Mandalorian season 2 premieres, Disney and Lucasfilm are teasing fans again with a new minute-long trailer. Some of the footage we've seen in past trailers, but there are an interesting few hints toward season 2's plot. Of course, between the fast paced X-wing chase, the exciting jetpack flight, and the adorable Baby Yoda, it's easy to lose sight of some important details. Perhaps the most notable part of the trailer is when the Mandalorian (Pedro Pascal) says, "If I can locate other Mandalorians, they can guide me."
As a brief recap, season 1 ended with Mando adopting the Child — Baby Yoda — and promising to take the baby back to its people, the Jedi. But Mando knows precious little about these sorcerers, other than they have long been enemies of his people, so it would seem he is looking for other Mandalorians to help him with this quest. Those that he finds may actually be familiar faces to Star Wars fans.
Mando may find Mandalorians from the Star Wars animated series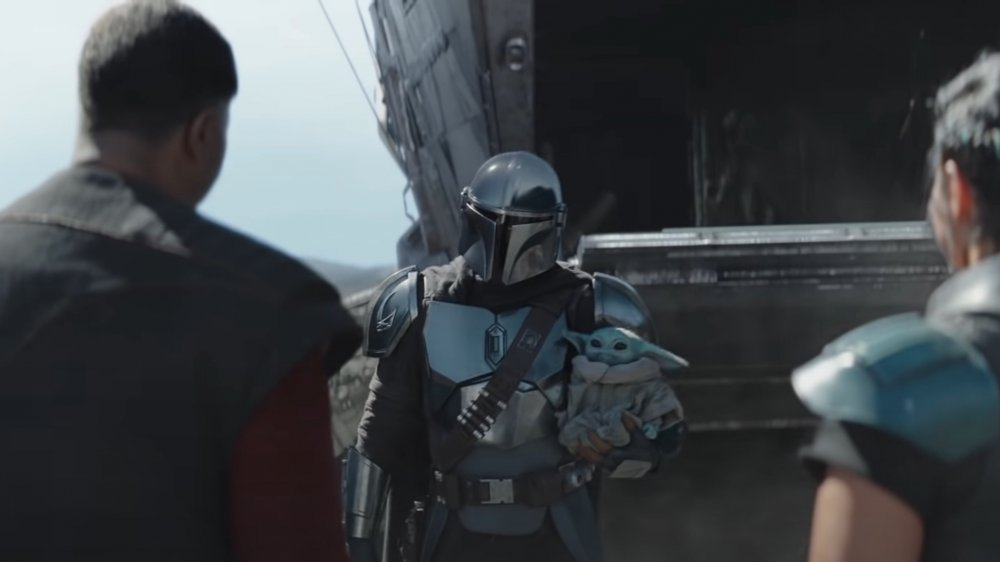 Disney/Lucasfilm
While season 1 of The Mandalorian was surprisingly self-contained and didn't bring in characters from other Star Wars stories, it seems season 2 will change that — particularly in relation to Mando's intention of finding other Mandalorians.
According to Slashfilm, Battlestar Galactica's Katee Sackhoff will play Bo-Katan Kryze, the Mandalorian last known to wield the Darksaber (which Moff Gideon now has). Sackhoff voiced the character on the animated series Star Wars: The Clone Wars and Star Wars Rebels. Additionally, while Disney is keeping it under wraps, Rosario Dawson will probably make an appearance as Anakin Skywalker's ex-padawan, Ahsoka Tano (also of both animated series). Ahsoka is one of the few connections to the old Jedi Order who would still be alive in The Mandalorian's post-Return of the Jedi timeline, so it would make sense for her to become involved with the Child. Plus, the other Mandalorian rumored to be in season 2 is Ahsoka's traveling partner, Sabine Wren, who fans believe is played by WWE wrestler Sasha Banks.
Mando and the Child may meet up with all three of these women on their quest. Plus, in the trailer, Mando says, "I'm here on business. I need your help. I've been quested to bring this one back to its kind," over footage of him meeting up with Greef Karga and Cara Dune. However, the two of them were in the room when the Armorer gave him that mission, so it seems possible that he's actually saying this to someone else (possibly Bo-Katan).
The first episode of season 2 drops on Disney+ on October 30.