Exclusive Clip: It's Mannequin Madness On Bless The Harts' Season 2 Halloween Episode
At some point in their life, everyone has been freaked out by a mannequin. Maybe it was a Doctor Who episode on which a horde of mannequins came to life that gave you the creeps. Perhaps it was a horror movie about life-sized dolls that sparked your phobia of plastic-people. Or maybe it's humans' natural aversion to things nestled in the uncanny valley that makes you side-step mannequins whenever you're out shopping. It's a near-universal experience — and this Sunday, it's coming to Bless the Harts. 
The next episode of the adult-oriented animated sitcom – the special Halloween installment of the show's second season — finds Wayne Edwards (Ike Barinholtz), the boyfriend of main character Jenny Hart (Kristen Wiig), facing his fear of mannequins in an abandoned mall. In a sneak-peek clip from the episode, which Looper is excited to exclusively share above, Wayne does a bang-up job of explaining just why mannequins are so spooky: "Like every right-thinking person in America, I am wary of mannequins. What are they? Are they alive or dead? No one knows. But what we do know is that they are extremely susceptible to being inhabited by spirits. We all saw the movie Mannequin. I mean, that idea doesn't come from nowhere!"
Poor Wayne then gets so riled up that he knocks over a few mannequins, falls to the floor, and finds himself with a plastic-person shoved up under his shirt. Not one to miss an opportunity for a little practical joke, Jenny first tells her pals not to make fun of Wayne (because "everyone has phobias"), then reaches down to help Wayne off the ground — only to spook him when it looks like he's pulled her arm off. Wayne screams at the sight of the mannequin limb that Jenny had strategically shoved inside her sweater, believing for a moment that she's a mannequin herself, as Jenny pops her real arm back through her sleeve.
The Harts and co. will be taken hostage on the upcoming episode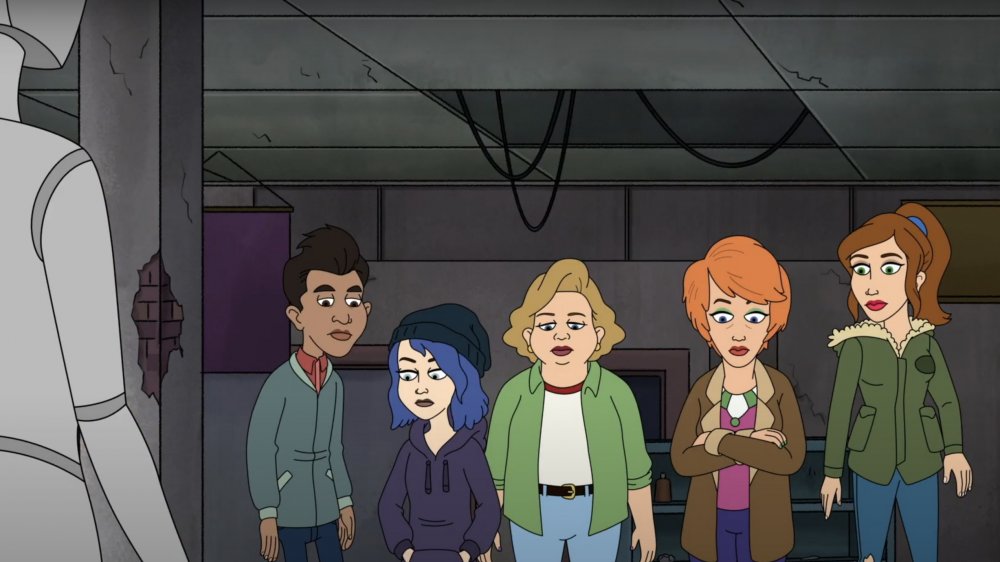 20th Television
These are pretty typical antics for the characters of Bless the Harts, but even more danger – real danger, compared to Wayne's mannequin mishap — awaits the gang in  Greenpoint's abandoned mall. 
When the group — comprised of Wayne, Jenny, Jenny's mom Betty Hart (Maya Rudolph), Jenny's daughter Violet Hart (Jillian Bell), Jenny's co-worker Brenda (Fortune Feimster), and Violet's best friend David (Oscar Montoya) — visits the mall, things start off on a positive note as they all reminisce about their memories from the 2000s. However, when a mall rat named Stacey (Kristen Schaal, guest-starring on the episode) shows up, she takes the group hostage. How will they survive being trapped inside an abandoned mall? What will Stacey do to them? And how much money are you willing to bet that at least one reference to Fountain of Wayne's 2003 single "Stacy's Mom" will be made on the episode?
All will be revealed when Bless the Harts returns with "Dead Mall," also guest-starring Mad Men alum Jon Hamm as the voice of Mayor Webb, on Sunday, October 18 at 9 PM ET on FOX.