Exclusive Clip: Bob's Burgers Season 11 Halloween Episode Features A Spooky Delivery
The next episode of Bob's Burgers will give you both the heebies and the jeebies. 
That's exactly what Belcher family middle child Gene (Eugene Mirman) says he's racked with when he and his sisters Tina (Dan Mintz) and Louise (Kristen Schaal) carry out a burger delivery run in a most peculiar location. Ahead of the episode's release on Sunday, November 1, Looper is thrilled to share an exclusive clip from the upcoming season 11 installment. 
Entitled "Heartbreak Hotel-oween," the fourth episode of Bob's Burgers 11th season finds the Belcher kids venturing into a seemingly abandoned hotel to deliver a burger –from their family's restaurant, naturally — to a mysterious old woman. Tina thinks that they should wait for a member of the hotel staff to come collect the delicious nosh and take it to the woman who ordered it, but Louise says that they should just take it to her themselves because they've "gotta hustle." Louise has other plans to which a lengthy burger delivery process isn't conducive (we'll get to those in a minute), and thus, the Belchers make their way to room 313 ... where they find a possibly possessed but definitely dark-sided old woman reciting incantations. After the woman locks eyes with the Belchers and describes them as "bait," they scurry down the hallway, screaming.
What else is in store on 'Heartbreak Hotel-oween'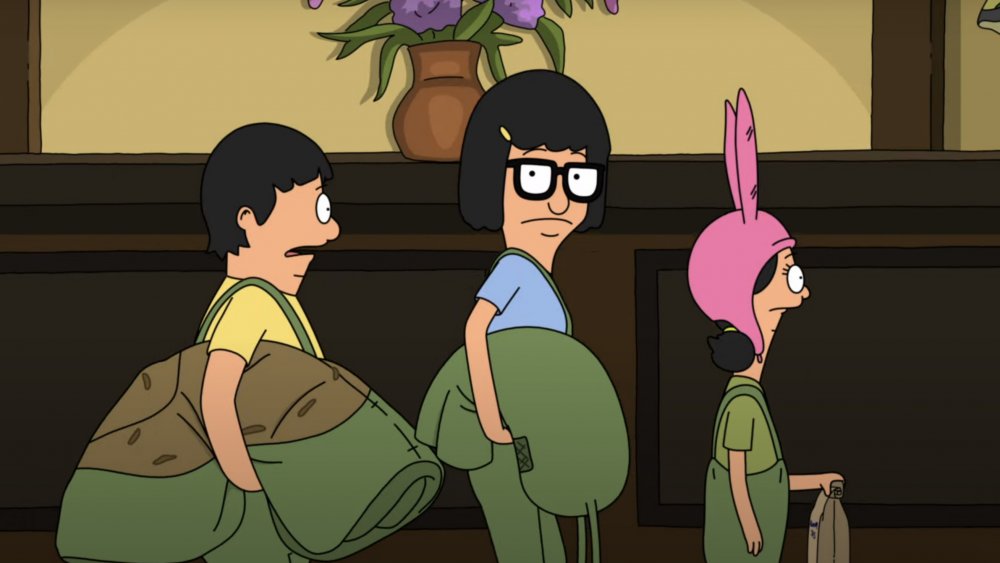 20th Television
The heart-stopping burger delivery is a delightfully spooky aspect of Bob's Burgers season 11, episode 4, but it's just one of a few moving parts of the episode's narrative. Bob's Burgers fans can expect to see Louise planning and attempting to exact revenge on the entire holiday of Halloween itself after a candy-related injustice strikes her very core. When she, Tina, and Gene meet the old woman at the hotel, her plot gets thrown off track.
Elsewhere on the episode, the kiddos' happy-go-lucky mom Linda (John Roberts) and their somewhat-more-serious father Bob (H. Jon Benjamin) are facing their own spooky-season troubles: They're donating blood — at "a vampire-themed blood mobile" — but Bob's squeamish nature makes for a complicated outing. 
Prepare for thrills, chills, and lots of laughs when Bob's Burgers season 11 returns with "Heartbreak Hotel-oween," its special Halloween episode, on Sunday, November 1 at 9 PM ET on FOX.