The Real Meaning Behind The Costume Colors In Ratched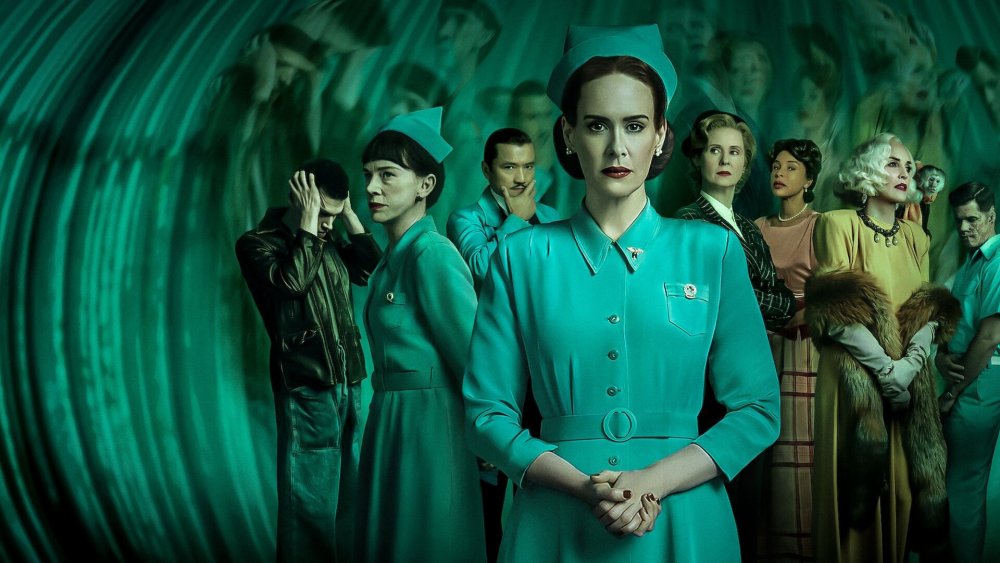 Netflix
Ratched is the latest product of the American Horror Story creator's $300 million Netflix deal, and it's got the colorful drama — and costumes — you'd expect from a Ryan Murphy joint. 
An origin story for Mildred Ratched, the infamous villain of Ken Kesey's 1962 novel One Flew Over the Cuckoo's Nest (and 1975's Jack Nicholson-led Oscar-winning movie of the same name) stars Murphy regular Sarah Paulson as the chilling, iconic character. It's 1947, and Mildred has just arrived in Northern California where she's become part of the staff at a leading psychiatric hospital practicing new and unsettling experiments. Like most Murphy productions, when viewers enter the world through Mildred, she is — contrary to her characterization in Cuckoo's Nest — framed as the story's underdog, of sorts. Through the first season, Murphy and Co. proceed to lay the groundwork for how Ratched ends up becoming, well, so evil, relaying part of that journey through the show's eye-popping aesthetic, including its color palette and costuming. According to costume designers Lou Eyrich and Rebecca Guzzi, it was all very much in line with Murphy's approach to color and wardrobe on his other series. 
"I think more so than any other show, though, this was the tightest color palette directive that he's given us for something," Guzzi told Refinery29. "Up front he said, 'No red, no orange, no purple. The only red is lipstick and blood."
Those who have seen the series will know that green was also pretty prevalent, as were cool colors. "Green became this color that was used in a variety of ways. Because to Ryan, green represents lust, envy, oppression, violence, many different things," she said. "So we used that to foreshadow and indicate characters' moods."
The colors of a Ratched character's wardrobe can reveal specific things about their role in the hospital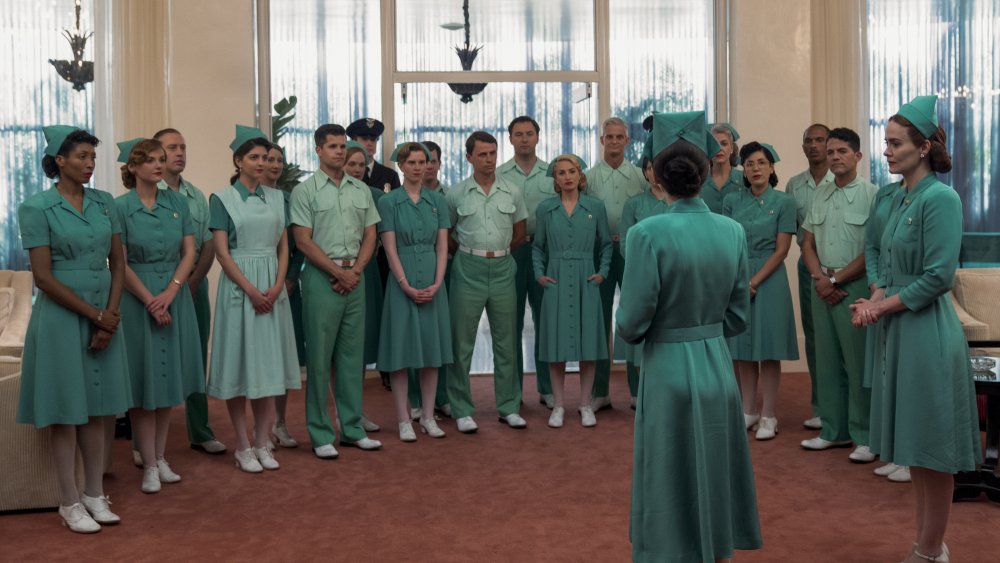 Netflix
When designing the costumes, Eyrich and Guzzi determined whole color palettes based on the location or dramatic situation a character was in. "From the moment we started working on the show, we've been talking to our production designer, Judy Becker, and we were in there a couple times a day just looking at all their boards, looking at their upholstery swatches, what colors they were picking," Guzzi said. 
When it came to what Mildred and the rest of the hospital staff of Lucia State Hospital wore, the costume designer revealed that instead of the "starched, pure white uniforms of One Flew Over the Cuckoo's Nest, Ratched's costume designers delivered something that was "still clinical-looking, but less severe."
"He had referenced either a blue or a green, so Rebecca and I had a lot of different sketches made up and then tested a lot of fabrics," Guzzi told Refinery29. "We didn't want just monochromatic everything in the exact same shades, so you do get a little bit of color texture with different tones of blue-green."
As viewers saw, the staff uniforms were a palette of greens and blues, with Guzzi telling the outlet that each shade points to the role and status the staff member holds. "Picking different shades also sort of helped distinguish a hierarchy — lighter colors for the orderlies and the training nurses, versus the more saturated colors of the nurse dress itself," she said. "Even [head doctor Richard] Hanover's lab coat is a slightly different shade of blue because he, as a character, wouldn't want to quite be in the same shade that the nurse's uniform is because he runs the hospital and has a very egocentric view of himself."
Ratched characters' wardrobe colors can also express their emotions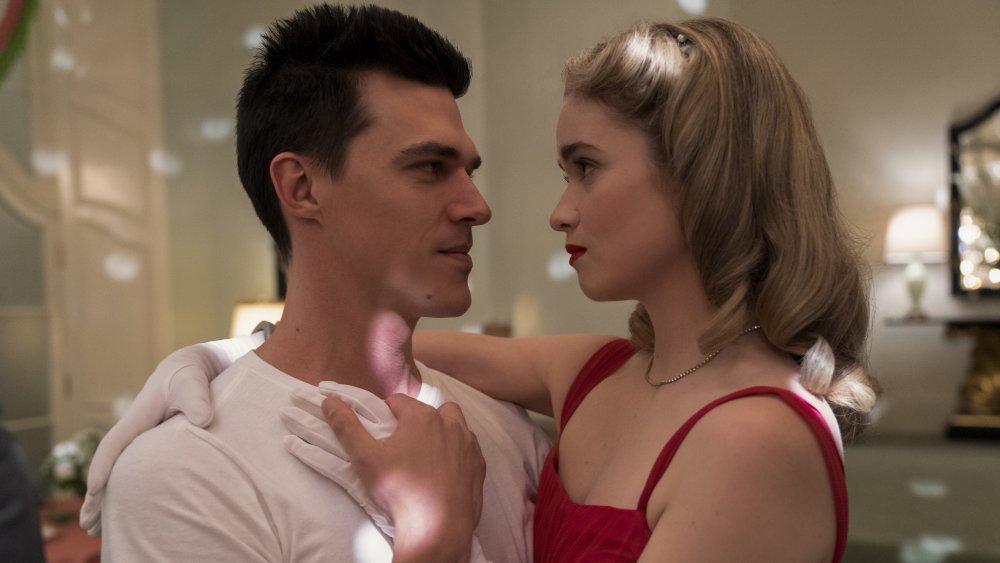 Netflix
Before Mildred joins the state hospital staff, she must interview for the role. When it came to Paulson's outfit, Guzzi explained, the colors had to both embody Paulson's bold introduction, and make her pop against the coral, cornflower blue, and alabaster hospital. "We knew that Mildred needed an entrance for that scene that was about going out for this job interview, that she was not going to take no for an answer. She had to be a visual force to reckon with, too. And so, of all the colors we looked at amongst the set, that mustard yellow popped the most."
During a hospital party thrown for the asylum's patients and employees, Mildred wears green-hued dress, while nurses Betsy (Judy Davis) and Dolly (Alice Englert) appear in coral and pink, respectively. Eyrich explained that Davis' love for coral, coupled with some set design, is how that character ended up in a warmer color. "It's a color that was peppered throughout in upholstery, and we just loved how it read in that hospital."
As for the red-dressed Dolly, the scene marks both a romantic moment and the first time the audiences see her out of her nurses uniform, two things that inspired the costuming team to go warmer. "We had only seen her in her nurse's uniform, and that is a very definitive moment for her and her relationship with Edmond, and there's a lot of aspiration and hope for their future together," says Guzzi. "So, we wanted to give her this very — as if it's her first time at a dance, first time on a date with a boy — super-feminine but still childlike [look], with the flower in the hair and the little necklace and cupid heart earrings.
Gender influenced the color choices of certain Ratched characters' clothing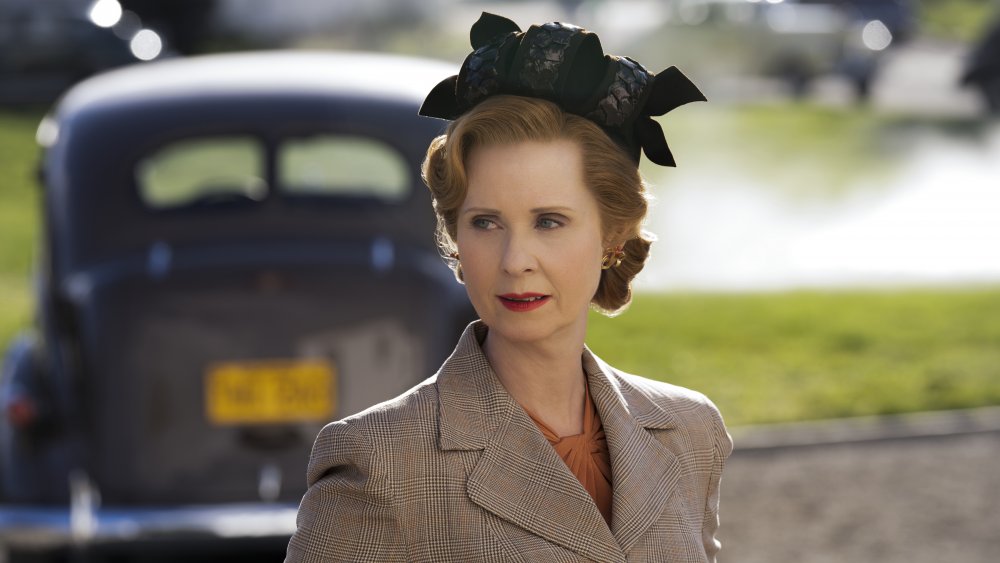 Netflix
The colors of the outfits characters wear outside the hospital were approached with just as much thought and detail. "One other thing that Ryan discussed early on in one of our prep meetings, was not only this tight color palette but also giving Lou and I reign to explore unexpected color combinations that really helped heighten the sense of drama. And we actually found that to be very period-accurate when we started digging into the research and looked at a lot of Vogue covers of the mid- to late-'40s," Guzzi told Refinery29.
This discovery resulted in much of the non-medical wardrobe featuring eye-popping color pairings, such as pink and red, and yellow and brown. For a character like Cynthia Nixon's Gwendolyn, who was frequently surrounded by men as the press secretary for the Governor of California, her suits were often in muted shades of brown and navy or in plaid patterns, which can appear to some as more masculine. Both Ratched costume designers said decision to have Gwendolyn's wardrobe reflect the masculinity that surrounded her was less about a metaphor, though, and more about putting the character in the period-appropriate working attire. "Clothing, for the most part, in the '40s did have a masculine tone because the suiting for both men and women was so structured and so tailored with those really strong shoulders and accentuated waist for both men and women," said Guzzi. "Ryan had thought of a Carole Lombard, Katharine Hepburn, casual inspiration for her when we see her [outside work]. But when she's at work, she's more of a Rosalind Russell type, or even Double Indemnity."
Ultimately, showrunner Ryan Murphy and costume designers Guzzi and Eyrich made sure that every costume — and its color — had meaning.