The Real Reason Why Kimiko From The Boys Laughed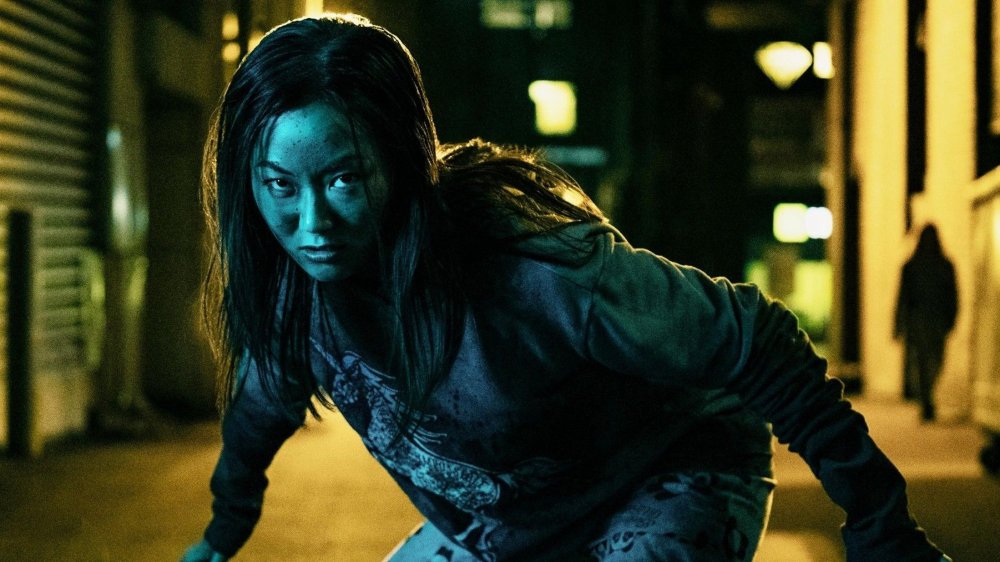 Amazon
Spoilers for the season 2 finale of The Boys to follow.
Kimiko (Karen Fukuhara) has had a rough life on The Boys. She was kidnapped by the Shining Light Liberation Army and smuggled out of Japan to America as a prisoner. She's also been forced to become superpowered against her will in an effort by Vought International to create an army of superterrorists which the organization can then use as an excuse to inject their team of superheroes, the Seven, into the military.
Kimiko deals with a lot of oppression and torment, exacerbated by the fact that she doesn't speak aloud at all. The only language she does have is an invented type of sign language that she shares only with her brother Kenji. Kenji was also kidnapped and forced to become superpowered, so when he and Kimiko are finally reunited, they have a lot of shared trauma to catch up on. Unfortunately, their family reunion is cut short when Kenji is brutally murdered by literal Nazi Stormfront (Aya Cash).
After two full seasons without talking, we finally hear Kimiko's voice in an unexpected way — she laughs. Specifically, Kimiko laughs at Stormfront. Actor Karen Fukuhara has a great explanation for why that laugh happens, and what it means for Kimiko.
Kimiko, found family, and fighting a literal Nazi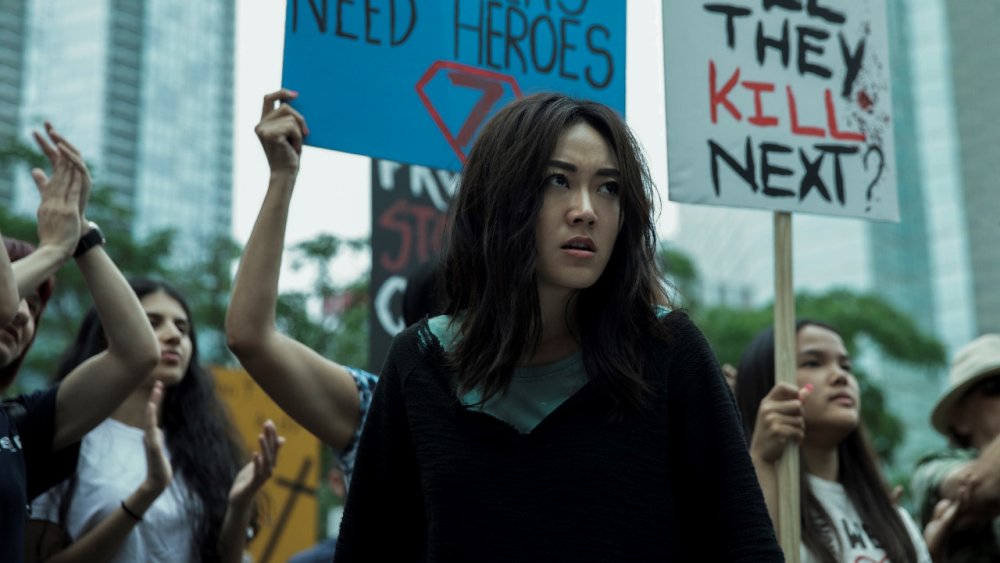 Amazon
In an interview for Amazon Prime's behind-the-scenes show Inside The Boys, host Aisha Tyler asked Fukuhara all about the laugh.
"This is the first time anyone hears Kimiko audibly, and I struggled with it when I first read the script because I was thinking, 'Oh, what would make her laugh enough to change her physical abilities?'" said Fukuhara. "But then everyone's coming together and she realized that she had already let these people in and she began her process of trust without her really noticing it. And then in this moment it just all comes up and she realizes hat she didn't have to struggle on her own. And now that she's here, facing Stormfront and getting her revenge, vengeance with her family, I think that's what makes that laugh happen and that change happen within her."
What's so striking about that moment is that it represents the first time that Kimiko is truly fighting while accepting help from other superpowered people (women, specifically) in that fight. Stormfront isn't just the person who killed Kimiko's brother — she's a literal Nazi whose core beliefs have taken root in a way that is a threat to Kimiko's safety on every possible level. To have Starlight (Erin Moriarty) and Queen Maeve (Dominique McElligott) rise up, to literally unbreak her neck and return from death, and literally beat this demagogue into the ground at the end of the season is a joyful moment. Kimiko is probably laughing because for the first time in her fight, she feels like she's winning.
The Boys season 2 is available in its entirety on Amazon Prime now.