The Terrifying New Behemoth In The Monster Hunter Movie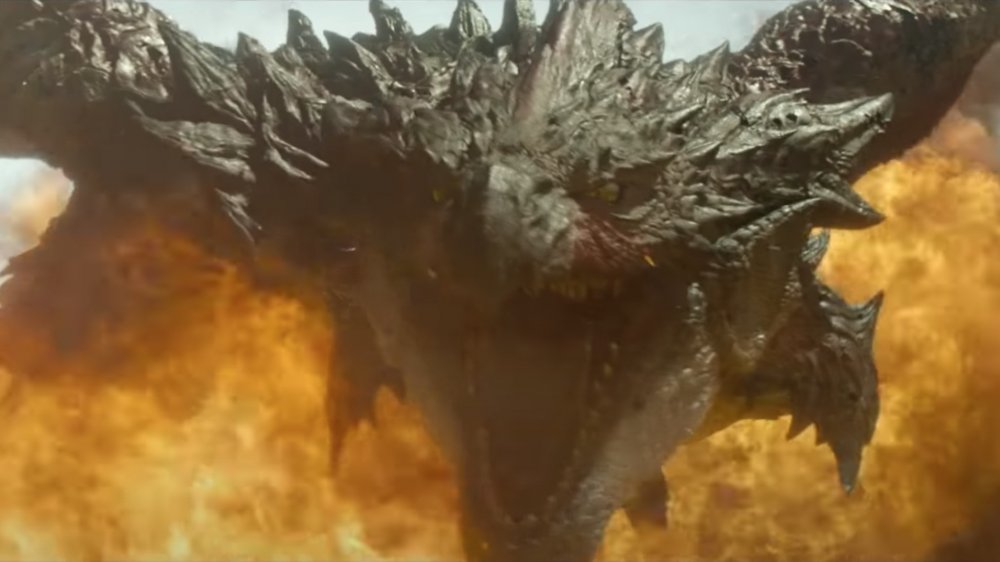 Sony Pictures
Have you ever wanted to see a fire-breathing wyvern absolutely destroy an airplane? It's a mashup of the ages, that's certainly rare, since airplanes usually don't exist in fantasy settings — but the upcoming Monster Hunter promises to deliver. New footage of the film from New York Comic Con depicts a Greater Rathalos — a male wyvern — tearing apart a plane with great enthusiasm.
Monster Hunter is based on Capcom's Japanese video game franchise of the same name, and is slated to release in December of 2020. The games don't feature much story (their mythology is primarily found in the small details), but that didn't stop director Paul W.S. Anderson from wanting to adapt them into a feature film, wyverns and all. He's known for putting video games on the big screen, as he's done so with Mortal Kombat and Resident Evil, and in the Comic Con panel, he said that Monster Hunter has been in the works for ten years. "This really is a long term passion project of mine," he said. He's been a fan of the games even longer. "So I can feel the pressure to kind of do the world justice."
That world, of course, involves the dragon-like monsters featured in the trailer. The fire-breathing wyverns known as Rathalos are icons of the Monster Hunter series, as they've appeared in every single game (in some iterations, you can even befriend them). And while Anderson worked to stay true to the source material, he also wanted to bring new elements into the film, particularly when it comes to these creatures.
The new Rathalos has ties to an ancient civilization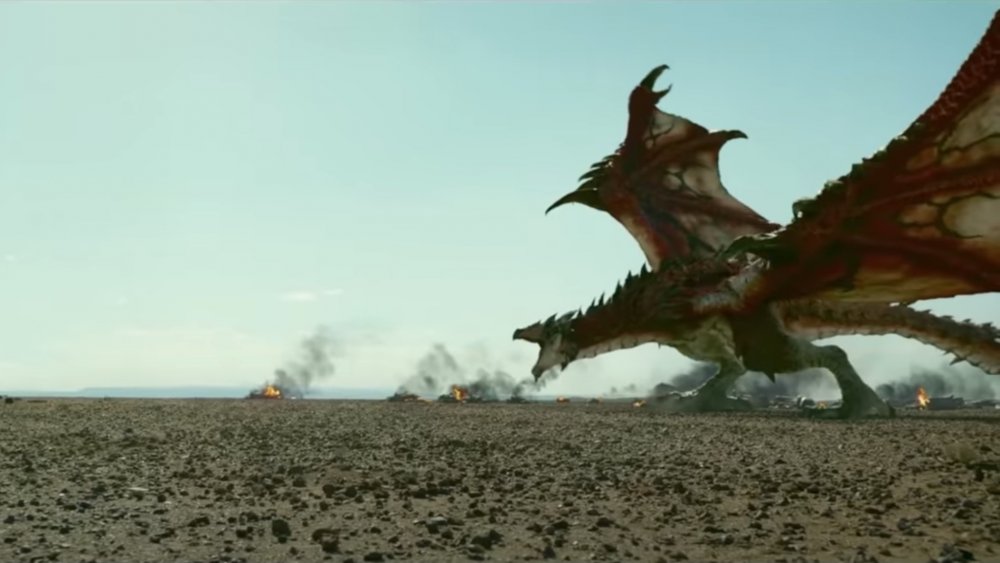 Sony Pictures
Anderson went to lengths he'd never done with any of his previous films to bring the Monster Hunter world to the big screen. The 350-person cast and crew camped out in various remote locations throughout Africa to film in unique landscapes. In fact, the monsters are just about the only computer generated aspects of the movie. So to get them right, Anderson worked very closely with the game's animators. They gave feedback on everything from the creatures' movement to their toenail shape. Getting the Rathalos right was important, and the Comic Con teaser even reveals a "new and improved" Rathalos, which threatens the lives of several humans.
This so-called "Greater Rathalos" is bigger than the standard game version, and as Anderson explains, "It's associated with this ancient civilization, which is a theme that runs through several of the games. So there's a kind of a secret associated with this Greater Rathalos that people will discover when they see the movie." Along with the new Rathalos, Anderson teased that we'll also see Palicoes, the friendly cat-like creatures, in Monster Hunter. In regard to the scene everybody's talking about, Anderson joked, "Who doesn't want to see a dragon eat an airplane? They never had that in Game of Thrones."
While Anderson is fully immersed in Monster Hunter, his past projects are getting new lives under different directors. Netflix is making a Resident Evil series with a new storyline and a rebooted Mortal Kombat will be released next year. So, take your bets now on which adaptations will please the fans of the games. As for Monster Hunter, it's currently scheduled to be released on December 30, 2020.