The Stephen King Detail You Missed In Haunting Of Bly Manor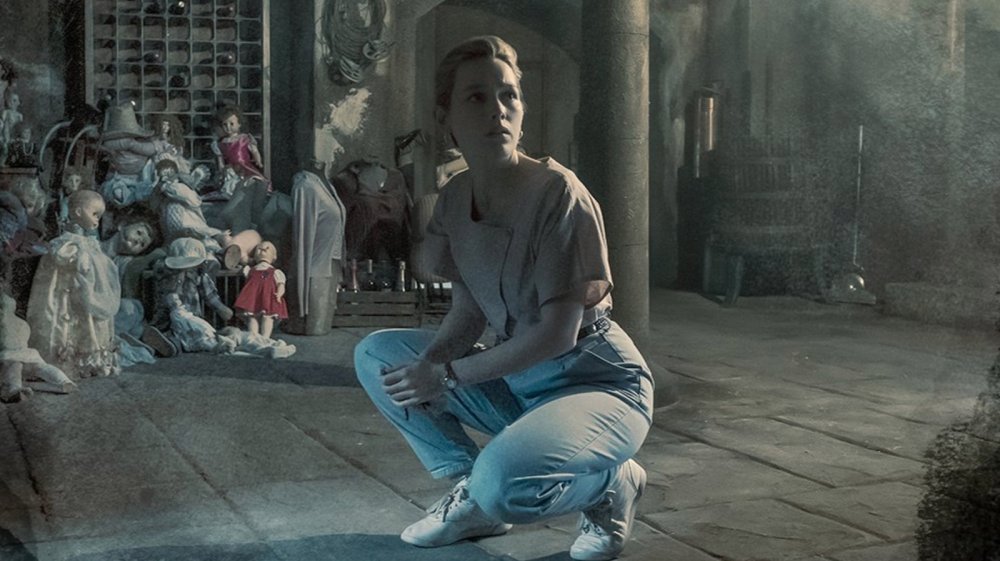 Netflix
A modern-day master of the horror genre, Mike Flanagan is at it again with another frightening tale for television audiences. Following up on the success of 2018's The Haunting of Hill House, the supernatural horror drama he created and directed, Flanagan just released to Netflix Hill House's spiritual successor: The Haunting of Bly Manor, the nine-episode second season of the Hill House anthology. 
It loosely adapts Henry James' 1898 novella The Turn of the Screw, but that isn't the only bone-chilling work — or author — that Flanagan has brought to a visual medium. Over the past number of years, he's developed a close working relationship with the legendary horror novelist Stephen King.
The beginning of Flanagan and King's collaborations date back to 2017, when Flanagan first interpreted the 1992 novel Gerald's Game into a Netflix film, doing so to great critical acclaim. Fast forward to 2019, and Flanagan did the unthinkable: justifying Stanley Kubrick's big-screen adaptation of The Shining in King's eyes with a rendition of its sequel, Doctor Sleep. 
Suffice to say, Flanagan holds great appreciation for King's writings and will continue to reinvent his works well into the future. Despite it not being a part of King's bibliography, The Haunting of Bly Manor actually includes a minute reference to what many consider his career-defining book.
There's a sneaky Shining reference in The Haunting of Bly Manor
Flanagan snuck into The Haunting of Bly Manor an Easter egg for specifically the fans of King's book The Shining (rather than the movie adaptation). On The Haunting of Bly Manor, the main protagonist Danielle "Dani" Clayton (Victoria Pedretti) at one point stays in an otherwise nondescript hotel in London. However, courtesy of sharp-eyed sleuths on Reddit, there's one key detail about her room that most viewers wouldn't bat an eye at. Although it's very briefly shown on screen, the digits "217" can be seen on her hotel room door — a number that bookworms would recognize as the now-infamous room from the Overlook Hotel in King's 1977 horror story.
This minor detail might get lost on those who have only seen Kubrick's The Shining, since he changed the number from 217 in King's book to 237 in the film. His decision came per the request of the real-life hotel's management where they were filming, not wanting to frighten away potential guests. This just added to his laundry list of controversial deviations from King's source material, giving Flanagan's Doctor Sleep a monumental task decades later. It had to somehow bridge the gap between the two Shining iterations, which he managed to do while still respecting them both equally. As evidenced by his room 217 reference in The Haunting of Bly Manor, though, it's apparent that Flanagan holds some form of preference to King's novel.
If you're in for a good scare, The Haunting of Bly Manor is currently streaming exclusively on Netflix.