Mark Ruffalo Makes Head-Turning MCU Statement
Who among us hasn't experienced imposter syndrome while on the job? Whether you're nervous about rising to the occasion on a particularly challenging project, or just always at a low-level simmer of worry thinking that you might not belong, it happens to the best of us. And by "the best of us," we're talking about Oscar-nominated actors who are part of arguably the biggest film franchise of all time.
During an interview with Variety, Mark Ruffalo, known to Marvel Cinematic Universe fans as Bruce Banner, a.k.a. the Hulk, a.k.a. the King of Bloopers, opened up about the self-doubt that has challenged him throughout his career as an actor.
When asked if he ever has a moment of disbelief at being on the set of an MCU film, Ruffalo replied that whenever he finds himself getting fatigued or annoyed at work, he tells himself, "'Hey, remember you're not even supposed to be here.' Right. I just remember to be grateful because I still can't believe it. I still keep thinking, 'They're going to throw me out of the club. I never belonged here in the first place and they're all going to find out.'"
Considering the MCU is able to work around Ruffalo's penchant for slips of the tongue, it doesn't seem likely that he's going anywhere. But it's always helpful to have a reminder that some struggles are universal. For Ruffalo, imposter syndrome isn't limited to his stints in the MCU. As he explained during the rest of the interview, it's something that has been with him since the beginning.
The person who helped Ruffalo persevere early in his career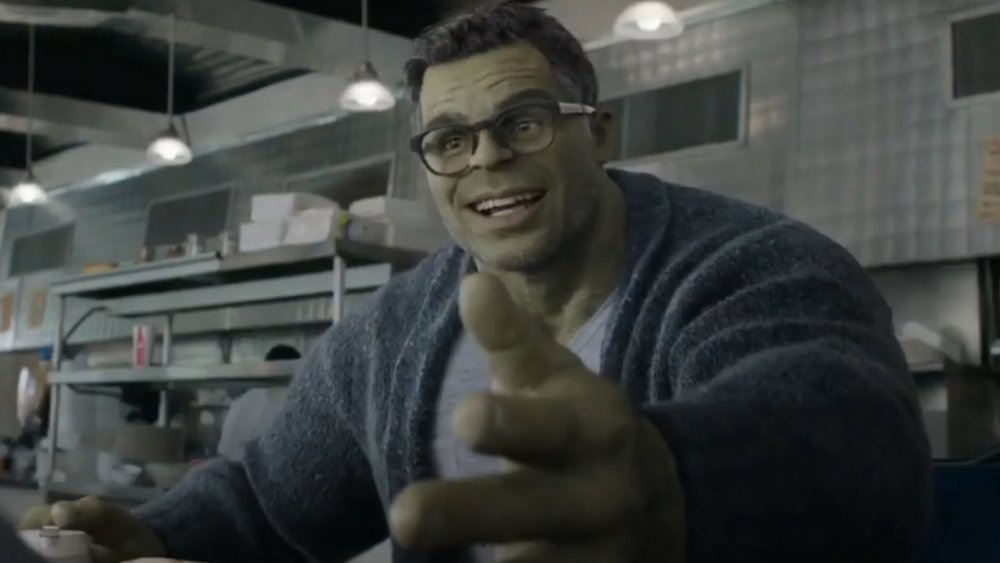 Disney/Marvel Studios
In the Variety interview, when asked about whether he started going out on auditions while studying at the prestigious Stella Adler Studio of Acting, Ruffalo, replied, "No... I was afraid and had so little confidence... [M]y first real audition was after high school for SUNY Purchase. After my audition, the head of the department said, 'What are you going to do when you realize you'll never make it as an actor?'"
Not exactly an encouraging response. Thankfully, Ruffalo (who has long been open about his struggles with depression) stuck with it. He credits his wife, Sunrise Coigney, for giving him the confidence to set out on an ambitious path: "It's when I met Sunrise and she was like, 'I think you might be shooting a little bit low. I think you can probably expand what you think you're capable of.'"
That turned out to be much better advice than the head of the SUNY Purchase acting department gave him. As for what Ruffalo himself would tell someone experiencing the same kind of imposter syndrome he still gets while on set, he recommends personifying your self-doubt and telling it to STFU: "Say to that little part of yourself, 'Listen, you son of a b***h. I know you're there, but you don't control me. I want to live my dreams and I'm going to make one step towards them. And the road will meet me there.'"