The Walking Dead: Negan Looms Large In Season 7 Synopsis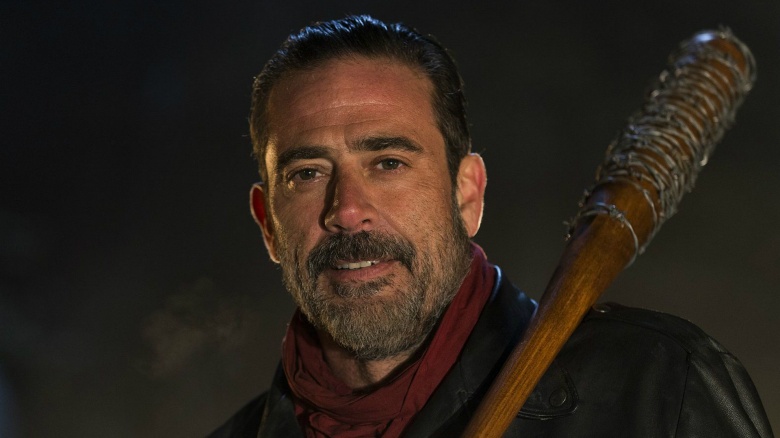 Sounds like life in a post-apocalyptic wasteland isn't all it's cracked up to be.
AMC released a new synopsis for the upcoming seventh season of The Walking Dead (via Heroic Hollywood), and the villainous Negan (Jeffrey Dean Morgan) casts a large shadow over what's set to go down.
When we last left the survivors in the Season 6 finale, Negan was about to off one of the good guys with a spike-covered baseball bat. While we won't find out which one falls until the Season 7 premiere, we now have a better idea how brutal Negan's reign of terror will be:
"Up until this point, our characters have lived through conflicts... Disease, hunger, scores of the undead, tragedy, betrayal, and unthinkable loss. Through this, they've become formidable. Powerful. Unstoppable.
To start Season 7, that power is taken away. They had found safety and stability. They had created a home. They thought the world was theirs. They thought they knew the world. They were wrong. The first half of Season 7 sees our group fractured, broken, bereaved, and picking up the pieces while living under the thumb of oppression. Negan will have successfully brought the survivors under his control, brutally convincing them to live under his rules with a deadly and horrific example of what happens if they don't.
Other characters are unaware of what's happened, but have become separated from the group either by incident or choice–they will learn that they can't escape this new turn of their world, either. This half season is about these characters starting over. The overall theme of the season is beginning again. The world isn't what they thought it was. It's bigger and it's even more dangerous."
The Walking Dead Season 7 premieres Oct. 23 on AMC. Check out a few clues about who Negan might have killed, and characters who probably survived. And don't forget those teasers that strongly hint that one beloved character paid the ultimate price.