Clues About Who Negan Killed In The Walking Dead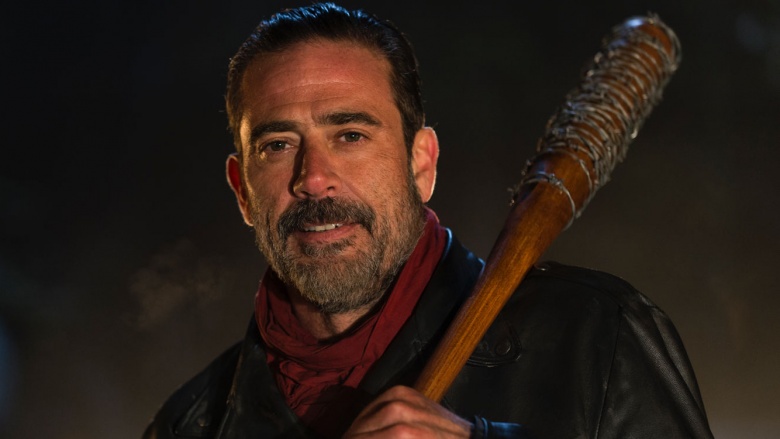 The trailer for The Walking Dead's seventh season has arrived ... and told us basically nothing about what happened at the other end of Negan's deadly bat. Of course, we didn't expect any real details about whom among Rick's crew survived the threat of bludgeoning, but there are plenty of clues floating around which may have definitively revealed who we won't be seeing in season seven. Here's what we know.
POSSIBLE SPOILERS AHEAD.
It's probably not Rick or Carl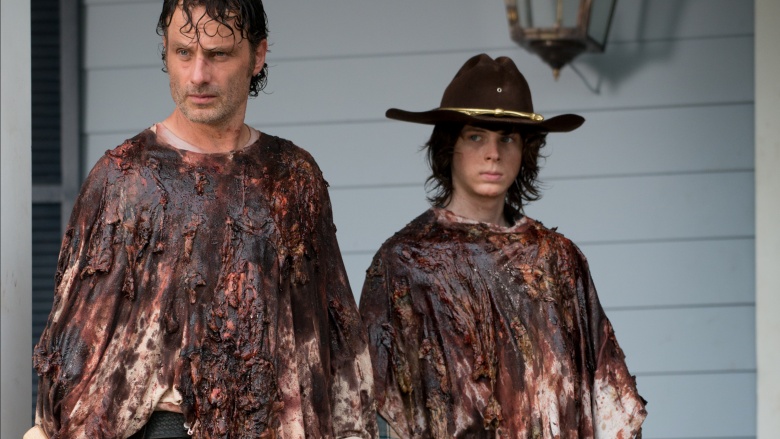 Based on the dialogue in the final moments of season six, Rick and Carl were not the ones being beaten by Negan. Negan threatened to remove Carl's one good eye and feed it to Rick, an action that would be impossible if Rick were dead, and probably pretty difficult (or at least a lot less threatening) if he reduced Carl's head to pudding. We're pretty certain that all living Grimes are currently safe.
Three strikes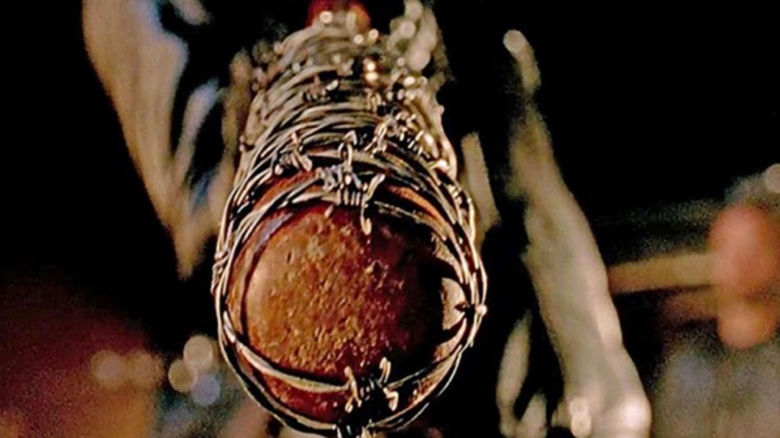 As Negan's bat comes down, we take the perspective of the victim. Viewers may have joked "RIP cameraman," but whoever took those hits was able to remain conscious until at least the third blow. Negan himself is impressed, calling the half-dead victim a champ. If we're basing this on pure strength and willpower, there aren't a lot of options ... and they mostly point to Abraham. We'd also give props to Rick's hard head, but we already know that he's not the chosen one.
Comic canon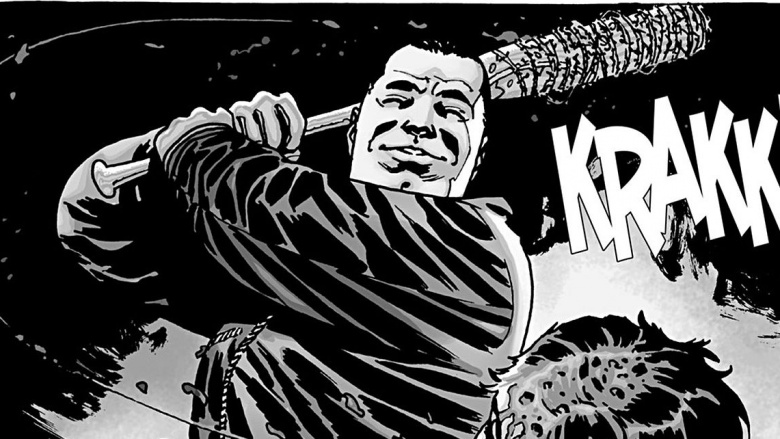 Comic readers already know that this is the exact, gruesome moment when Negan kills Glenn, but the show has already diverged from the comics many times. While the general plot follows the same thread, characters have become somewhat interchangeable. By now in the comics, Abraham is already dead, having been killed by Dwight with an arrow through the back of his head. If that sounds a lot like how Denise died, that's because the show flipped the script just enough to keep people guessing. At this point, Abraham and Glenn's times are both up. And if we're talking characters who aren't around during this scene in the comics, Daryl doesn't even exist at all (they created him specifically for TV), so his days are always numbered.
Michael Cudlitz's Twitter bomb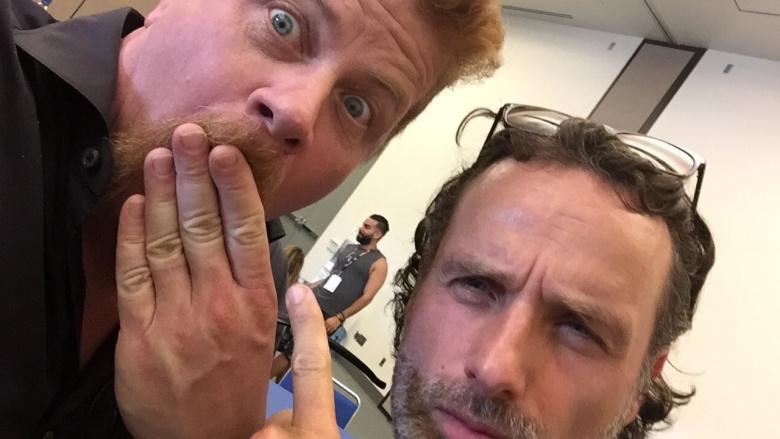 One accidental bit of evidence happened in a posted, and then edited, tweet by Michael Cudlitz, who plays Abraham. In a message to Josh McDermitt, who plays Eugene, Cudlitz remarked, "I had a blast working with you." The oddly past-tense statement was quickly edited, which is doubly damning, since that means either Eugene or Abraham is now in the past. While Abraham would definitely take one for the team, despite his growing interest in saving the whole world and starting a family, Eugene's recent heroics can't be counted out, either.
Off the set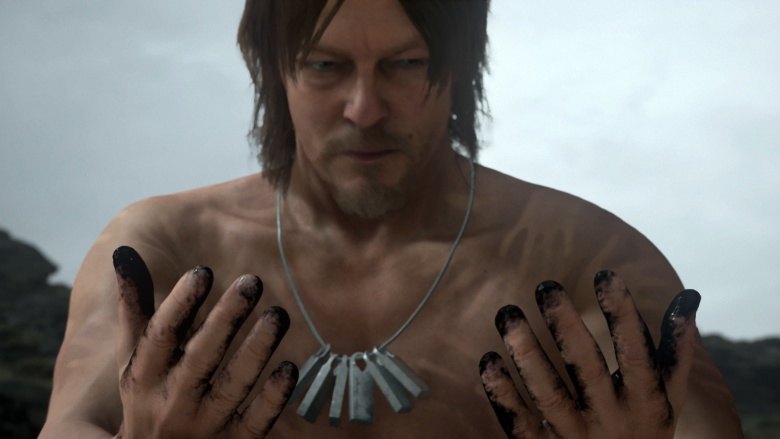 There's some public evidence that a few actors aren't spending all of their time on The Walking Dead set anymore. Everyone noticed that Norman Reedus (Daryl) hosted his own cross-country motorcycle show this past spring, though filming dates for that coincided with Dead's downtime. He's also been able to set aside enough time to voice the upcoming video game Death Stranding. Steven Yeun's IMDB page has a couple of other acting credits beginning to stack up over his role as Glenn, and they seem like more than the occasional side job that actors sometimes take on. Meanwhile, Danai Gurira, who plays Michonne, was just cast in Marvel's Black Panther film, which will undoubtedly be a huge production and involve a part in multiple Cinematic Universe films. And finally, Michael Cudlitz was spotted in New Orleans hanging out a bar, during prime Dead filming days. His Twitter also revealed a pretty long string of photos where his hair had returned to its natural color, before being dyed red again for San Diego Comic Con.
On the set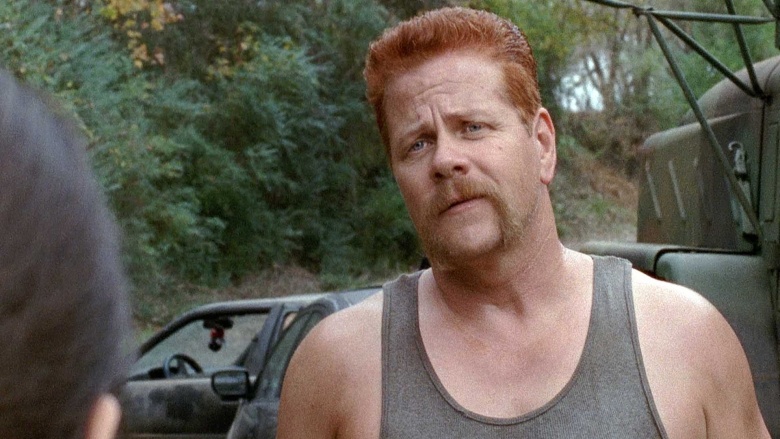 The most consistent source of information about upcoming seasons has been The Spoiling Dead Fans, a forum which actively stalks filming locations and has been the recipient of multiple copyright infringement notices from AMC, due to leaked information. Eager fans have been taking photos around Griffin, Alabama, where this season's early filming is taking place. So far, amateur paparazzi have reported spotting Carl and Eugene, as well as roads blocked off around Eugene's bullet workshop. Zombie debris left around town has left a few hints, including how Michonne might well have a zombie battle of her own this season.
Most revealing of all is a leaked filming schedule. STOP READING NOW IF YOU DON'T WANT THE ULTIMATE SPOILER.
According to a leaked list of days on set, and scheduled episode appearances, Abraham and Glenn are only scheduled for the first episode of this season. This suggests that not only will Abraham die as season seven starts, but Glenn will also do something to get himself killed. It may be by Negan's hand, making the TV canon same as the comics, but it may also be from any one of the million other threats lurking in the terrible world of The Walking Dead. Time will tell, but we're betting on the terrible twist of two fan-favorite deaths in one episode. It just won't be the same without them.