The Star-Studded Espionage Thriller You Won't Want To Miss
The pandemic may have already pushed the likes of No Time to Die and Mission: Impossible 7 further back into 2021, but there's still one action-packed spy thriller looking to make its bow early in the new year: The 355, which dropped its first trailer on October 6, 2020.
Jessica Chastain produces and leads The 355 as American intelligence operative Mason "Mace" Brown, who goes outside the chain of command and assembles an international super-team of female spies in order to retrieve a top-secret weapon that has fallen into the wrong hands. Joining Chastain's Mace as she ventures across the globe trying to prevent World War III are Marie, a rival German agent played by Diane Kruger; Khadijah, a former MI6 computer expert portrayed by Lupita Nyong'o; and Graciela, a Colombian psychologist-turned-reluctant-spy, brought to life by Penélope Cruz. 
Shadowing the four women is Lin Mi Sheng, a Chinese operative portrayed by Fan Bingbing — but the trailer for The 355 plays it coy as to whether, or for how long, she stays an enemy or an ally. Rounding out the cast are Sebastian Stan and Chastain's Zero Dark Thirty co-star Édgar Ramírez as possibly helpful fellow spies — though, given the trailer's "us against the world" vibe, maybe don't hold your breath on those two either.
The 355 isn't your average espionage flick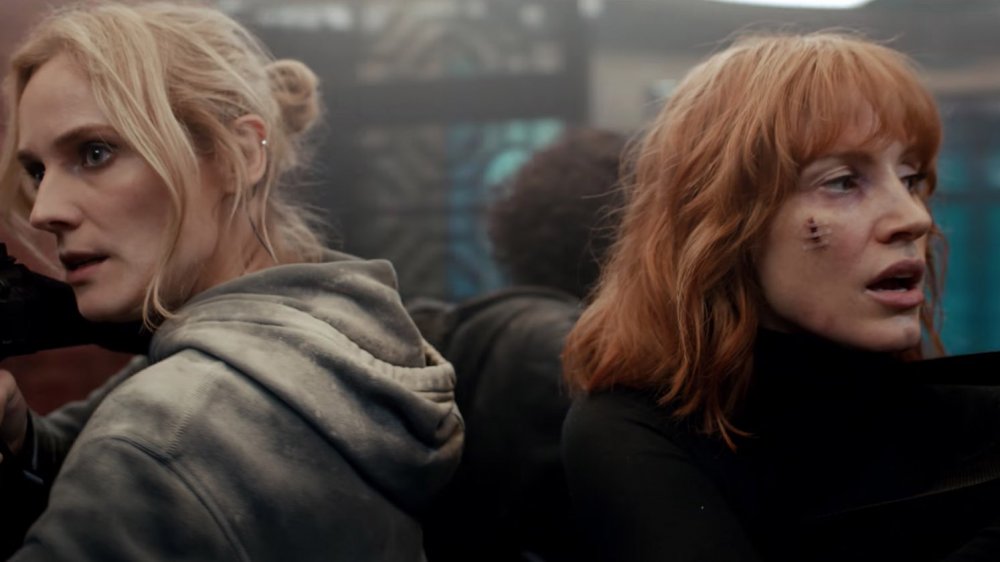 Universal Pictures
Simon Kinberg directs The 355 — and Chastain actually pitched him the idea for a female-led spy franchise to when the pair were working on X-Men: Dark Phoenix, in which she starred as the shape-shifting alien Vuk. 
"I love the Bourne movies, the Mission: Impossible films, and wondered why, except for Charlie's Angels, there hadn't been a true female ensemble action-thriller spy film. That got my wheels going, along with the idea of casting actresses from all over the world to truly make it an international project," Chastain explained to Deadline back in May 2018. "I realized the incredible creative freedom we would have with that. I brought the idea to Simon, told him about the actresses I was thinking of, and he was so sweet. He said, 'I want to do it with you.'"
It's safe to say that The 355 is a different sort of espionage movie than 2012's Zero Dark Thirty, for which Chastain received an Oscar nomination for her performance as CIA intelligence analyst Maya. The trailer teases that The 355 wears its more action-oriented influences on its sleeve. It features fancy dress parties, scaling shots of skyscrapers, hidden surveillance equipment, multi-gun standoffs, Chastain's Mace waxing on about how the world has changed since the Cold War, and Chastain's Mace waxing a roomful of guys with her feet and fists. There are both wigs and submachine guns, but a lot more submachine guns than wigs.
For an extra layer of coolness, the movie's title is a reference to a female spy during the American Revolution, Agent 355, whose true identity remains unknown. As Chastain told Deadline, she worked with a CIA consultant on The 355, and a conversation she had with him sparked the film's title. "For a lot of women who work in the CIA and other organizations like that, Code 355 is a universal slang term for female spy," Chastain shared. "It's the invisible woman who was never named." 
The 355 is currently set to be released on January 15, 2021.