How American Pickers' Danielle Colby's Life Was Changed By A Lamp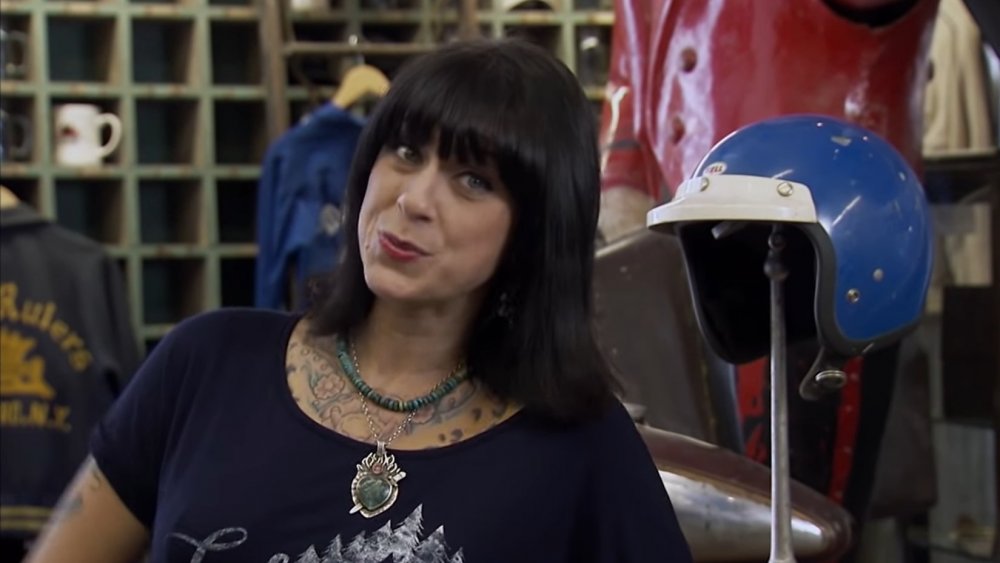 A&E
For 21 seasons and counting, the History Channel series American Pickers has been delighting fans of antiques and old-fashioned American road trips. The show follows hosts Mike Wolfe and Frank Fritz as they traverse the country in their van, meeting eccentric collectors and digging through old sheds, attics, and every other nook and cranny they find along the way in search of forgotten treasures. As much fun as it is to watch Wolfe and Fritz on the road, Danielle Colby has emerged as a fan favorite. As the manager of Wolfe's Antique Archaeology, the shop where many of those treasures end up, Colby brings a spiky energy to the show — an energy fans might have missed out on if not for a fateful meeting over a lamp.
These days, Colby is just as likely to be found out on the road picking with the guys as she is back at the shop. She's become an integral part of the show's formula, and her longtime friendship with Wolfe shines through in their onscreen chemistry. In a 2010 interview with YuppiePunk, she revealed that she had known Wolfe for nearly a decade before the cameras ever started rolling on American Pickers. "Mike has been a really dear friend of mine for almost ten years — and he has helped me on all of my projects for about ten years — so I knew without a doubt, if he was a part of [American Pickers], not only would it be successful, but it would be kick*ss, too," she said at the time.
It wasn't just the longevity of their partnership that made Colby certain that Wolfe would make American Pickers a success — she knew from their very first meeting that Wolfe made no apologies about going after the things he wanted in life, including unique home appliances.
Mike Wolfe scooped up a lamp that secured Danielle Colby's American Pickers future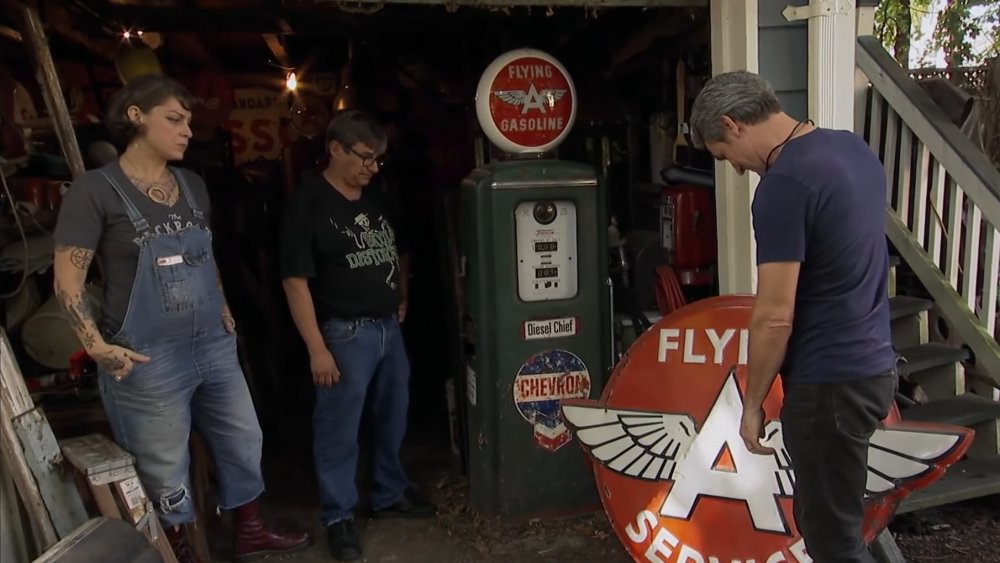 A&E
Long before American Pickers was a hit show, both Wolfe and Colby already had a love for antiques, and a chance encounter at a yard sale led to a beautiful friendship. "I first met Mike at a yard sale," Colby revealed to Freshly Inked. "It was in Le Claire, Iowa, across the street from my Mother's house. I was looking at a lamp, he bought the lamp, I got mad at him, he looked at me and said, 'Sorry girl, the time to buy it is when you see it.'"
His advice could have put Colby off — after all, no one likes being scooped on a deal. Fortunately, the future American Pickers star was impressed by Wolfe's boldness. "I liked his sass... we were pretty much inseparable after that," she continued. "Also, side note, I lost my wallet that day with all my rent money in it. I was mortified! But look how much I found in friendship that day, and I wasn't even looking for it."
Without Danielle Colby, American Pickers wouldn't be the same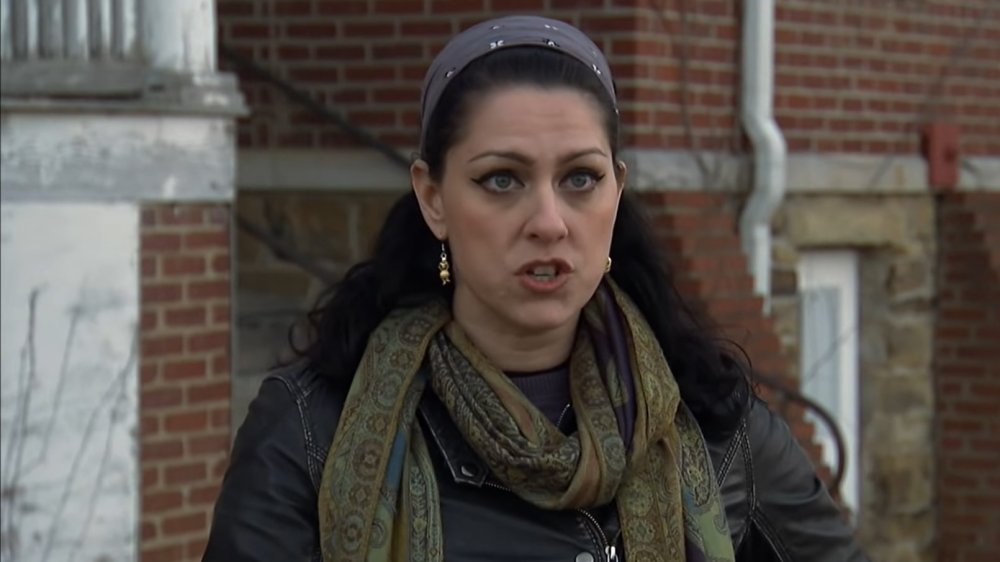 A&E
Wolfe was equally fortunate that his cheeky antiquing advice was appreciated by Colby. He didn't know it then, but the burlesque dancer and avid collector of vintage costumes would go on to make his show way cooler than it has any right to be — and he'll be the first to say it. During a 2010 Q&A session with fans in Le Claire, Iowa, Wolfe revealed he knew Colby's unique style and rocker personality would help American Pickers stand out.
"I saw what she was capable of, and she's got the edge, she's got the look," he told the fans. "One thing I wanted when I hired her and I knew she was going to be on camera, I wanted someone that did not look like they would work in any antique shop because I wanted our show to be looked at in a different way. I wanted people to look at antiques like they're fun, they're rad, they're killer, they're awesome. I wanted people to know that they didn't have to have a blue blazer and ten cats to be an antique dealer."
Clearly, their friendship has been mutually beneficial, and 20 years later, it's still going strong. The fact that a chance encounter led Colby to a job at Antique Archaeology and a place on American Pickers where she could share her love for antiques and bargains with the world is a lovely twist of fate. Still, we can't help but wonder where that magic lamp is now.