Tom Holland's Next Movie Puts Him In The Running For An Oscar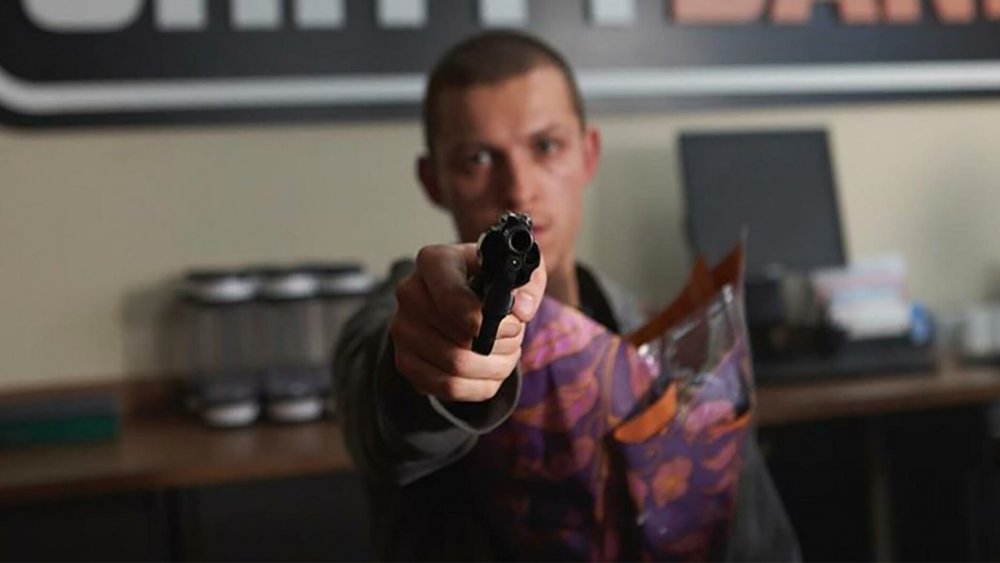 Apple TV+
And the Acadamy Award goes to ... Tom Holland? The Spider-Man: Homecoming star has impressed critics in the past with his endearing performances in movies like The Impossible and The Lost City of Z. However, he has yet to garner the type of awards season fervor that usually leads to an Oscar nomination. Well, that may soon be changing thanks to his upcoming film Cherry, directed by Joe & Anthony Russo in their first post-Avengers outing.
On September 25, Deadline reported that Apple had purchased the rights to the film. They plan to release it on Apple TV+ in early 2021, just under the deadline for it to qualify for the Oscars. No reviews for the movie have been released yet, but according to Joe Russo, Holland gives his all to the gritty role. In an interview with Collider, the director said, "I think he's exceptional in the movie, honestly. I think it's an Oscar-worthy performance out of him. He is shredding himself, physically and emotionally."
Of course, that's a biased opinion, but presuming the performance lives up to Russo's hype, the film's viable release date and the fact that the 2020 award season lineup has been ... uh ... pretty slim, means it's definitely possible Holland could add "Oscar Nominee" to his resume come 2021.
Holland's Cherry character and the sensational novel that inspired the film
In March, the Russo Brothers posted a tease for their upcoming film on Twitter. In a photo from their editing bay, fans got a glimpse of a still from the movie featuring Holland looking decidedly un-Peter Parker like. Instead of the dapper good looks and athletic energy he's come to be known for, Holland appears disheveled and disgruntled.
That's not a shock, considering the character he plays. Nico Walker is an army veteran who returns from active duty with a debilitating case of PTSD. He turns to opioids to ease his anguish, but his dependency soon creates a new problem: money. Nico begins robbing banks to keep himself afloat, sending him on a path of destruction and chaos.
The film is based on a novel of the same name written by Nico Walker. When the book came out in 2018, it was a sensation in the literary world, both because of the rave reviews it garnered and because of the fact that Walker wrote it while in prison for bank robbery.
With a hit novel as its source material, two renowned directors at the helm, and the most open awards season in a generation, Cherry stands a good chance of propelling Tom Holland to the pinnacle of the industry. Who would've thought Spidey had it in him?