Sons Of Anarchy Almost Had A Very Different Name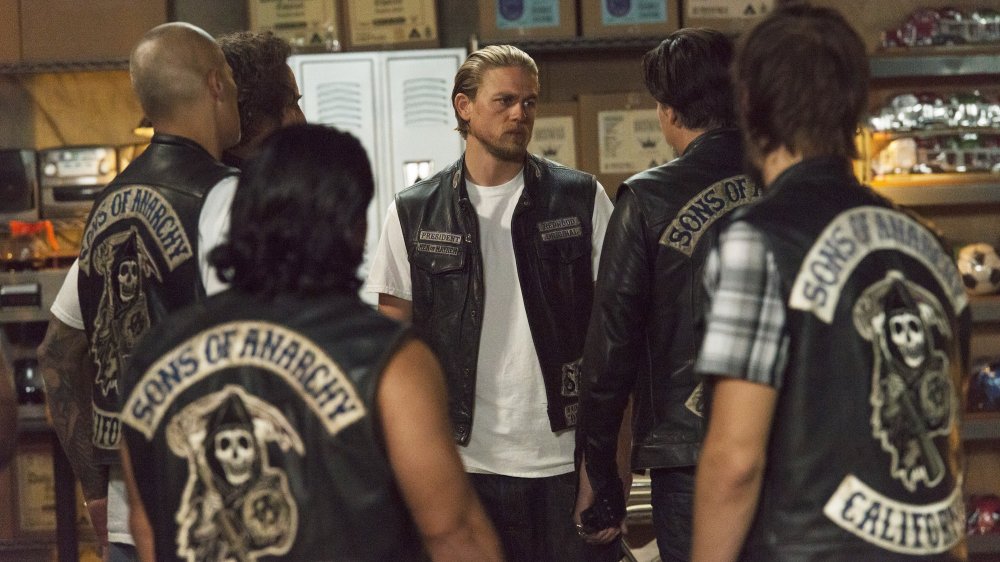 FX
For many fans, Sons of Anarchy kicked off a love for all things motorcycle. Since the program's premiere on FX in 2008, countless motorcycle clubs have popped up all around the United States with the sole purpose of — what seems to be — coming up with the most cliche biker gang names they could think of. From 2008 onward, it has felt like people that had never been on bikes before started running out and buying Harleys, dropping money on leather, and acting like they were bad boys on two wheels. The show caused a much-needed cash funnel into the motorcycle business, with star Mark Boone Jr. even touting, according to the Hollywood Reporter, that, "We basically saved Harley."
Motorcycle business aside, Sons of Anarchy was always a fun show. It had drugs, sex, violence, and hogs. What's not to love? 
Now, no one is suggesting you should go out and start your own Sam Crow-inspired motorcycle club but if you do — and you want something that's a cool reference to the TV show which inspired you — the original name that was intended for the Sons of Anarchy is, probably, still available. You didn't think they came up with something so cool on the first try, did you?
Sons of Anarchy originally had a name with religious connotations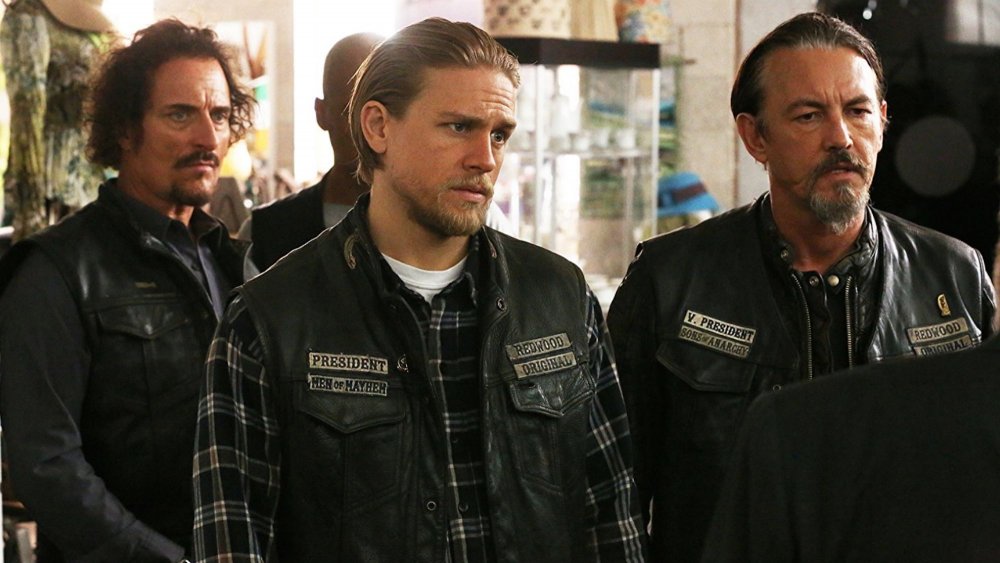 FX
The name for the outlaw motorcycle club wasn't originally "Sons of Anarchy," according to a tweet by Kurt Sutter, the guy who created the show. Instead, Sutter says the club carried the name "The Zealots" when he first wrote their badassery into existence. 
They only changed the name from "Zealots," because, in his words, it had "too much of a religious vibe." He also said they had a hard time finding a name that another MC wasn't already using. A name like "The Zealots" would've had to have been ironic, unless there's a religious practice that involves murdering people while you run drugs and guns. It's possible, but doubtful.
There do seem to be some questionably religious elements to Sam Crow that made it into the show, though. Within the MC's clubhouse, there lies a room more sacred than any other to the members of the Sons of Anarchy, and they call it "church." It's their official meeting place, where the club's votes are cast and all business is agreed upon. They even have their own rules of conduct that seem almost ceremonious, but the only actual religion the Sons of Anarchy follow includes two wheels on the pavement, and money in the bank. Nothing else seems to matter. 
So, looking at the full picture, Sons of Anarchy is a much more accurate name than "Zealots" ever would have been.