The Real-Life Mr. Miyagi Was In The Karate Kid And You Never Noticed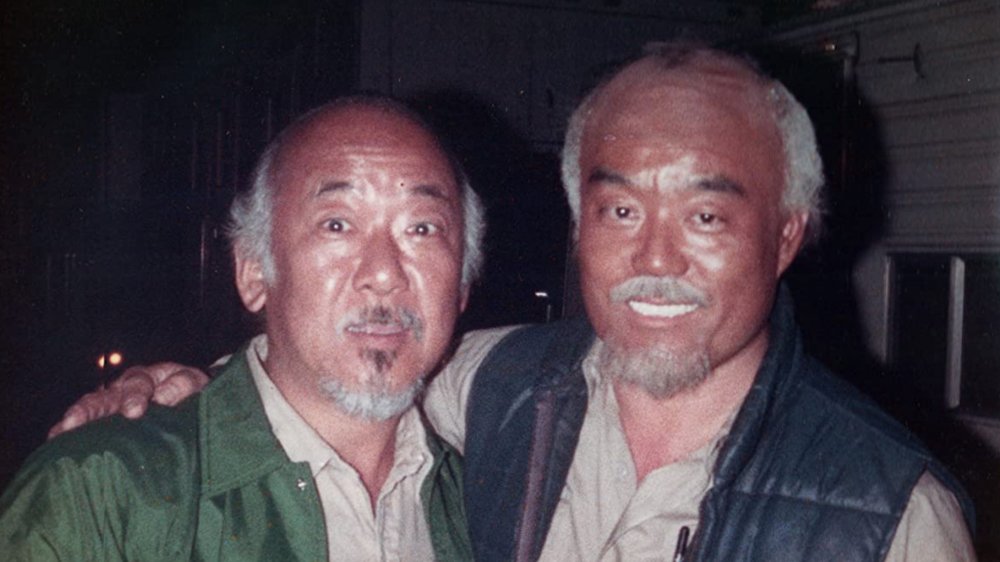 Inception Media Group
Nearly four decades have passed since movie lovers first heard the phrase "wax on, wax off," but this fastidious mantra remains as quotable today as it was in 1984. 
It was uttered, of course, in the beloved martial arts drama The Karate Kid by the late, great Noriyuki "Pat" Morita, who earned an Oscar nomination for his turn as the film's noble sensei, Mr. Miyagi. If you've somehow never seen The Karate Kid, it tells the story of kind-but-troubled teen Daniel LaRusso (Ralph Macchio), who seeks the wise Mr. Miyagi's help in training to defend himself against a pack of vile, karate-loving high school bullies. 
Upon release in 1984, the film made overnight stars of both Macchio and Morita, whose unforgettable work as Mr. Miyagi ultimately became the heart and soul of the entire film. You may not know it, but Morita's iconic character was, in fact, based on a real-life martial arts guru named Fumio Demura. A well-known presence on the L.A. martial arts scene (he trained Bruce Lee!), Demura helped Morita prepare for his turn in The Karate Kid, and went on to establish a decades-long friendship with the actor that ended only after Morita passed away in 2005.
That fact, and many more, are the subject of a new documentary exploring the life of Fumio Demura called The Real Miyagi. Needless to say, Demura's work on The Karate Kid franchise features prominently in the new doc, with Demura himself delivering a few surprising nuggets about his own contributions. Most notably, The Real Miyagi reveals that Demura acted as Morita's stunt double in the original flick, and even had a blink-and-you'll-miss-it cameo during the film's memorable Halloween party throwdown.
Where Fumio Demura appears in The Karate Kid
For point of reference, that Halloween party showdown comes about a quarter of the way through The Karate Kid, and finds Macchio's Daniel trying to use his limited karate skills to fight back against the nefarious Johnny Lawrence (William Zabka) and his pack of skeleton costume-clad Cobra Kai goons. 
Without spoiling too much, Daniel's noble stand does not go well. After taking a serious beating, Daniel is saved only when a mystery man enters the fray and proceeds to dispatch Johnny and his ghouls with utmost ease. To the surprise of most viewers, that mystery man turns out to be Morita's gray-haired Mr. Miyagi. We now know that the first shot we see of the sensei in the scene (when he jumps into action over a chain-link fence) is not Pat Morita at all; if you look closely, you'll see it's clearly the one and only Fumio Demura.
Fumio Demura almost played the role of Mr. Miyagi himself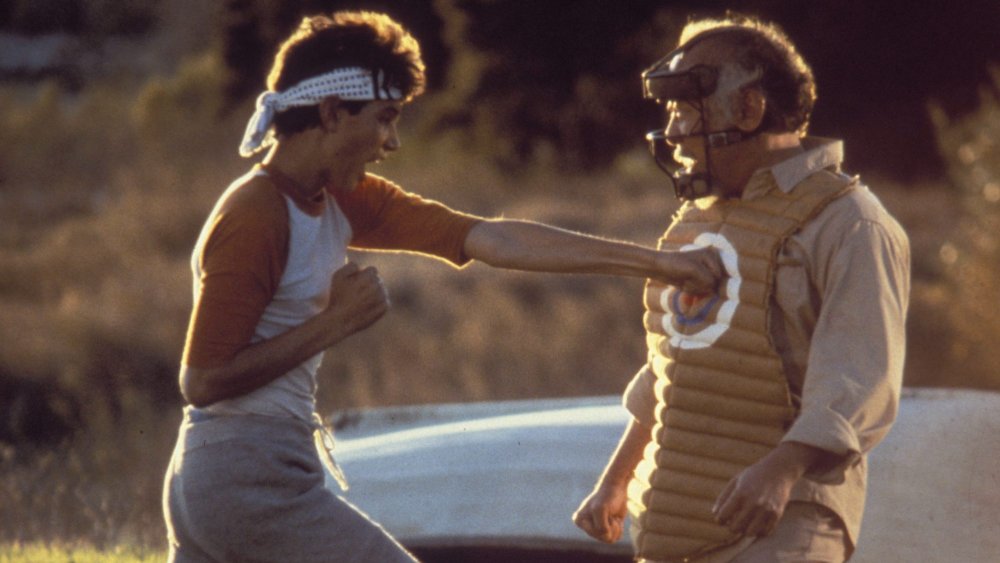 Columbia Pictures
It's obviously quite cool that Demura got some on-screen time in The Karate Kid, particularly as it comes in one of the film's most memorable scenes. But if The Real Miyagi is to be believed, it seems Demura could've had a lot more screen time in The Karate Kid. 
Turns out, Demura was actually offered the part of Mr. Miyagi before Morita was even considered. According to The Daily Beast, the Japanese-born Demura believed his English skills weren't strong enough to carry the role, and he ultimately passed on the opportunity.
Luckily, Morita (a California native) was more than up to the task. While it's certain Demura would've brought a similar, shamanistic presence to the role, Morita was so brilliant, it's almost impossible to imagine a universe where he isn't Miyagi.