A Terrifying New Story Revealed In The Haunting Of Bly Manor Trailer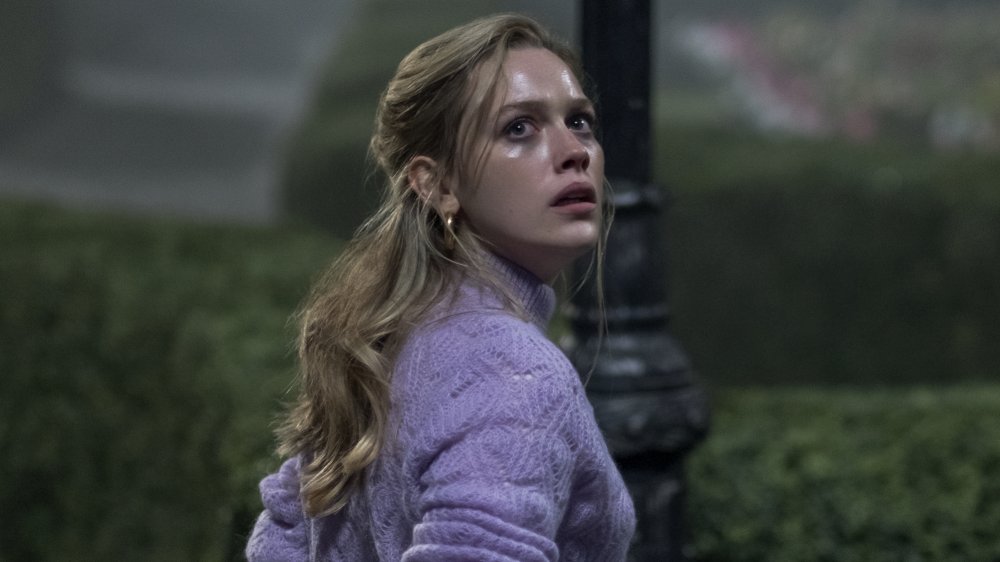 Eike Schroter/Netflix
If you thought Hill House seemed like a scary place to live, get ready for Bly Manor.
The Haunting of Bly Manor, the second installment in Mike Flanagan's Netflix horror anthology series that kicked off with 2019's The Haunting of Hill House, just released its first full-length trailer after a short teaser dropped in August 2020. Netflix viewers were scared witless by Hill House, and clearly, Bly Manor will continue this terrifying tradition.
After adapting Shirley Jackson's famed gothic horror novel of the same name with Hill House, Flanagan — and most of the core cast members from Hill House — are moving to a brand new haunted manse — but this time, it was created by Henry James. For Bly Manor, Flanagan is using James' novella The Turn of the Screw as his inspiration, telling the story of naive American nanny Dani Clayton (Victoria Pedretti, who appeared as Eleanor "Nell" Crain on Hill House), who moves to an unsettling estate to help two orphans at the behest of their uncle Henry Wingrave (Henry Thomas, who played a young Hugh Crain on Hill House).
Flanagan, known for his horror hits like Gerald's Game and Doctor Sleep, clearly isn't pulling any punches in Bly Manor. Here's what we know so far about the terrifying new story to come in The Haunting of Bly Manor.
Bly Manor's trailer is nothing short of bone-chilling
If you find dolls or small children creepy, The Haunting of Bly Manor's new trailer will definitely terrify you. The glimpse at the series — which prominently features Pedretti and Thomas along with Hill House alum Oliver Jackson Cohen and British actress T'Nia Miller (a newcomer to the Haunting series) — proves that it packs all the scares that Hill House did, but tells a different story about loss and grief.
The trailer is fairly cryptic, leaving a lot to the imagination, but seems to indicate that the inhabitants of Bly Manor are more or less trapped on the estate — at one point, an unseen voiceover says, "The people here — they're born here, they die here." Additionally, it looks as though all of them are subject to unsettling, hyper-realistic visions that torture them during both their waking and sleeping states. The idea that those we love never leave us, even in death, seems to also play an enormous role in the narrative, though this belief has clearly been stretched to the scariest interpretation, taking a normally comforting thought into horrifying territory.
If you were a fan of Flanagan's jump scares and hidden ghosts during Hill House, don't worry: The director already confirmed that he's still up to his terrifying tricks with Bly Manor. Judging from the trailer, there will be plenty of Easter eggs and subtle ghouls hiding within this new, famous house.
The Haunting of Bly Manor premieres on Netflix on Friday, October 9.