Small Details You Missed In The Schitt's Creek Wedding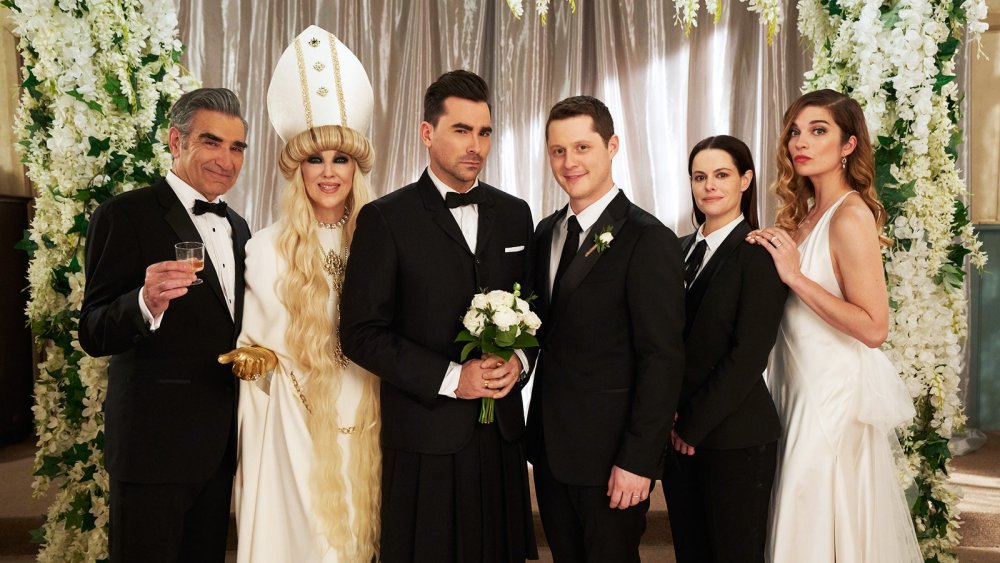 PopTV
In April of 2020, PopTV's beloved Canadian series Schitt's Creek came to an end after six sweet, hilarious seasons, and though fans were left bereft at the loss of one of their favorite shows, nobody could argue that the series didn't end in the absolute best way possible. After the once-rich Rose family — made up of father Johnny (Eugene Levy), matriarch Moira (Catherine O'Hara), son David (Eugene's real-life son Dan Levy), and daughter Alexis (Annie Murphy) — is forced to move to the small town of Schitt's Creek, they start to realize that this tiny hamlet actually makes all of them happy in radically different ways. Over time, Johnny revitalizes his business with the help of local Stevie Budd (Emily Hampshire), who owns the motel that houses the Rose family, and Moira finds her way back into acting. Meanwhile, David starts a popular local store and meets eventual husband Patrick (Noah Reid), and Alexis realizes she has to strike out on her own.
The series finale, "Happy Ending," focuses on David and Patrick's wedding, as well as Alexis, Johnny, and Moira's departure from the town. Ultimately, it provides plenty of closure, heartwarming moments, and whip-smart jokes to keep any Schitt's Creek fan happy. There are still, however, some things you might not have noticed, according to a new Vanity Fair deep dive on the finale's big wedding. If you've been meaning to rewatch "Happy Ending," here are all the small details you missed the first time around.
How the big wedding on Schitt's Creek came to be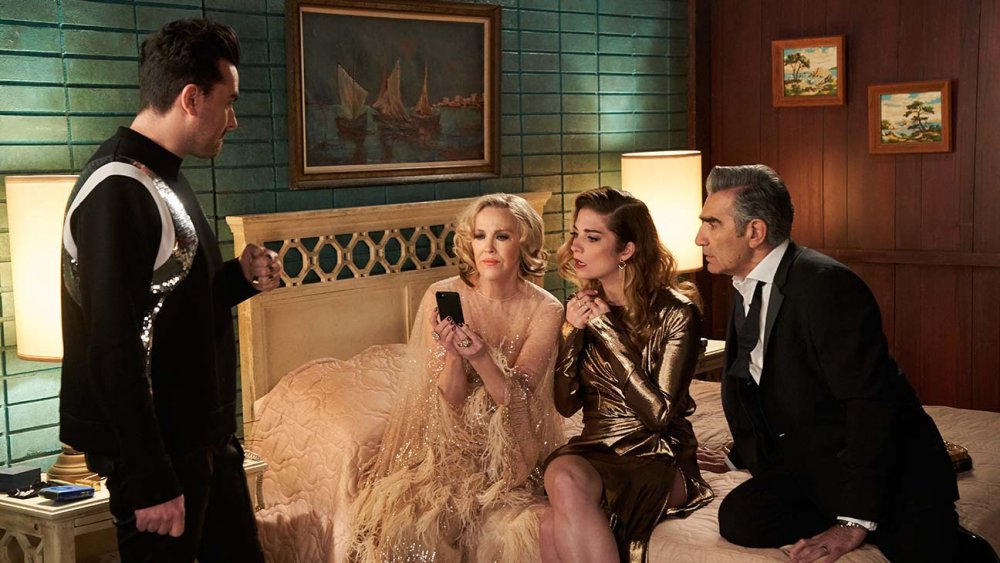 PopTV
As the wedding approaches, disaster strikes right and left. Not only is it raining, but David doesn't have an emergency tent (he wanted the wood-fired pizza oven, and couldn't afford both). What's more, due to the fact that haikuist officiant Fabian can only travel by pennyfarthing, he can't make it. Naturally, the Rose family and Stevie, David's best man, band together to save the day, anointing Moira as the day's officiant and working to find a new space for David and Patrick's nuptials.
In the end, Patrick and David's wedding is pitch-perfect, and according to Vanity Fair, showrunner and creator Dan Levy always wanted the series to end on this particular event. As he told the outlet, "I thought to myself, what a beautiful way to celebrate what the show has always advocated for. When you end a show on a wedding — which happens quite often in television, because it's a great device to bring people together and it's celebratory and it's emotional — the big challenge is, how do you do something in a way that people haven't seen before? But in a way that also gives the fans of the show what they want, and then some?" Even though the wedding proved enormously successful, Levy joked that he was still having "flashbacks of anxiety" thinking about it at all.
The big wedding on Schitt's Creek is full of callbacks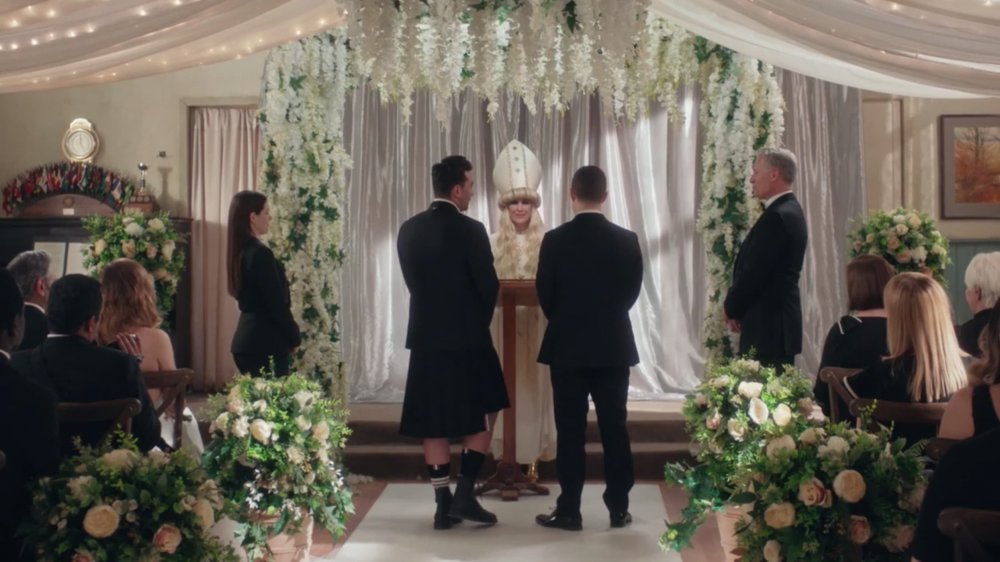 PopTV
One of the most subtle callbacks to a previous running gag on Schitt's Creek comes in the form of Alexis' outfit. True to form, the classically self-absorbed Alexis has purchased a white dress for her brother's wedding, which makes it look like they're the ones getting married. As Levy recalled, "It was just so in line with her character. But also the double entendre and the callback of [season 1, episode 3] 'Don't Worry, It's His Sister' [an episode about the accidentally lewd town sign]. So, a really fun thing to reference the fact that at the very last episode, they walk down the aisle with people potentially thinking they're husband and wife."
The music used in the wedding was also important to Patrick and David's love story. After walking down the aisle to "The Best," a song that Patrick once used to serenade David, Patrick sings Mariah Carey to his groom as a part of his vows, referencing the moment that the couple first said "I love you." All in all, it brings to mind some of David and Patrick's most legendary moments, which was Levy's intention: "It felt like a nice sort of cross-stitch of these moments that have been big for David and Patrick. There's something so powerful about the way that music was used throughout the entire series, but particularly in that wedding scene, which echoed past big musical moments."
Moira's leading role in the Schitt's Creek wedding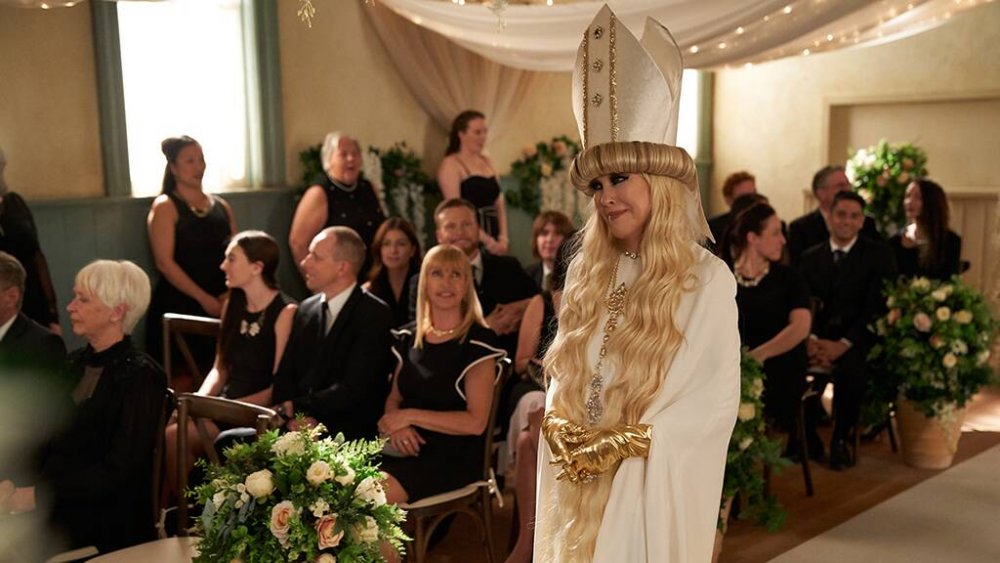 PopTV
Of course, Moira, the veteran actress, had to play a huge role in the wedding as its officiant — so huge, in fact, that she dressed as one of the world's most powerful religious figures. According to Levy, it was difficult to figure out how Moira should look: "How can we possibly top some of the more iconic looks that Moira has shown over the years? How can we do something that is so breathtaking, and yet at the same time not selfish? Because part of the challenge of clothing Moira in that episode was that you didn't ever want the audience to think, 'That's funny, but why would she do that on her son's wedding day?'" Once O'Hara herself suggested that Moira dress like the Pope, the costume department made it happen, creating an ethereal, unreal final look for the fabulous Moira Rose.
Moira's reaction during the actual ceremony also marks an important emotional milestone for her character. As Levy put it, "The idea that she gets overwhelmed with emotion, which is something she hadn't really expressed over the course of her time on this show, really felt like a beautiful turn for the character — and also a really funny, strong, exciting challenge for Catherine, to play a woman who is both completely falling apart while also trying to keep it together for her son's sake."
You can check out the rest of Vanity Fair's deep dive on this heartwarming, touching, and hysterical wedding, and Schitt's Creek — minus the sixth season, for the time being — is available to stream on Netflix now.