The Wolf Of Snow Hollow Trailer Teases Robert Forster's Final Film Role
Orion Classics has just released the trailer for the upcoming comedy-horror-thriller The Wolf of Snow Hollow. Pure terror has been unleashed on a small, unassuming mountain town. Everyone insists a string of gruesome deaths is the result of a werewolf, but Officer John Marshall (Jim Cummings) insists that can't possibly be the case. It's up to John to solve these crimes while taking care of his ailing father and raising a teenage daughter.
Cummings also wrote and directed The Wolf of Snow Hollow, which is his first film coming off the immense critical success of his microbudget dramedy Thunder Road. The Wolf of Snow Hollow also stars Riki Lindholme as Officer Julia Robson (Knives Out), Jimmy Tatro (American Vandal) as PJ Palfrey, and Robert Forster (Jackie Brown) as Sheriff Hadley.
The film looks like a rollicking good time. Werewolves don't get nearly as much cinematic attention as zombies or vampires, so it's nice to see a new werewolf flick coming out soon. But sadly, there will be a tinge of melancholy associated with the movie once it arrives this fall.

Robert Forster sadly passed away in 2019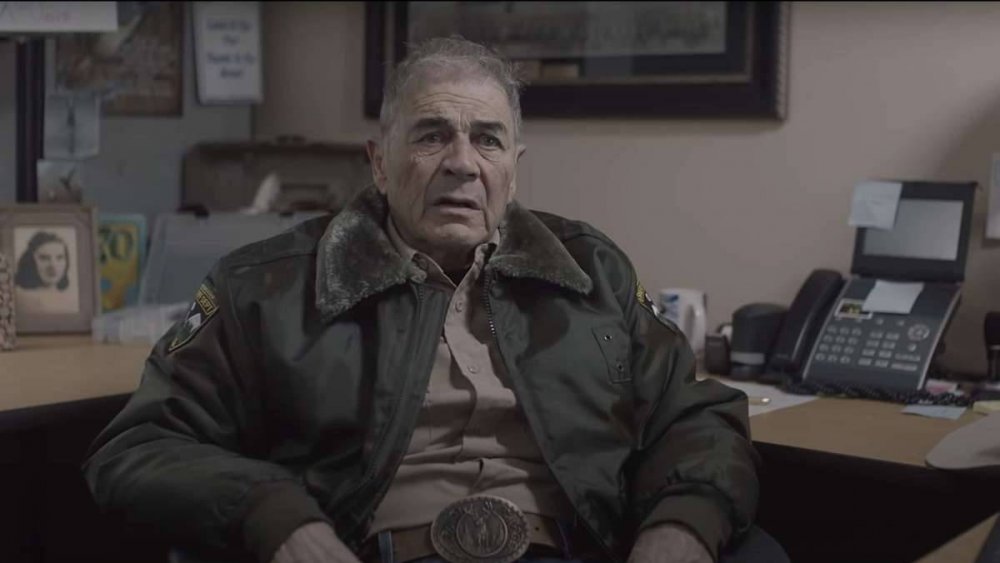 Orion Classics
The Wolf of Snow Hollow marks the last film appearance by legendary actor Robert Forster, who tragically passed away in October of 2019 from brain cancer. He was 78 years old.
Forster had quite the career, dating back to the 1960s in the Marlon Brando-led film Reflections in a Golden Eye. His career hit a bit of a slump in the 1990s, but Quentin Tarantino rejuvenated his film presence by casting him in Jackie Brown. Forster would get nominated for an Academy Award for his role as bail bondsman Max Cherry. 
Forster passed away just days before the release of the much-hyped Netflix original film El Camino: A Breaking Bad Movie. Forster played Ed Galbraith, the "disappearer" Jesse Pinkman (Aaron Paul) turns to when he finally wants to get out of Albuquerque for good. Forster was a legend, bringing a level of gravitas to every role he played, and luckily for audiences, he left us with another performance to enjoy. 
If you're a fan of offbeat horror, then make sure to check out The Wolf of Snow Hollow when it's released on October 9.