Synchronic Trailer: Get Hyped About This Anthony Mackie And Jamie Dornan Sci-Fi Horror
Meet your new sci-fi horror obsession. 
Synchronic, the upcoming feature from directorial duo Justin Benson and Aaron Moorhead (known for their work on the chilling 2017 film The Endless), dropped its first trailer on Wednesday, September 16, 2020 — sending ripples through the internet and attracting the attention of horror fans everywhere. 
The movie stars two incredibly familiar faces: Anthony Mackie, best known for his role as Sam Wilson (aka the Falcon) in the Marvel Cinematic Universe, and Jamie Dornan, widely remembered as the leading man of the Fifty Shades of Grey films but who is far more keen an actor than the role of Christian Grey allowed him to be. Together in Synchronic, Mackie and Dornan portray a pair of best friends who are both paramedics in New Orleans, Louisiana; Mackie is Steve Denube, and Dornan is Dennis Dannelly. 
Being paramedics, Steve and Dennis are used to staring death directly in the face on a daily basis, but something changes when they're suddenly being called in to scenes of horrifying, bizarre accidents. In their eyes, the situation can be easily explained away: The accident victims fell prey to a dangerous party drug sweeping the streets of New Orleans. They soon realize there's more at play, however, after Dennis' oldest daughter vanishes under mysterious circumstances and Steve uncovers the real truth behind the psychedelic drug so many people are hooked on. It isn't just a drug — it's something capable of bending time and reality itself.
Critics have raved about Synchronic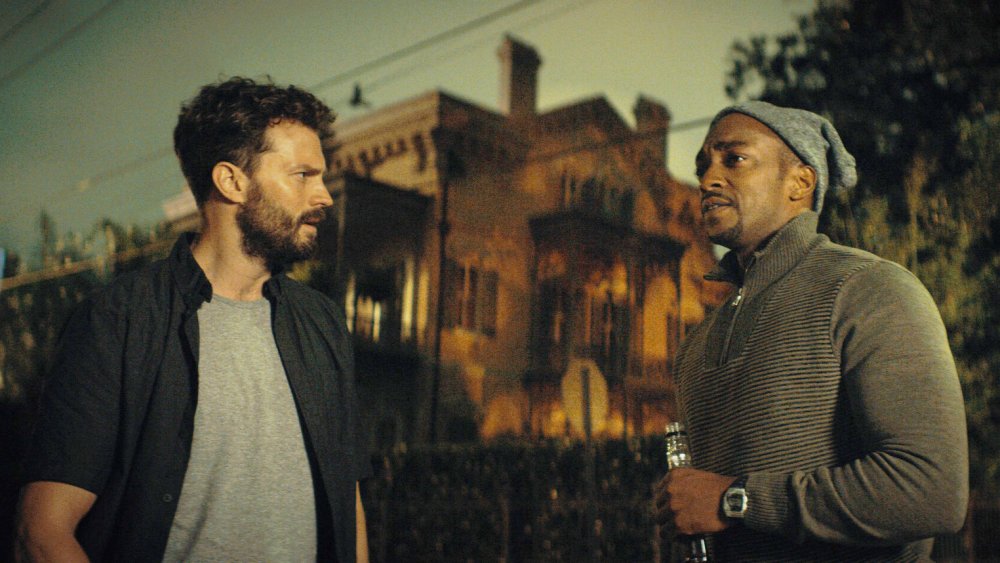 Well Go USA Entertainment
Also starring Ally Ioannides as Brianna Dannelly and Katie Aselton as Tara, Synchronic premiered at the 2019 Toronto International Film Festival, ahead of its official late October 2020 launch. When it debuted at TIFF in September 2019, the film earned glittering reviews from critics, who were totally swept up in the horror-tinged world Synchronic builds and captivated by the themes it explores.
"The first film I put on my schedule when TIFF announced dates and times was the 3pm world premiere of Justin Benson and Aaron Moorhead's Synchronic," noted RogerEbert.com's Brian Tallerico in his TIFF 2019 write-up. "These guys are doing something daring and new with genre, making low-budget films that could technically be called sci-fi but are deeply philosophical regarding what it means to be human. They focus on issues like grief and addiction more than mere genre conventions. In their latest, they tackle nothing less than the impermanence of human existence. We only have today. The past is something in which we can literally get lost in this film and the future isn't guaranteed for its protagonist. It's a fascinating blend of Bringing Out the Dead and Inception, and it's the kind of ambitious filmmaking I want more of from my genre directors. These guys are for real."
Nightmarish Conjurings' Shannon McGrew gave Synchronic a near-perfect score in her review, writing, "Synchronic has made me look back in time, at the decisions I have made and the moments I wish I could change. It's a film that will stay with me for a very long time and has rightfully positioned itself as one of the best films of the year."
Intrigued? Mark your calendars for Synchronic's premiere, in select theaters and drive-in locations, on October 23, 2020.