The Disgusting Detail About The Great Hall In Harry Potter You Never Knew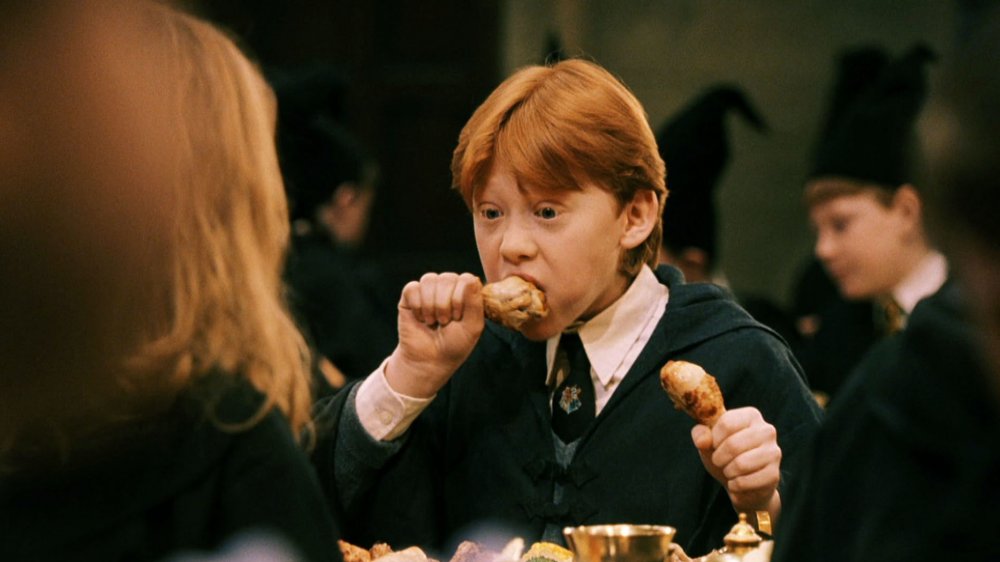 Warner Bros.
One of Harry Potter's most iconic filming locations wasn't quite as lovely off-screen.
Ever since the first film in the Harry Potter franchise, Harry Potter and the Sorcerer's Stone, hit theaters in November of 2001, fans have been waiting for their acceptance letters to Hogwarts School of Witchcraft and Wizardry, where Harry (Daniel Radcliffe) and his friends Hermione Granger (Emma Watson) and Ron Weasley (Rupert Grint) embark on their magical, educational journey. Despite the enthusiasm for magical pedagogy, however, it turns out that Hogwarts might be best experienced through a screen.
Shooting an epic movie like Sorcerer's Stone definitely came with a unique set of challenges, between wrangling animals like snowy owls to crafting two-faced men using CGI to choosing the right child actors for the popular franchise. With that said, some of the problems that surfaced during the filming of Sorcerer's Stone were, well, a lot more gross than you could have ever expected. Here's the totally disgusting detail about Hogwarts' majestic Great Hall that you never knew about before.
Hogwarts' Great Hall was actually really gross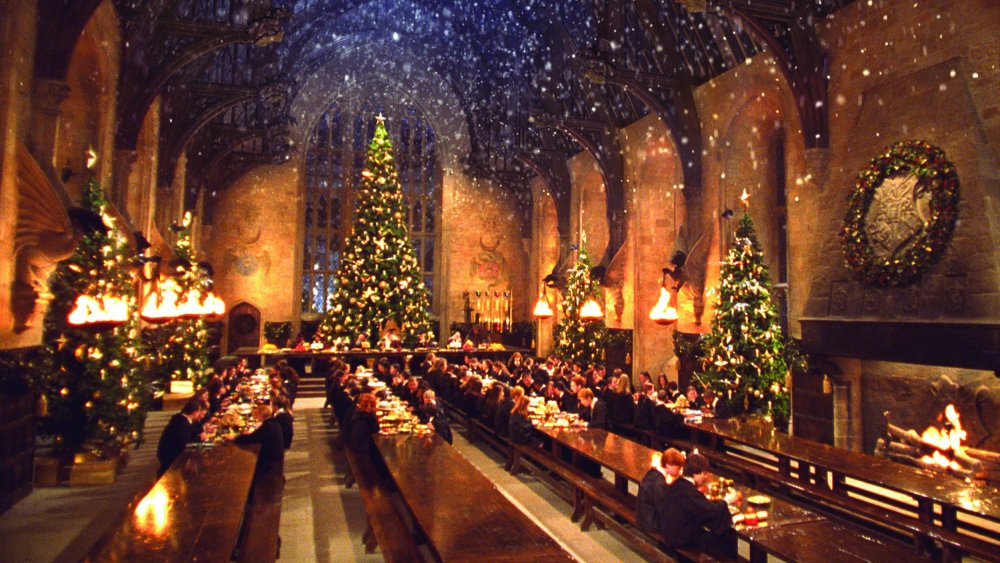 Warner Bros.
In an interview with British publication The Mirror back in 2014, actor Warwick Davis, who portrays Professor Filius Flitwick in the first film (and Griphook the goblin in subsequent installments) revealed something incredibly disgusting about Hogwarts' Great Hall: It always smelled like rotting food.
Apparently, director Chris Columbus, who helmed both Sorcerer's Stone and the second Potter film, Chamber of Secrets, wanted the food to look as real as possible, which makes sense considering how vividly the Hogwarts feasts are described in the books. As Warwick put it, "A lot of great feasts happened in there. You may film them for three or four days and the first day you step in there, they serve you a plate of food with lots of meats, vegetables and roast potatoes and you can eat the food."
However, Columbus' attention to detail had a pretty nasty result, according to Warwick: "The next day, they go, 'Don't eat the food' ... you just pretend now, it's been there all night. The fourth day, you could smell the Great Hall before you got in it. The food was the same food and it had quite an amazing smell." Clearly, Warwick took some liberties with the word "amazing." According to a fact sheet about the films published in Seventeen Magazine, the props crew froze real food and made molds for a more realistic — and less stinky — approach in subsequent films.
Today, you can visit the real Great Hall (without any rotting food smells) at the Harry Potter Studio Tour London, where you can explore all of the sets on a Warner Bros. lot in Leavesden just outside of England's capital city. Otherwise, all eight Harry Potter films will be available to stream on Peacock, NBCUniversal's new service, soon.