The Secret About Nurse Ratched That Louise Fletcher Keeps To This Day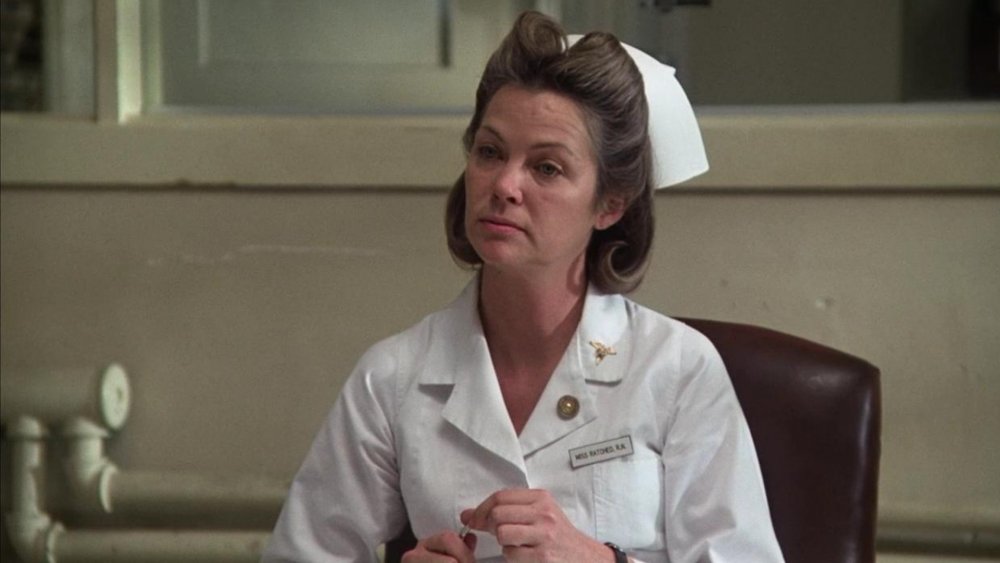 United Artists
Jack Nicholson's R.P. McMurphy may be the protagonist of Miloš Forman's searing One Flew Over the Cuckoo's Nest, but for many, it's the film's antagonist who has become synonymous with the film. Nurse Ratched is icy and authoritarian, a woman who is able to command a room without raising her voice above a murmur. The character is often cited on lists of the best movie villains of all time, and for her deeply considered performance in the role, Louise Fletcher won the Oscar for Best Actress.
Even if you've never seen the classic movie, or read the book of the same name by Ken Kesey that it's based on, you're likely aware that the character of Nurse Ratched is getting the full origin story experience thanks to a new Netflix series created by Ryan Murphy and Evan Romansky aptly titled Ratched. In it, Sarah Paulson plays the formidable nurse in the years before the events of One Flew Over the Cuckoo's Nest. In typical Murphy fashion, the series promises an eclectic and shocking look at the backstory of one of cinema's great characters.
Some things Murphy's series won't be using, however, are the details of Nurse Ratched's history that Fletcher invented while developing the character. That's because, according to a recent profile in Vanity Fair, the actress has never revealed the particulars of Nurse Ratched's life away from the hospital that she dreamed up.
Fortunately, Fletcher did offer a few peeks under the nurse's cap to give viewers some clues about what makes Nurse Ratched tick.
How Louise Fletcher envisioned Nurse Ratched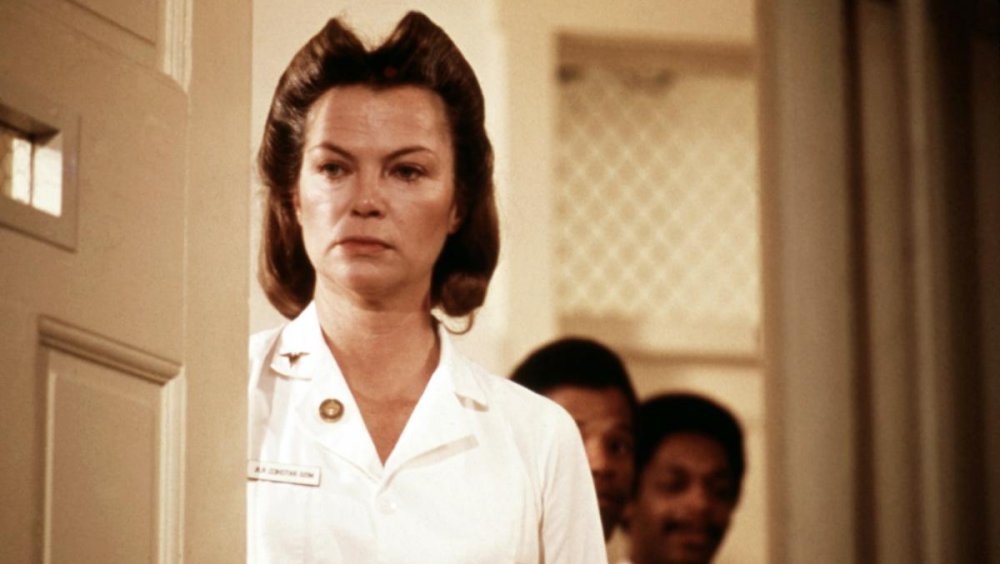 United Artists
In the 2018 Vanity Fair profile on Fletcher and her experiences playing Nurse Ratched, the actress let readers in on some of her process, without giving away all her secrets. Like many of the best movie villains, Ratched's psychology is more complex than you might assume from her sadistic behavior at work. Fletcher sought to add depth to the character to make her more compelling on screen, so she dreamed up a little extra-textual backstory. The award-winning actress said of Nurse Ratched's personal plight and dedication to her work, "She had sacrificed her life for other people."
In one particularly juicy bit of revelation, Fletcher told Vanity Fair that he conceived of Nurse Ratched as a virgin. Fletcher said of Ratched's personal life, "She hasn't married, hadn't done this, hadn't done that, and was self-sufficient on her own leading this life, because she dedicated her life, her earlier life, to other people who needed her."
In an interview with The Independent, Fletcher also cited watching the Watergate scandal unfold and Nixon's attempts to maintain control as an inspiration for the pathology of her character. She explained, "She was convinced that she had her world in order, and that for it to work properly it had to be in that order ... She had enough power that her conviction could have consequences –- and that's where I felt we were in the world at the time, too. The film was all about who has the power and how they use it, and how absolute power absolutely corrupts."
Even though Fletcher's personal biography of Nurse Ratched's private life remains for her eyes only, based on interviews with Paulson, it sounds like she's taking her own interpretation of the character for Ratched very seriously.
Why Sarah Paulson thinks Nurse Ratched is so complex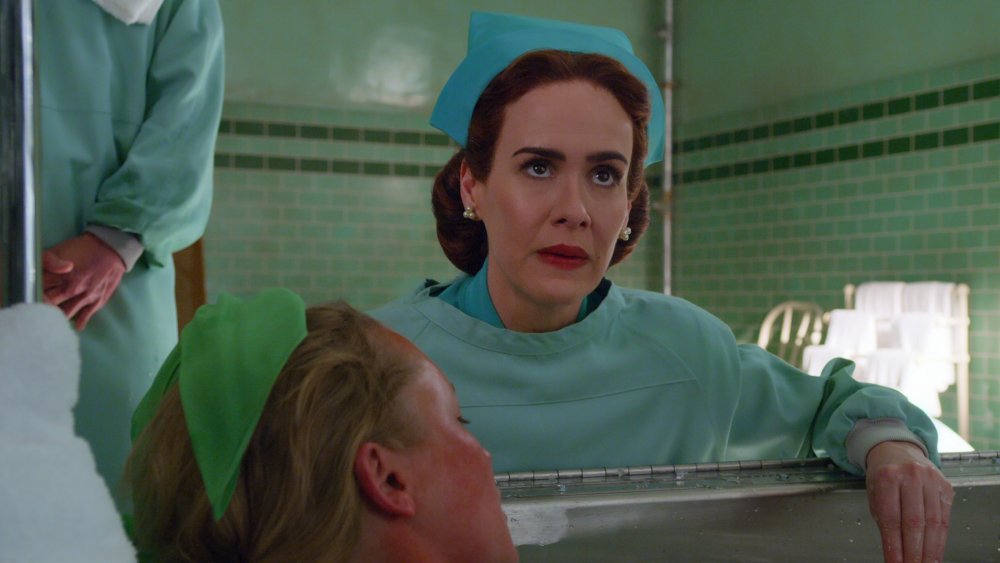 Netflix
During a recent interview with Jake's Takes, host Jake Hamilton asked Paulson about her interpretation of the iconic character. He specifically asked if Paulson viewed Nurse Ratched as a villain, citing an interview with Fletcher where she expressed that: "She never really understood why Nurse Ratched was on so many of the top movie villain lists."
Paulson agreed with the assessment and added that she believes Nurse Ratched's intentions are pure, even though her deeds are not: "She's a person in pursuit of absolution ... and there's purity in it, in the pursuit. What she does along the way to achieve it is questionable, to say the least."
As for whether Paulson is looking forward to potentially recreating scenes from the film, the actress said that isn't the part of the role that interests her. She may not have the low-down on how Fletcher perceived Ratched's private life, but Paulson is creating her own vision: "I'm much more interested, personally, in seeing what happens when she's in that outfit and she turns the key to her apartment and comes into her house. And what is that like?"
In an interview with Variety, Paulson said her fascination with the character lies with what we didn't see of her in the film: "I think it wouldn't have been interesting to me to explore the parts of Mildred Ratched that aren't porous. In the movie, she is calcified, there's a hardness, nothing ekes out."
While it will be hard for Paulson to top the original, she'll be giving her own take on one of cinema's most fascinating characters on Ratched, which drops on Netflix on September 18.