The Hilarious Wardrobe Malfunction Tom Ellis Suffered On Lucifer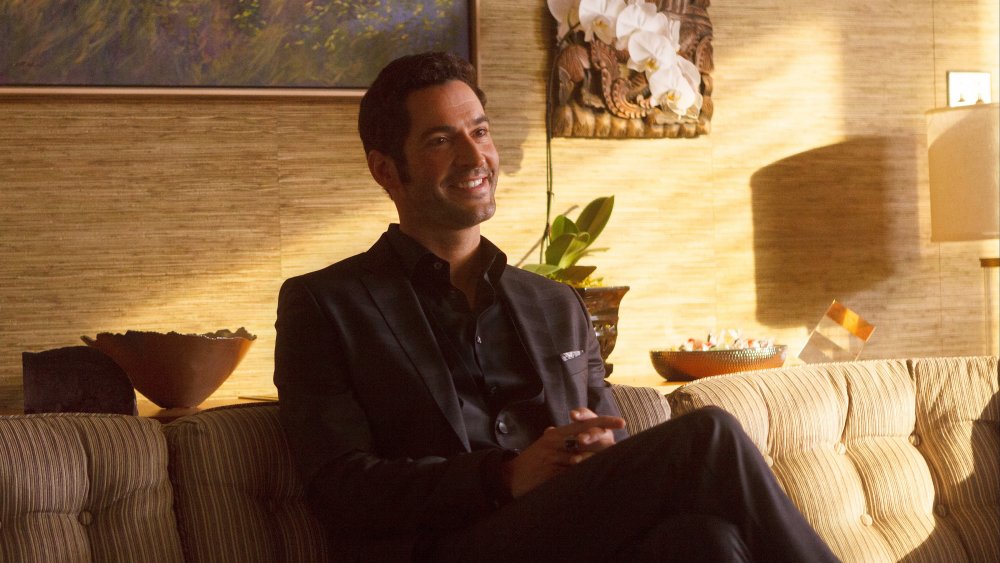 Fox/Netflix
Lucifer executive producers and showrunners Joe Henderson and Ildy Modrovich revealed that star Tom Ellis didn't just bust out some moves for the show's upcoming musical episode, "Bloody Celestial Karaoke Jam." He actually busted out of his pants. 
Confirmation of the wardrobe malfunction came during the Fox-turned-Netflix series' DC FanDome panel, which took place on Saturday as part of the DC virtual convention's second day of programming. In a clip of what looks to be a devilishly fun storyline, Ellis' Lucifer can be seen dancing and singing alongside LAPD homicide detectives Chloe Decker (Lauren German) and Dan Espinoza (Kevin Alejandro), as well as department forensic scientist Ella Lopez to Queen's "Another One Bites the Dust." In the number, the team is flanked by a high school marching band and cheer squad as they dance to the apt song choice, which is likely referencing a new murder they've been assigned to investigate. 
Ellis can be seen vigorously shimmying around with the rest of the cast on a football field in a rather well-fitted suit. During the panel, the episode's director Sherwin Shilati — who was doubling as the panel's moderator — asked Henderson and Modrovich to confirm or deny whether Tom Ellis had a special suit that stretched and "had a lot of give" so the actor could properly dance without destroying his wardrobe. 
While Henderson said he didn't know about the suit, Modrovich confirmed the existence of the wardrobe addition made just for Ellis. "Yes, he does indeed have a special suit. It has elastic ... in the armpits," she said. "And in the crotch area, I believe, so that you may kick and raise your arms without splitting." 
That's when Modrovich revealed that the costume department's best efforts still weren't quite enough to contain Ellis. "I believe he's split the crotch anyway," the Lucifer showrunner and EP said as the entire panel laughed. 
Tom Ellis' pants split like the two halves of Lucifer season 5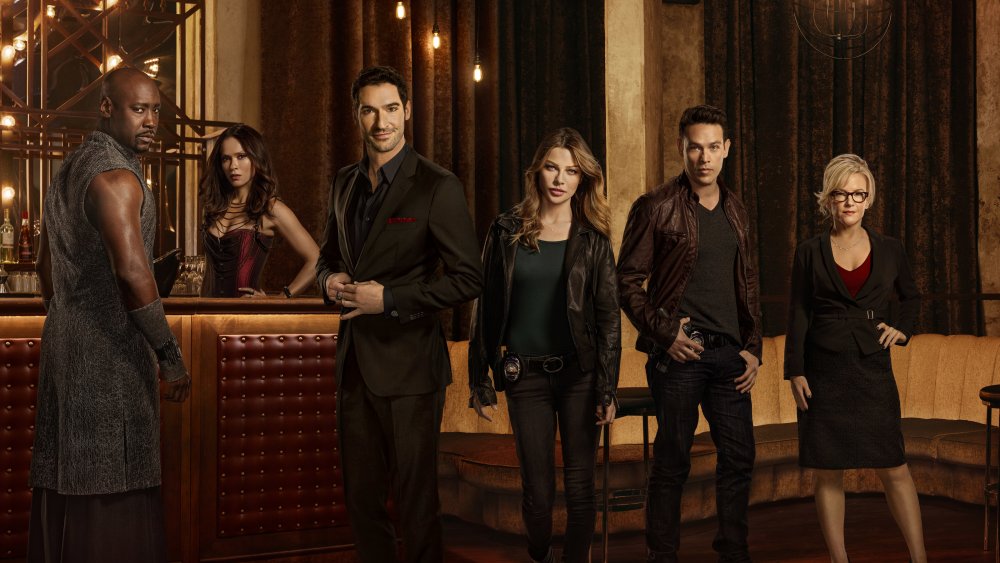 Fox/Netflix
During the panel, which featured a blooper reel in addition to the episode clip and discussion, the creative trio also spoke about the years-long journey of getting the episode, which Modrovich described as "a lot of funny" with "a lot of emotion," on to the screen. 
"It's been a slow burn," Modrovich, who also wrote the Season 5 episode, said. "In my heart, it began to blossom after the Vegas episode, when Tom and Aimee did 'Luck Be a Lady.' I remember coming into rehearsal for that and crying because it was such a dream come true, and it was so exciting to me." 
The series already has musical elements baked into it, courtesy of locations like Lucifer's night club Lux. Though Modrovich is confident that "if there's any show you could do a musical on, it's this one," the team still needed a solid plot to really justify the creative decision. 
"To me, in these musical episodes, you've got to have the story-based reason that everyone breaks into song," said Henderson. "So, one of the challenges was, 'What element could we introduce that is organic to our story that allows all of our cast to burst into song?' And when we found that ... that's when it came together." 
The team still had to get the entire cast on board, a process Modrovich said began at the start of the season when they asked each actor about their comfort level with singing and dancing. After Shilati asked if some cast members were "more excited than others" to do the special episode, without naming names, Modrovich acknowledged that some of the actors were pickier about their willingness to do certain things. 
"Pretty much everybody was like, 'Oh, I want to do all of it,'" Modrovich teased.
The first half of Lucifer Season 5 is now streaming on Netflix.