The Touching Bond Between Kobe Bryant And His Oscar-Winning Director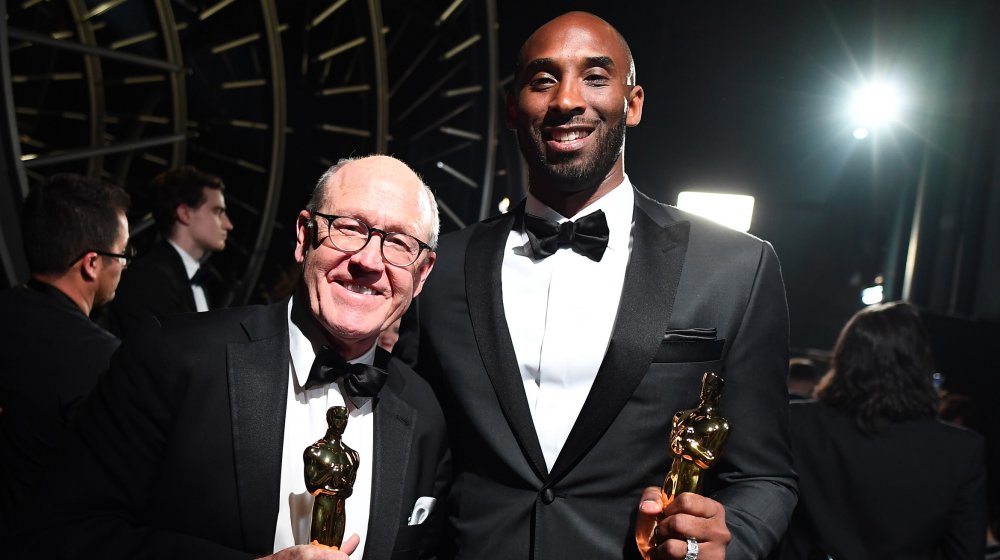 Handout/Getty Images
For the late basketball legend Kobe Bryant and animator Glen Keane, collaborating to adapt Bryant's poem "Dear Basketball" into an animated short film wasn't just fulfilling on a professional level. It also resulted in a genuine creative friendship.
Keane — who has worked as an animator and/or character designer on films like Aladdin, Beauty and the Beast, The Little Mermaid, Tarzan, Tangled, and Treasure Planet — recently penned a guest column for The Hollywood Reporter in the wake of Bryant's tragic death on Sunday, January 26, 2020. Bryant and eight others, including his own 13-year-old daughter, died after the helicopter they were in (a Sikorsky S-76B that Bryant owned and frequently used in favor of traveling by car) crashed in Calabasas, California. In the time since, countless tribute have come pouring out, and Keane's own column certainly counts as one. 
Within his emotional piece, Keane detailed how he and Bryant bonded during the production of "Dear Basketball," which won the Academy Award for Best Animated Short Film in 2018.
Though Keane was unsure of how to "greet a legend" like Bryant when they met in the fall of 2015 with the rest of the "Dear Basketball" team to go over storyboards for the film, that feeling quickly faded. Keane wrote, "I put out my hand and he pulled me in for a hug [...] He stood silently and looked around at the walls covered with storyboards and sketches. 'What's he thinking?' I wondered. 'Perfect,' he said."
Keane then shared that the creative team gathered around his desk while he "drew the Beast, Ariel, and Pocahontas" for Bryant's daughters. "I remember how close he was to his girls, and how close this family felt," wrote Keane. "The image that will now forever be etched in my mind is of Gianna nestled in his lap, so content with Kobe stroking her beautiful hair. So much love!"
Kobe Bryant and Glen Keane shared a love of classical music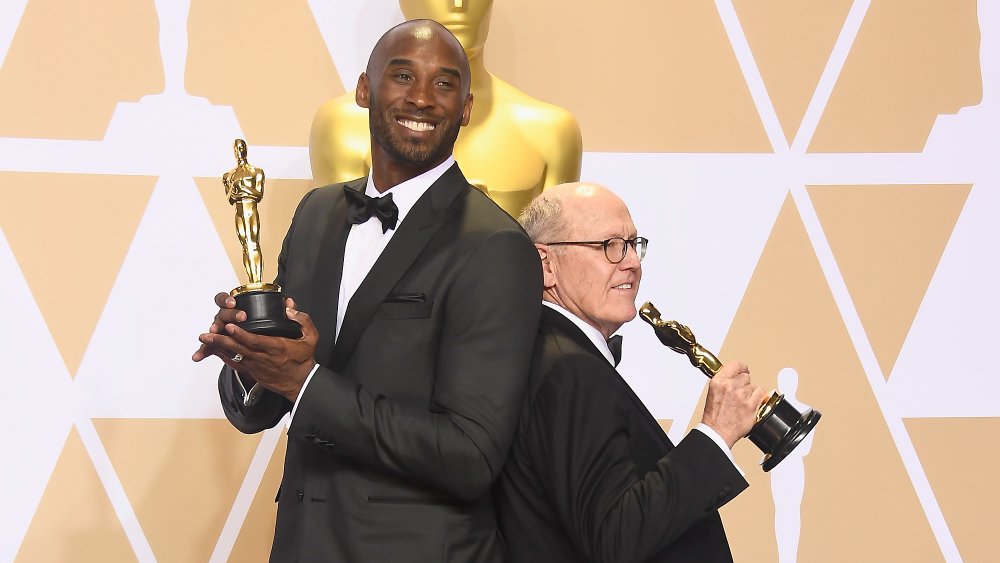 Frazer Harrison/Getty Images
Keane went on to reveal what he and Bryant bonded creatively over. As it turns out, the two men, though best known for their talents in completely different professional fields, weren't all that different: both Keane and Bryant were creatives at heart and shared a love of classical music. It was when they got to talking about Beethoven — whose work Keane referenced while animating a pivotal scene in Beauty and the Beast — that Keane and Bryant formed an instant creative connection.
"I confessed to Kobe he had asked the worst basketball player in the world to animate him. He told me that was good because now everything I know about the game will come from studying him. We talked about, of all things, our love of Beethoven," wrote Keane. "I told him how I animated the transformation of Beast (in Beauty & the Beast) to Beethoven's 9th. I saw his eyes light up — the Mamba face — as he talked passionately about how he structured the tempo of a championship game to Beethoven's 5th. We bonded creatively right then. Knowing Kobe was one of those out-of-the-blue gifts straight from God's hands, still with the scent of heaven on it."
In the aftermath of Bryant's passing, one might wonder whether he and Keane would have teamed up again for another animated short film. Though the world lost Bryant far too soon, at least it will always have his and Keane's "Dear Basketball" to look back on.