Chadwick Boseman's Co-Star Makes Emotional Confession That He Misjudged Him
One of Chadwick Boseman's Da 5 Bloods co-stars would like to turn back time.
Clarke Peters, who appeared with Boseman in the Netflix original war drama, admitted during a recent conversation with Good Morning Britain that he had severely misjudged the actor, believing him to a bit of a prima donna — when, in fact, he was struggling with the colon cancer that would soon take his life. Boseman kept his struggle private; only his family and a handful of his peers were aware of his diagnosis.
Peters is a veteran actor perhaps best-known for his work on the iconic series The Wire, and most recently appeared in the 2019 thriller The Mandela Effect and on the BBC television miniseries His Dark Materials. During the interview, he recalled a conversation with his wife, who had asked him what Boseman was like in person, and his response, of which he was more than a little ashamed.
"I said, 'Well, I think he's a little bit precious.' And she said, 'Why?' I said, 'Because he's surrounded by people who are fawning over him," Peters said "He's got a Chinese practitioner who's massaging his back when he walks off set. He's got a makeup lady who's massaging his feet. His girlfriend is there holding his hand. And I'm thinking, 'Well, maybe [starring in the smash hit Marvel movie Black Panther] went to his head.'"
Struggling to compose himself, Peters continued, "I regret even having those thoughts because they were really looking out for him ... We were in 104-degree weather, running with equipment up to 40 pounds on our backs, going through these scenes and that young man ..." At this point in the interview, Peters broke down into tears, apologizing. No apology necessary, sir — there was no way for you to know what Boseman was going through, and we all miss him, too.
Clarke Peters had a heartwarming message for Chadwick Boseman's fans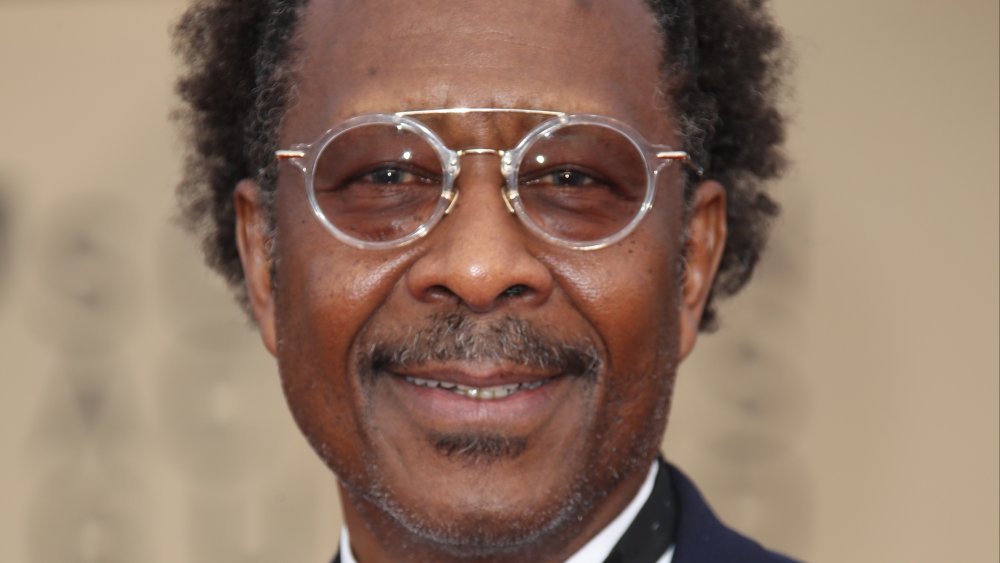 Dan Macmedan/Getty Images
Elsewhere in the interview, Peters was asked what kind of a man we've lost, and his response was very interesting and, in a way, comforting. "I'm not too sure that we lost [Boseman], I think he served his purpose," the actor said. "[But] we've lost a very sweet soul. We've lost a fine actor, we've lost a man of integrity ... [but] what we've gained, basically, is a man who I think put a lot of younger people of color on track. If everyone has a purpose in life, he certainly played the role of a hero in many, many ways." 
Peters went on to opine that Boseman was here for the time that he was needed, implying that while our current time will doubtless be remembered for its turbulence and strife, the actor's body of work will stand out for its ability to impart hope. "We're living in a time when things are moving kind of fast, aren't we?" Peters said. "[Boseman] had to be here for the time that he was here to do what he did, and he did it well. Somebody said, 'He's resting in peace with the angels.' And I said, 'No, he's probably flying with them right now, and is very active, as the ancestors are '... As a person who believes very deeply in God, and having had that conversation with Chadwick, as well ... his mission is complete. We should celebrate that, you know, and take from it as much as we can."
We have no doubt that Boseman himself would agree, and between his iconic role as King T'Challa in the Marvel Cinematic Universe and his amazing portrayals of such important historical figures as Jackie Robinson, James Brown, and Thurgood Marshall, he left us a lot. His life and career may have been far too short, but in the time we had with him, Chadwick Boseman taught us all a little something about dignity, strength, and courage.