The Ending Of Trinkets Season 2 Explained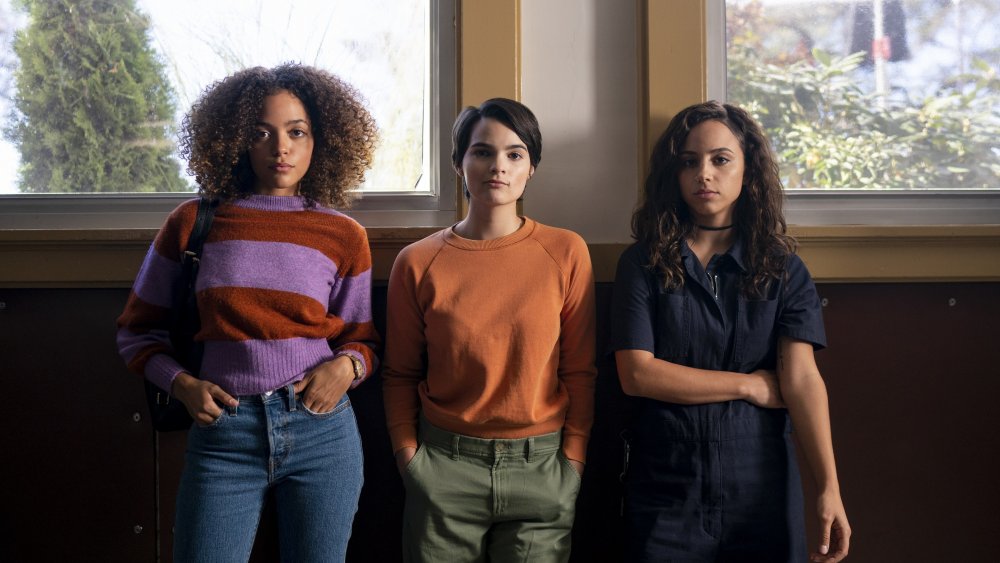 Netflix
Contains spoilers for Trinkets 
The season 2 finale of Netflix's original teen shoplifting drama Trinkets is a bittersweet occasion for fans of the series. While the final moments of the episode brought the season to a cathartic end, the news that Netflix isn't picking the show up for a third installment means the season finale is actually a series finale. But we're not here to mourn the loss of this touching tale of friendship and growth. Instead, let's celebrate what made the finale so satisfying.
The beginning of Trinkets season 2 picks up where season 1 left off. Elodie (Brianna Hildebrand) is on the road after running away from home with the help of her friends and fellow serial shoplifters Moe (Kiana Madeira) and Tabitha (Quintessa Swindell). It's not just her troubled home life she's running from, but also the fact that she and her three friends stole the car of Tabitha's abusive ex-boyfriend Brady (Brandon Butler) ... and then sank it in a quarry. However, Elodie decides to return home at the beginning of season 2. Once she reunites with her pals, their lives get even more complicated with new romances, new secrets, and a new heist.
There were a lot of moving parts in season 2, with each of the three main protagonists anchoring separate storylines that intersect in fulfilling ways. So, how did it all end up working out? Let's break it all down and discuss the ending of Trinkets season 2.
Moe gets caught up in Brady's scheming ...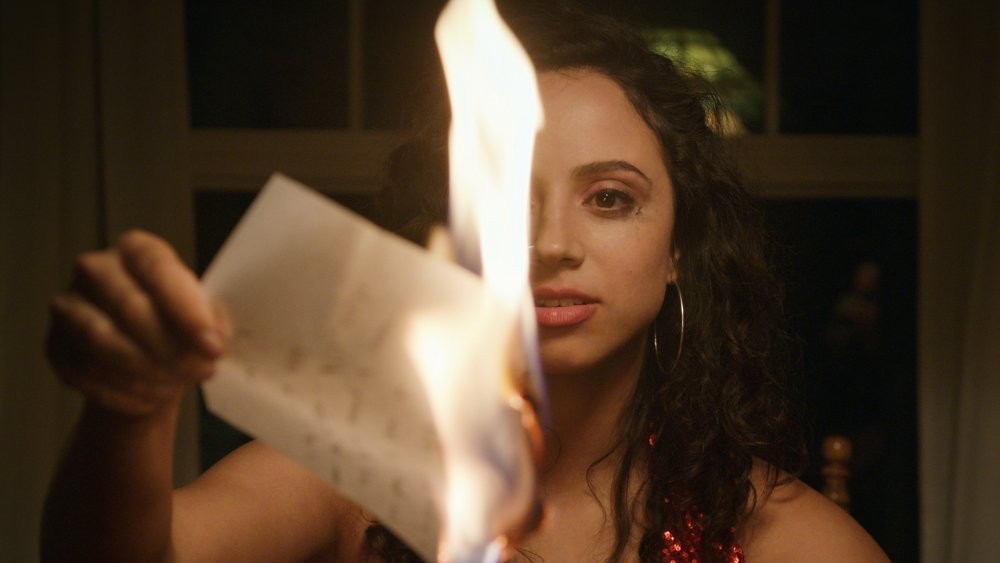 Netflix
Trinkets season 2 sees all three girls grappling with difficult relationships. Things between Moe and Noah (Odiseas Georgiadis) were going well until Noah blames Moe for messing him up during one of his soccer matches. Distraught at their fight and believing them to be broken up, Moe finds comfort with her fellow robotics club member Chase (Nik Dodani). The two kiss, but after Moe and Noah make up, Moe makes it clear to Chase that the short-lived affair was a mistake.
Unfortunately for her, the secret kiss doesn't stay that way for long. A photo of the incident finds its way into Brady's hands, and he uses it to blackmail Moe and her friends into stealing the answers to an important test. This blackmail plot ties together several threads from both seasons, and is what leads to the finale's satisfying end. But we'll come back to that in a moment.
Despite going through with stealing the test, Noah finds out about Moe and Chase's kiss anyway, and the two break up. In the end, Moe makes an earnest attempt to apologize for her actions and win Noah back, but he closes the door on their relationship for good. But a brief flash-forward scene at the very end of the episode shows Chase and Moe exchanging friendly glances — suggesting that even though they're broken up, he isn't holding onto negative feelings about the whole ordeal.
... but Tabitha helps her break free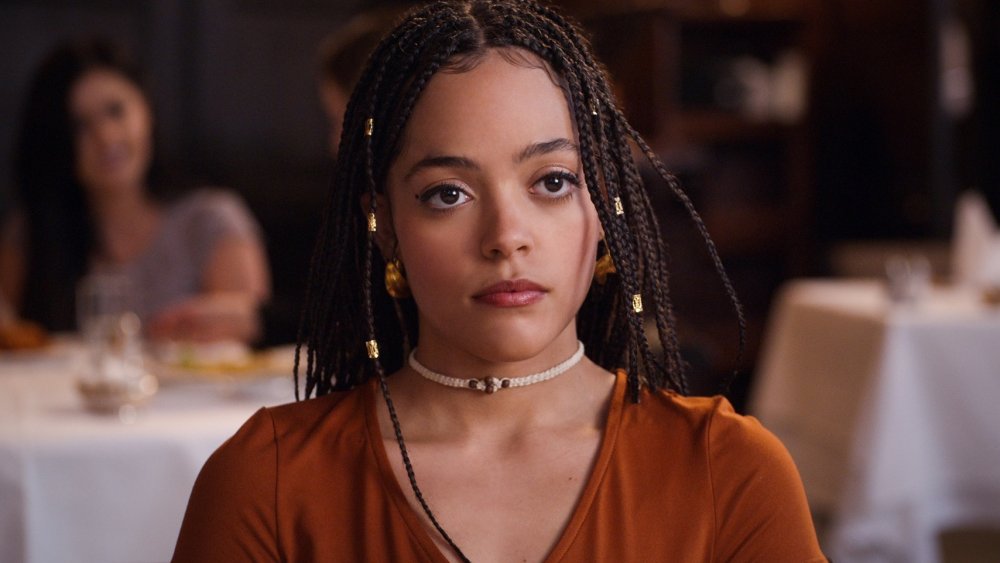 Netflix
Tabitha's relationship with Brady is the catalyst for many of the plot developments on the series, and although she isn't directly involved in his blackmail of Moe, everything circles back to her in the end. After the physical and emotional abuse she suffered from Brady (not to mention being scammed by another guy and witnessing her father cheat on her mother), Tabitha spends much of Trinkets season 2 having a crisis of self. However, she's able to pass through the difficult times and come out on the other side with an even stronger idea of who she is.
Throughout the season, Tabitha becomes more empowered in her identity as a Black woman. nd date a guy who isn't a total nightmare in the form of Moe's brother, Ben (Andrew Jacobs). This helps her to encourage Moe and Elodie to come forward about the fact that they stole test answers on Brady's behalf. The three admit to what they've done in a large installation left in the hallway of their school. In addition to a note describing what happened, they include images of the bruises Tabitha got from Brady's abuse, as well as samples of the degrading text messages he sent her throughout their relationship.
Tabitha is able to both help dissolve the power of the secret that was haunting all three of the girls, as well as come forward about her traumatic past with Brady, and expose him for the abuser he is. Her arc of growth is complimented nicely by the fact that, despite obviously having chemistry with Ben, she decides to not continue their relationship so she can take time to focus on herself.
Elodie puts her past behind her, and viewers say goodbye to Trinkets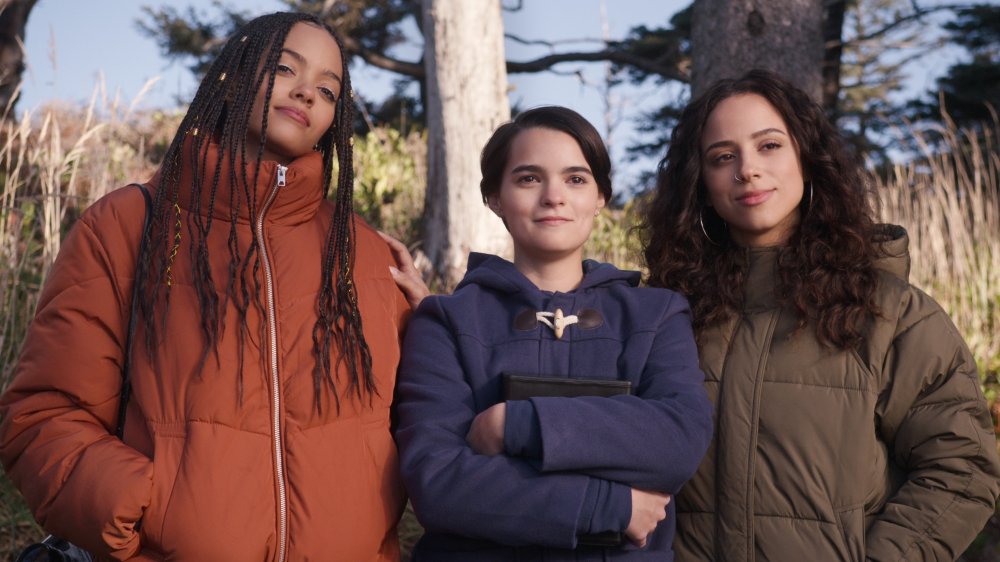 Netflix
That brings us to Elodie. The troubled teen was our entryway into the world of Trinkets, when we witnessed her move from New Mexico to Oregon to start life over after the death of her mother. Although the stories of Moe and Tabitha rose to equal prominence over the course of the show's two seasons, we end things on a moment of catharsis for Elodie.
While the rest of the school is discovering the girls' confession, Elodie, Tabitha, and Moe are at the ocean. With her friends standing beside her in support, Elodie scatters her mother's ashes into the wind. Although she will likely always have the pain of losing her mom so young, this is clearly the closing of a chapter for Elodie. After all, we also see her returning all the items she's collected from her various shoplifting sprees and admitting to stealing the test with Tabitha and Moe. It's clear that Elodie's experiences since moving to Oregon have helped her grow — the same way that having Elodie in their lives has helped Tabitha and Moe grow as well.
The surest sign of that growth is the final shot of Elodie — her walking down the halls of the school with Jillian (Chloë Levine), hand in hand. Their relationship was tumultuous throughout the season, but the fact that they end up together shows the progress each of them made in their personal lives. 
Even though fans of the series would no doubt love to see the continued journeys of Elodie, Tabitha, and Moe, if this underrated Netflix original did have to end, then the Trinkets season 2 finale sent the girls off on a note of self-acceptance, growth, and love.